Laura's Law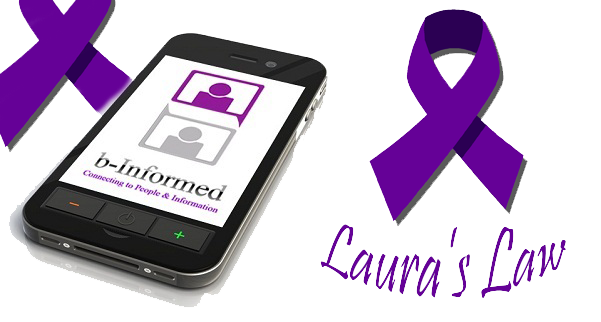 Laura's Law is named after three women affected by domestic violence. They include Laura Aceves, a Eureka Springs woman who was killed by her ex-boyfriend in 2012, and her mother, Laura Ponce, who has since become an advocate for domestic violence victims. The bill and the name of "Laura's Card" were also inspired by victims' rights advocate and domestic violence survivor Laura Webb, who was nearly killed by her husband in 2012.
The driving force behind the four laws listed below that passed this year (2015) were as a result of Arkansas lawmakers like Rep. Charlotte Douglas, R-Alma along with Bob Ballinger, R-Hindsville being motivated to create two of the laws in honor of the victims listed above.
Act 873, by Douglas and Ballinger, creates a tool, also known as "Laura's Card," that law enforcement will give victims in domestic violence cases to ensure they're aware of resources available to them.
An explanation of the victim's rights along with information about medical, housing, counseling, financial, social, legal and emergency services available will be on the card. Information about obtaining compensation under the Crime Victims Reparation Act is also included.
Act 877, by Douglas and Ballinger, requires police conduct a lethality assessment, asking victims a set of questions to assess their level of risk of being killed by domestic violence. Also known as "Laura's Law," Act 877 will help officers identify victims most at risk of being killed in a domestic dispute and intervene accordingly.
Act 952, by Douglas, requires Arkansas schools to include domestic and dating-violence in health curricula.
Act 876, by Ballinger and Douglas, allows for victimless prosecution of domestic-violence cases. The law gives prosecutors and law enforcement power to investigate and prosecute domestic violence crimes without requiring the victims to testify.
The recently enacted "Laura's Law" requires Arkansas police officers responding to domestic violence incidents to ask victims a set of questions to evaluate their risk of being killed by abuse, such as whether the offender has ever used a weapon against the victim or controls most of the victim's daily activities. The assessment aims to help identify victims in severe danger needing intervention. Police will also present victims with a "Laura's Card," a document listing their rights and contact information for local prosecutors and shelters.
Law enforcement agencies responding to crime incidents are now required to inform victims in writing of their victim's rights. Officers MUST inform victims of the availability of services: medical, housing, counseling, financial, social, legal, and emergency services. In addition, officers MUST inform victims about how to obtain orders of protection, how to access public records related to the case, and about the Arkansas Crime Victims Reparations Board (including the address and phone number).
For more information about the rights and responsibilities of victims of crimes contained in Laura's Card as well as available resources, please click the following link:
Lauras Victim Rights Card-JCSO 1-19-2018