MAINTENANCE PERSONNEL
09/17/2020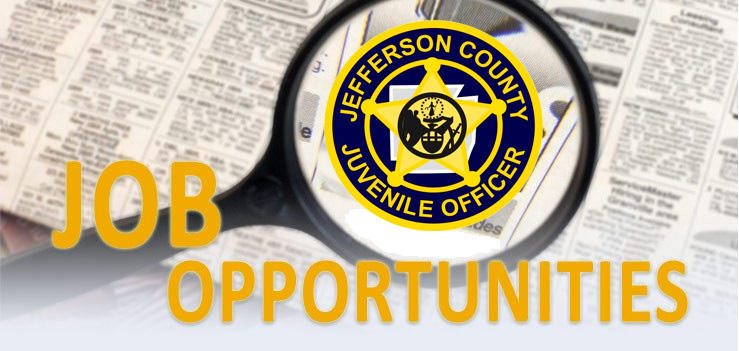 Thank you for your employment interests. The Jack Jones Juvenile Justice Center (JJC), a juvenile detention facility under the direction of Jefferson County Sheriff is currently accepting applications for a maintenance worker.
JEFFERSON COUNTY – SHERIFF'S OFFICE
JOB DESCRIPTION
POSITION TITLE: Juvenile Detention Maintenance Personnel
REPORTS TO: Detention Facilities Maintenance Supervisor
PURPOSE OF POSITION: Responsible for performing a variety of routine and complex maintenance, service and repair duties to assist in the upkeep of assigned Sheriff's Office and County Jail Facility equipment and properties.
ESSENTIAL FUNCTIONS:
Maintain lawn, plants, shrubbery and irrigation systems for the Sheriff's Office and County Jail
Facility properties, including mowing, trimming, weeding, and fertilizing.
Remove snow and ice from sidewalks and steps of Sheriff's Office and County Jail Facility properties utilizing manual and automatic tools and equipment.
Perform general maintenance and repair duties including, but not limited to, painting, replacing light bulbs and switches, hanging pictures, maps, etc., picking up trash, changing thermostats or resetting equipment, changing filters and fixing broken furniture, leaking faucets, drinking fountains and toilets.
Maintain accurate records regarding equipment repair and maintenance.
Follow established procedures on maintenance responsibilities, such as procedures regarding cameras, intercoms, monitors and locks within the Jail facility.
ESSENTIAL EDUCATION, CERTIFICATION AND/OR LICENSES:
Must possess a VALID DRIVER'S LICENSE at the time of hire.
Must possess a High School Diploma or GED.
Must be able to successfully complete a CRIMINAL BACKGROUND check including a DRUG SCREEN.
Applicants who appear to meet the required selection criteria and most closely match the requirements of the position will be advised in due course.
Interested persons should click HERE to download our application. Fill the application out on your computer, print the completed application out, sign it, have it notarized and then turn it in to Jail Administrator Joseph Gorman or Asst. Jail Administrator Joshua Skillen at the Jack Jones Juvenile Justice Center at 410 E. 2nd Avenue in Pine Bluff, Arkansas.
TO READ DOCUMENTS If you do not have Adobe Reader, you can obtain the free software at http://get.adobe.com/reader/.