Narcotics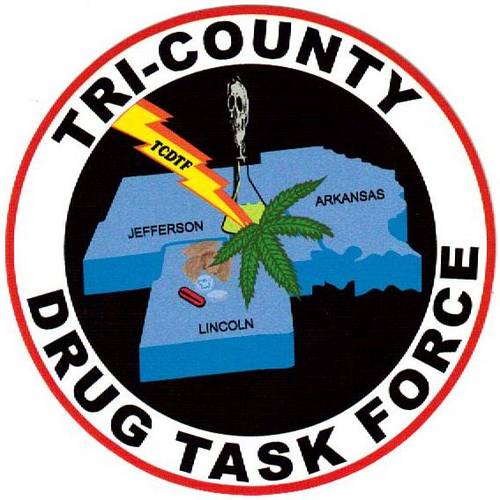 TRI-COUNTY DRUG TASK FORCE
The Tri-County Drug Task Force is responsible for the investigation of cases involving the use, possession, sale, manufacture, and transportation of controlled substances within Jefferson, Arkansas and Lincoln Counties. Other responsibilities include disposal of controlled substances, providing specialized training about controlled substances, directing all financial and asset seizure/forfeitures relative to narcotic activities, making public appearances, liaison with the United States Drug Enforcement Administration (DEA) and participation in multi-agency narcotic task forces.
The illicit drug seizures statistics of the Tri-County Drug Task Force continue to mirror a disturbing nationwide abuse trend. A significant amount of Marijuana, Cocaine and Methamphetamine seizures are imported into Jefferson County from bordering states such as Texas. Texas is one of several states that have been identified as a source state for drug traffickers to obtain illicit drugs and transport them back to Arkansas.
To address the ever so increasing activity relating to the importation, sale and distribution of illicit drugs within counties governed by the Tri-County Drug Task Force, the Sheriff's Office took over the Tri-County Drug Task Force. The Tri-County Drug Task Force is comprised of Sheriff's narcotic investigators. Its mission is to eliminate the importation of many of the illicit drugs that are imported and then distributed into the jurisdictional counties governed by the Tri-County Drug Task Force.
Jefferson County continues to be a hub of narcotic activity. The highly developed transportation routes and the close proximity to Texas create a unique threat by making Jefferson County a major distribution, storage, and supply center for illicit drugs destined for surrounding towns throughout Arkansas and beyond.
Contact Info: Drug Info Hotline - 870.541.5496 OR You may SUBMIT YOUR ANONYMOUS INFORMATION by downloading the INTELLIGENCE Form by clicking HERE. Note: This should enable the viewer to download the intelligence form as a PDF and print it.
The completed Intelligence Form can be faxed to (870) 541-5499 or emailed to tips@jeffcoso.org
Tri-County Drug Task Force Personnel
The Tri-County Drug Task Force has agents assigned to Jefferson, Arkansas and Lincoln Counties. In addition to the aforementioned personnel, the division also has an agent assigned full-time to the United States Department of Justice, Drug Enforcement Administration-Little Rock District Office.