Frequently Asked Questions
Expand All
Hide All
AGENCY EMPLOYMENT-Can I apply on-line? How long are applications kept on file?
The Sheriff's Office accepts applications for employment during normal business hours. Applications will remain on file and active for a period not to exceed one (1) year from the date submitted. All employment opportunities are posted on this web site. We may also post the opening in Pine Bluff Commercial Newspaper "Help Wanted" section.
Applications will only be examined or reviewed whenever there is a position open that must be filled. Applicants meeting basic requirements for the position will be granted a preliminary interview. The finalists for each vacancy will be submitted to the Sheriff for final review. The Sheriff makes the final determination on all new hires.
Employment Applications are available online whenever a job opening is posted. However, submission of those applications to the business office is not currently available online by electronic means. They must be delivered to the administration offices or mailed. PLEASE MAKE SURE THAT ALL APPLICATIONS ARE NOTARIZED.
BODY ATTACHMENT-What is a Body Attachment?
A writ of body attachment is a process issued by the court directing the authorities to bring a person who has been found in civil contempt before the court. The process may also be called an order of commitment for civil contempt or a warrant for civil arrest.
A writ of body attachment may be ordered, for example, when a witness fails to appear in response to a subpoena. It is often issued after a court-ordered fine or forfeiture has not been paid. Body attachments may be issued in contempt, civil, or criminal proceedings.
Most Body Attachments (but not all) will have language indicating that the person can be released from custody if a prescribed cash amount is paid to secure his release. This amount may or may not equal the total of delinquent child support payments. Other Body Attachments will require the person to remain in custody until brought before the Judge who issued the order. Body Attachments can be served in any part of the State, just as arrest warrants can.
Any monies that the Sheriff's Office collects from Body Attachment actions will be held and distributed as later directed by the court or as prescribed under the law.
CHARITABLE DONATIONS-How can I donate to the Sheriff's Office
The Jefferson County Sheriff's Office welcomes donations of any amount. Citizens can make a general donation and leave it up to the Sheriff where to use the money, or you can specify how you would like the money is to be used. For example, we receive donations on a regular basis for our K-9 Program. This program is funded only by donations from the public.
We have many areas that people have helped us with financially. Just this year we have received funds for:
Sheriff's Fun Day
Bullet proof vests
K-9 Program
We are very grateful for the support from this community.
With the current economic downtown impacting municipal budgets, the Sheriff's Office does not have the funds available to support all of its programs. Our agency rely heavily on the support and generous donations of citizens.
Donations may be sent to the Jefferson County Sheriff's Office at 410 E. 2nd Ave, Pine Bluff, AR 71601. Checks should be made payable to the Jefferson County Sheriff's Office, with the words "Donation" in the check notation box.
Further information about fund-raising effort may be obtained by calling Major Gary McClain of the Jefferson County Sheriff's Office at (870) 541-5373, or by email at gary.mcclain@jeffcoso.org
CRIMINAL RECORD-How can I challenge or update information listed on my criminal history?
IF THE APPLICANT OR INDIVIDUAL WISHES TO CORRECT THE RECORD AS IT APPEARS IN THE FBI'S CJIS DIVISION RECORDS SYSTEM, THE PROCEDURES TO CHANGE, CORRECT OR UPDATE THE RECORD ARE SET FORTH IN TITLE 28, CFR, SECTION 16.34.
§ 16.34
Procedure to obtain change, correction or updating of identification records.
If, after reviewing his/her identification record, the subject thereof believes that it is incorrect or incomplete in any respect and wishes changes, corrections or updating of the alleged deficiency, he/she should make application directly to the agency which contributed the questioned information. The subject of a record may also direct his/her challenge as to the accuracy or completeness of any entry on his/her record to the FBI, Criminal Justice Information Services (CJIS) Division, ATTN: SCU, Mod. D-2, 1000 Custer Hollow Road, Clarksburg, WV 26306. The FBI will then forward the challenge to the agency which submitted the data requesting that agency to verify or correct the challenged entry. Upon the receipt of an official communication directly from the agency which contributed the original information, the FBI CJIS Division will make any changes necessary in accordance with the information supplied by that agency.
FOR MORE INFORMATION, CLICK ON THE FOLLOWING LINK: http://www.fbi.gov/about-us/cjis
DRUG SLANG TERMS
There are many slang terms used by kids and adults alike to describe different types of drugs or behavior associated with drugs. To obtain a lists of slang terms, please click HERE
EVICTION PROCESS-How do I get someone evicted?
Eviction in Arkansas:
In Arkansas, a landlord can refuse to renew the Tenant's lease for any or no reason (landlord must give the amount of notice that the lease provides for). For lease violations or for non-payment of rent, you can terminate the lease at any time.
There are 2 types of evictions that a landlord can use in Arkansas: A civil eviction called "Unlawful Detainer," or a criminal eviction called "failure to vacate."
Unlawful Detainer
Unlawful Detainer is started by giving the tenant a 3 day Notice to Vacate.
The Notice to Vacate must be hand-delivered or sent Certified Mail. The landlord should keep a copy of it to help prove it was delivered.
If the tenant does not leave after the 3 day notice period, the landlord must file a complaint against the Tenant for "Unlawful Detainer." The complaint form can be obtained from the court that handles evictions for the area where the property sits.
Once the Tenant is served with the lawsuit from the court, the tenant will have 5 days to file a written objection.
If the Tenant does not file a written objection, the landlord wins the case and can have the sheriff remove the tenant.
If the Tenant does file a written objection, then you must show up for your court date and ask the judge to grant the eviction. You will have to claim that rent was not paid (or other lease violation was not cured), and prove that you gave proper notice (by showing a copy of the 3 day notice to vacate that you gave the tenant).
Failure to Vacate
The Arkansas "Failure to Vacate" method of Eviction may only be used for non-payment of rent. This is started by giving the tenant a 10 day written Notice to Vacate. If the Tenant does not leave within the 10 day notice period, the Landlord can apply to have the Tenant charged with a criminal misdemeanor and fined $25.00 for each day after the 10 day notice that they illegally maintained possession of the property.
For more information regarding Arkansas Landlord Tenant Laws and Statutes, please contact the Fair Housing Agency at the telephone number listed below:
Fair Housing Agency
Department of Housing & Urban Development
TCBY Tower
425 West Capitol Avenue, Suite 900
Little Rock, AR 72201
(501) 324-6269
FINGERPRINTS-How do I obtain fingerprints for employment purposes?
Fingerprints: The Sheriff's Office will fingerprint persons upon request as part of pre-employment criminal history background checks and/or concealed handgun license applicants. There is a $10.00 charge for each set of prints. Fingerprint requests can be made during normal business hours at our main off located at 410 E. 2nd Avenue, Pine Bluff, AR. We do not fingerprint after office hours or during weekends or holidays.
HOW DO I VISIT A DETAINEE?
HomeWAV Video Visitation
Effective Monday, February 2, 2015 visitation will be seven days a week from 8:00am until 10:00am and 1:00pm until 3:00pm through HOMEWAV at the Dub Brassell Detention Center. If you are using your home computer, smart phone or tablet, visitation will remain the same. Anyone who would like to visit at the detention center will need to go to WWW.HOMEWAV.COM and set up an account. The account must be set up before you come to the detention center to visit, it cannot be set up at the detention center. Questions regarding the set up process must be directed to HOMEWAV at 1-877-241-7559. Once the account has been set up, the detainee's name will show on the monitor inside of the pod where he or she is housed. There will be no need to call the detention center to ask for a deputy to notify your loved one. The cost is $1.00 to set up your account and $0.50 per minute. Since this is a new process, there may be adjustments made in the early stages. We ask for your patience as we make this transition.
Pretrial and Attorneys are permitted to visit with clients (detainees) 7 days a week, preferably during business hours. Detention Center Staff will make arrangements provided certain circumstances (i.e. court proceedings). Visitation time restrictions do not exist for the aforementioned persons in this section.
Members of Clergy are permitted to visit 7 days a week for a maximum of 30 minutes strictly during business hours. If the visit involves the notification to a detainee regarding death in his/her family then special arrangements can be made for the member clergy to visit with the detainee. NO family member will be allowed to accompany the clergy.
Special Visits are at the discretion of Sheriff Woods, who has final approval.
Click on the video LINK below for a brief instructional video on how the HomeWAV Video Visitation System works.
https://www.youtube.com/watch?v=TJLRYv7MVOk#t=21
HOW TO APPLY MONEY TO A DETAINEE'S JAIL COMMISSARY ACCOUNT

There are three ways to put money on a loved one's commissary account.
There is a kiosk located in the lobby of the detention center. Follow the prompts on the touch screen. Funds can be added by currency or debit/credit card.
www.TigerDeposits.com and follow the prompts on the screen.
Mail a money order to the following:
Detainee's First and Last Name
300 East 2nd Avenue|
Pine Bluff, AR 71601
K-2 SPICE - Synthetic Marijuana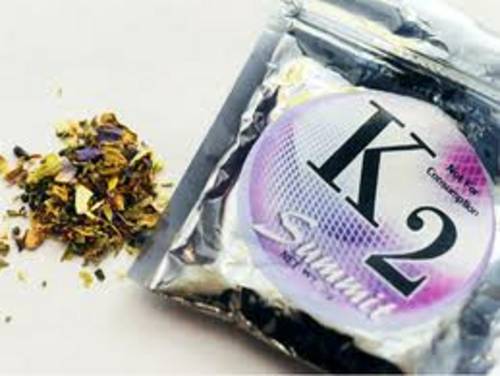 K-2, or Spice, is a form of synthetic marijuana. Although previously available for purchase at a few locations in this jurisdiction, it potentially could have harmful effects on the human body. In order to protect children and the public from this substance, the Jefferson County Quorum Court passed an ordinance in July, 2010 banning the sale or possession of K-2 or Spice in this county.
To view Jefferson County Quorum Court ordinance banning the sale or possession of K-2 a/k/a SPICE, please click HERE
Paying Citations
Those wishing to satisfy payment of citations or traffic tickets online can do so by simply visiting www.jeffersoncotix.com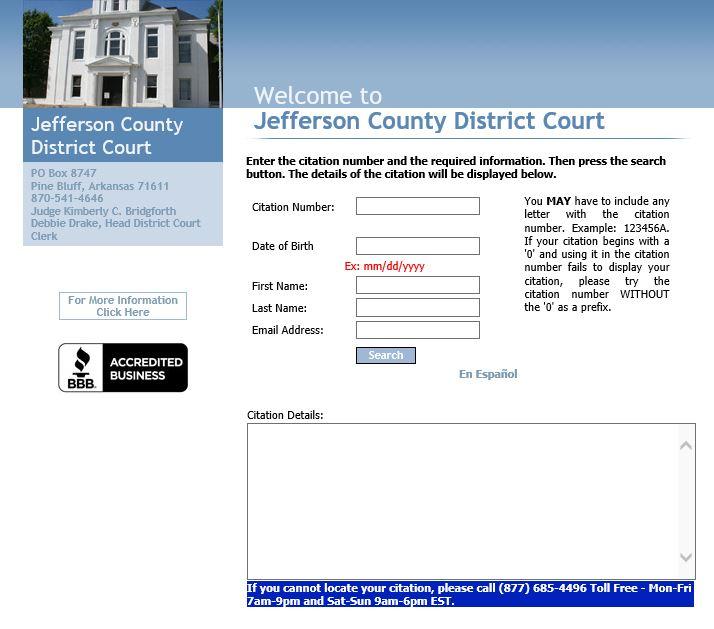 Payments can also be sent via U.S. Postal Mail. A copy of the ticket and payment can also be mailed to 223 East 3rd Avenue, Pine Bluff, AR 71601. Please be sure to specify on the face of the envelope whether the issuance of your ticket is within Division 1 or 2 of Jefferson County/Pine Bluff District Court, as there are two separate divisions that hear matters concerning traffic citations.
Jefferson County/Pine Bluff District Court-Division 1 or Division 2
223 East 3rd Avenue
Pine Bluff, AR 71601
If you are unsure if you have an outstanding citation, you can call the following numbers:
Division 1
Judge Kimberly C. Bridgforth
(870) 541-4646
Division 2
Judge John Kearney
(870) 850-7584
POLICE REPORTS-How do I obtain a copy of a police report?
Obtaining Copies of Reports and Records: Most Sheriff's Office records are public information under the Arkansas Freedom of Information Act (FOIA) and are available for public viewing, and for copying for a nominal fee. There are several exceptions to this, including specifically reports and paperwork relating to criminal cases remaining open and under investigation, certain personnel records, records sealed/expunged by court order, and records relating to juveniles (under 18 years of age). We have an FOIA request form that we ask each person to fill out that will help us find or locate the documents they are wanting to view. We will not compile statistical or comparative data for individuals, nor will Administration Staff offer comment on reports or documents prepared and filed by individual deputies.
Accident Reports: Patrol Deputies prepare traffic accident reports on accidents they have investigated on county roads. These reports are filed with clerical staff within five (5) days of the date of the accident. There is a nominal fee for copies of these reports. Although deputies frequently arrive at accident scenes on Arkansas State Highways and U. S. Highways to assist the State Police, the deputy will generally not investigate the accident himself. That is the responsibility of the State Police under the law. Reports from those accidents are filed with the Arkansas State Police Headquarters, and they are not available from the Sheriff's Office.
RESERVE DEPUTY SHERIFF PROGRAM-How do I become a Reserve Deputy Sheriff?
The Jefferson County Sheriff's Office (JCSO) Reserve Unit is a group of volunteer deputies, who provide a variety of duties for the Sheriff's Office at great savings to the taxpayers of Jefferson County.
The primary function of the Reserve Unit deputies is to supplement uniformed patrol for full-time deputies who are on leave due to sickness, vacation, or military leave. The Reserve Unit is also activated when additional deputies are needed due to man-made or natural disasters, such as severe weather events, wildfires and Homeland Security concerns. After certification, Reserve Deputies can perform transportation duties, hospital duty and other more advanced assignments. Asides from assisting the Uniformed Patrol Division, the Reserve Deputies are often seen patrolling the shores of the Arkansas River during the summer months.
Members of the Sheriff's Reserve Unit are sworn deputies, who are committed to volunteering their time. In addition, members must complete 20-40 hours of state and Sheriff's Office-required mandatory training per year. Members must also qualify with their firearms per Sheriff's Office policy to maintain proficiency.
Applicants who appear to meet the required selection criteria and most closely match the requirements of the position will be advised in due course. Interested applicants can download the employment application by visiting the employment section of this website under Reserve Deputy Sheriff Employment Posting.
Basic Training Course
Per the Commission on Law Enforcement Training and Standards (CLEST), applicants and/or Part-time II Law Enforcement Officers who are employed and working less than 20 hours per week and Auxiliary Law Enforcement Officers will be required to satisfactorily complete not less than 110 hours of Commission approved law enforcement training including a Firearms Qualification Course equivalent to the Firearms Qualification requirements for a Full-time Law Enforcement Officer. Separation from law enforcement for three (3) years will result in the Auxiliary and the Part-time II Law Enforcement Officer being required to attend a new 110 hour training course.
For minimum standards for employment or appointment, please click HERE.
Should you have any further questions, please feel free to contact me by phone at (870) 541-5351 or via email at lafayette.woods@jeffcoso.org For further information about our agency, please visit us at www.jeffcoso.org
WARRANT OF ARREST-How do I determine if there is an active warrant for my arrest? What do I do if it is determined and confirmed that there is a warrant for my arrest?
The Sheriff's Office maintains thousands of Warrants of Arrest issued by the District and Circuit Court. All of these warrants constitute public records under the Freedom of Information Act (FOIA). Any person can obtain information on arrest warrants pertaining to himself or herself or any other person by placing phone call to the Sheriff's Office. Such information as the date of the warrant, charge(s)specified on the warrant, bond amount, and issuing court can be provided.
Many arrest warrants are served by deputies working in the field, either during vehicle stops or by visiting the last known home address or work address of the person named in the warrant. Other warrants are served when people voluntarily surrender themselves to the Sheriff's Office after learning a warrant exists for their arrest.
Most warrants will have a bond specified by the court that a person in custody is required to post before being released. Other warrants are "No Bond" warrants, and the person must remain in custody until appearing before a Judge for further judicial proceedings.
On those warrants that have a bond amount specified, the Sheriff's Office will accept either cash for the bond or a surety bond issued by a professional licensed bail bonding company. The Sheriff's Office generally will not accept or approve an O/R Bond (release on own recognizance) or a property bond.
Misdemeanor arrest warrants may be served anywhere in the State of Arkansas. Felony arrest warrants are extraditable from anywhere within the United States. The Sheriff's Office is very aggressive in serving arrest warrants, and extradition will generally be authorized whenever we are notified a person is in custody in another jurisdiction on a Jefferson County warrant.
Any person wanting information about an arrest warrant or how to take care of an active warrant should contact the Sheriff's Office. We will make every effort to make a reasonable accommodation to allow the person satisfy the warrant within the boundaries of the law and department policy.