Jack Jones Juvenile Justice Center Food Service (Culinarian)
07/21/2017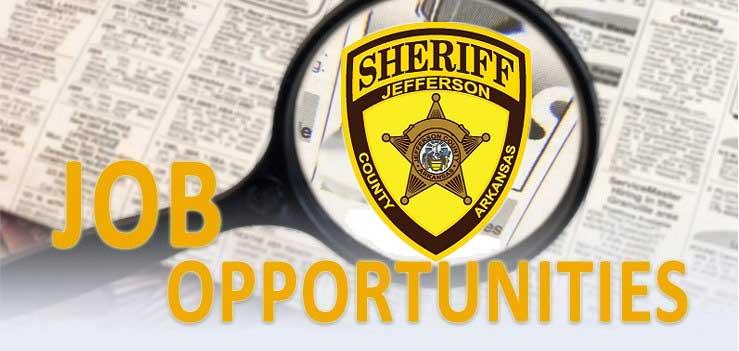 Thank you for your employment interests. The Jefferson County Sheriff's Office, Jack Jones Juvenile Justice Center (JJC) is currently accepting applications in search of applicant(s) to fill vacancies in Food Services.
JEFFERSON COUNTY – SHERIFF'S OFFICE
JOB DESCRIPTION
POSITION TITLE: Food Service Worker (Culinarian)
REPORTS TO: JJC Food Service Manager
PURPOSE OF POSITION: Under general supervision, personally participates in the preparation, volume cooking and portioning of meals in the juvenile detention center.
ESSENTIAL FUNCTIONS:
Plans meals following established guidelines and orders required food items.
Prepares and oversees the preparation of a full range of meals, including special diets.
Ensures food preparation equipment, cooking and serving utensils, kitchen work areas are orderly, clean and sanitary.
Assist with ensuring that records of food and supplies used, served, etc are maintained.
Attendance and punctuality that is observant of scheduled hours on a regular basis.
Performs other related duties as required
EXPERIENCE:
Experience in large scale food preparation.
JOB TYPE:
Full-Time Regular
SALARY:
$18,000.00 - Annually plus excellent benefits
ESSENTIAL EDUCATION, CERTIFICATION AND/OR LICENSES:
Must possess a VALID DRIVER'S LICENSE at the time of hire.
Must possess a High School Diploma or GED.
Must be able to successfully complete a CRIMINAL BACKGROUND check including a DRUG SCREEN.
Applicants who appear to meet the required selection criteria and most closely match the requirements of the position will be advised in due course.
Interested persons should download our application. Fill the application out on your computer, print the completed application out, sign it, have it notarized and then turn it in to the JJC Jail Administrator, Lee Johnson or Asst. Admin at the JJC located at 301 E. 2nd Avenue in Pine Bluff, Arkansas.
TO READ DOCUMENTS If you do not have Adobe Reader, you can obtain the free software at adobe.com.