TEACHER POSITION VACANCY ANNOUNCEMENT-2 Vacancies
07/24/2018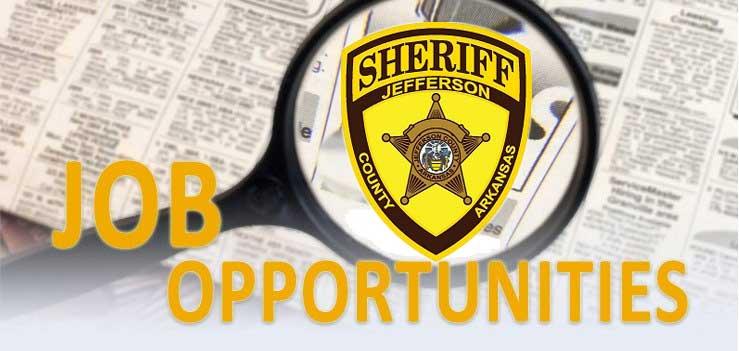 TEACHER VACANCY ANNOUCEMENT
Opening Date
July 24, 2018
Listed below are the vacant positions which presently exist in the Jack Jones Juvenile Justice Center (JJC), operated by the Jefferson County Sheriff's Office. All applicants must complete and return an Application for employment for each position they wish to be considered for. The application for employment should be directed to Mrs. Sharon Murry, Acting JJC Administrator at 301 E. 2nd Avenue, Pine Bluff, AR 71601 no later than the closing date set forth below.
JEFFERSON COUNTY – SHERIFF'S OFFICE (Jack Jones Juvenile Justice Center)
JOB DESCRIPTION
POSITION TITLE: Certified Teacher
VACANCIES: 2, one of which requires a specialty with instructing special needs.
REPORTS TO: JJC School Administrator
ESSENTIAL EDUCATION, CERTIFICATION AND/OR LICENSES
Minimum Qualifications:
Must have formal education equivalent of a high school diploma
Must possess a bachelor's degree and an Arkansas Department of Education Teacher's License.
Must possess a VALID DRIVER'S LICENSE at the time of hire.
Must be able to successfully complete a CRIMINAL BACKGROUND check to include Drug Screen.
Applicants can earn up to $45,000 annually contingent upon experience and area of expertise.
Applicants who do not possess the required teachers certification, must be willing to obtain the certification required by the State of Arkansas Department of Education within 1 year of employment.
Applicants who appear to meet the required selection criteria and most closely match the requirements of the position will be advised in due course.
JOB TYPE:
Full-Time Regular
SALARY:
Applicants can earn up to $45,000.00 annually plus excellent benefits contingent upon experience and area of expertise.
Closing Date for Applicants
"Open until filled"
Interested and qualified applicants, please download our application for employment. Fill the application out on your computer, print the completed application out, sign it, have it notarized and then turn it in to the Acting JJC Administrator, Mrs. Sharon Murry at 301 E. 2nd Avenue in Pine Bluff, Arkansas.
TO READ DOCUMENTS If you do not have Adobe Reader, you can obtain the free software at Adobe.com