County Adult Detention Center Deputy Jailer Career Opportunties
07/24/2018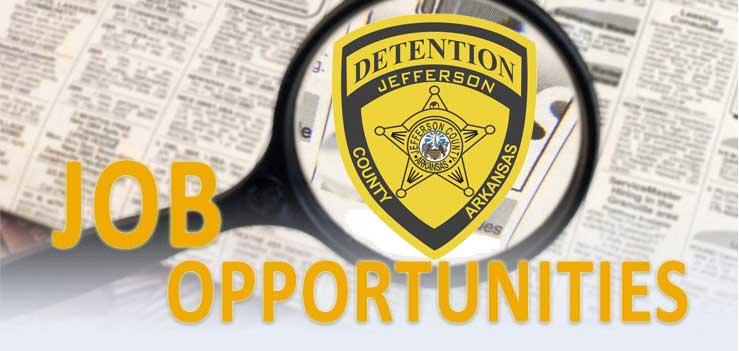 Thank you for your interest in our W.C. "Dub" Brassell Adult Detention Center formally the Jefferson County Jail. We are always accepting applications from Interested and Qualified Applicants.
Applicants who appear to meet the required selection criteria and most closely match the requirements of the position will be advised in due course.
Preference can be given to those applicants who have already gone through a Basic Jail Training Course that is accepted by the Arkansas' Commission on Law Enforcement Training and Standards (CLEST).
Hiring qualified candidates can only be accomplished if qualified applicants are encouraged to work for the Jefferson County Sheriff's Office (JCSO). The effort to recruit a qualified workforce is the responsibility of every JCSO employee. This agency also calls upon community leaders and interest groups to support our employment effort.
As required by the (CLEST) and this agency, the requirements for becoming a Deputy Sheriff with the Jefferson County Sheriff's Office are:
Applicants must be a citizen of the United States
Applicants must be free of felony convictions
Applicants must be at least 18 years of age (Jailer)
Applicants must be at least 21 years of age for Part -Time II Certification
Applicants must have completed High School or possess a GED
Applicants must possess a valid Arkansas Driver's License
Applicants must pass an extensive background investigation
Applicants must pass a psychological examination
Applicants must pass a physical examination
Applicants must complete a 40 hour Basic Jail Training Course
Basic Jail Training curriculum includes the following:
Ethics & Professionalism 2 Hrs

Facility Rules & Regulations 6 Hrs

Fingerprinting 4 Hrs

Search of Persons 2 Hrs

Prisoner Transportation 2 Hrs

Practical Exercise: Searches, Handcuffs & Prisoner Transport 4 Hrs

Special Needs Detainees: Suicidal Mentally Ill Communicable Diseases 4 Hrs

Escape Prevention 2 Hrs

Cell & Area Search 2 Hrs

Jail Documents 3 Hrs

Sudden In-Custody Deaths 1 Hr

Constitutional Rights 1 Hr

Courtroom Testimony 1 Hr

Occupational Stress 2 Hrs

Communication Skills 2 Hrs

Use of Force 2 Hrs

Information on academy training requirements can be found by clicking the following link: www.clest.org
Interested persons should click HERE to download our application for employment. Fill the application out on your computer, print the completed application out, sign it, have it notarized and then turn it in to Major Tyra Tyler-Johnson at 300 E. 2nd Avenue, Pine Bluff, Arkansas 71601.
TO READ DOCUMENTS If you do not have Adobe Reader, you can obtain the free software at http://get.adobe.com/reader/.