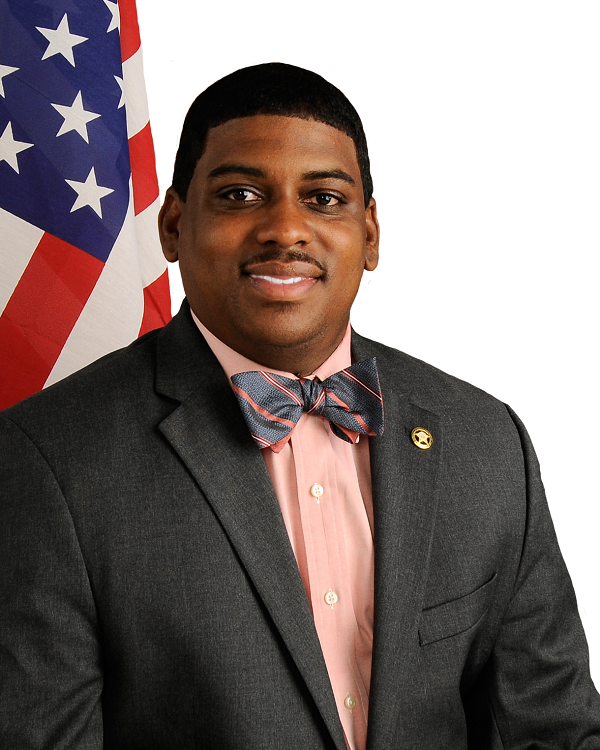 Sheriff Lafayette Woods Jr.
Term: 2019-current
Sheriff Lafayette Woods, Jr. began his career with the Jefferson County Sheriff's Office in 2004 as patrol deputy. He has worked in nearly every aspect of the sheriff's office including the Tri-County Drug Task Force, where he was assigned from 2005 to 2008 prior to being re-assigned to the U.S. Drug Enforcement Administration (DEA) Little Rock District Office to serve as a Task Force Officer as part of Jefferson County's Gulf Coast High Intensity Drug Trafficking Area (HIDTA).
Also in 2008 while assigned to the DEA and as a collateral duty, Woods was tasked with overhauling the Jefferson County Sheriff's Office-Internal Affairs Division, implementing new policies, and operating procedures.
In 2009, Woods was promoted to the rank of lieutenant and major in 2010, serving as the operations commander with the responsibility of overseeing the sheriff's office operations, public relations, support services, courthouse security, and administrative personnel. As major, Woods maintained oversight of nine divisions of the Jefferson County Sheriff's Office and coordinated all major operations. As a collateral duty, Woods also serves as the spokesman or public information officer (PIO) for his agency. Sheriff Woods is a certified Law Enforcement Training Instructor.
On May 22, 2018 at the age of 37, Jefferson County voters elected Woods as sheriff over two challengers in Jefferson County's democratic primary. Winning 56.90% of the vote (4,639) and carrying 108 of 202 precincts, Woods claims the current title of youngest sheriff in Arkansas out of 75 sheriffs. On January 1, 2019, Woods was sworn into office by his father, U.S. Army Veteran and Jefferson County Circuit Clerk, Lafayette Woods, Sr. Sheriff Woods currently serves as Jefferson County's 32nd sheriff and only second African American ever to be elected to the position.
Throughout his law enforcement career, Sheriff Woods has received over a thousand hours of specialized training from all over the country. Sheriff Woods serves on many boards and commissions to include the Pine Bluff Regional Chamber of Commerce "Chairman's Club," Youth Partners, University of Arkansas at Pine Bluff Career Services Advisory Committee, West Rotary Club Pine Bluff, National Sheriff's Association, National Organization of Black Law Enforcement Executives (NOBLE), NAACP, and the Jefferson County Central Democratic Committee.
Sheriff Woods also serves as a member of the board of directors for CASA Women's Shelter, advocating on behalf of victims of domestic violence. Because of his work with domestic violence victims, Sheriff Woods was contacted in 2015 by Laura Webb; one of three victims' rights advocate and domestic violence survivors named Laura, who inspired the creation of a joint task force created to review constitutional amendments related to victim's rights. Webb was ran over with a truck by her estranged husband and left for dead in 2012 near Mt. Magazine in Arkansas. She suffered great physical injuries and underwent multiple surgeries.
Sheriff Woods along with two Arkansas legislators, Rep. Charlotte Douglas R-Alma and Rep. Bob Ballinger R-Hindsville joined together at the Arkansas State Capitol to begin their review and make recommendations to Arkansas' legislative body.
After meeting for several months, four laws concerning domestic violence were passed in Arkansas. Act 873 created a tool of resources known as "Laura's Card," that law enforcement in Arkansas can provide to victims of domestic violence. An explanation of the victim's rights along with information about medical, housing, counseling, financial, social, legal and emergency services available will be on the card. Information about obtaining compensation under the Crime Victims Reparation Act is also included.
Act 877 requires Arkansas law enforcement officer to conduct a lethality assessment, asking victims a set of questions to assess their level of risk of being killed by domestic violence. Also known as "Laura's Law," Act 877 will help officers identify victims most at risk of being killed in a domestic dispute and intervene accordingly.
Act 952 requires Arkansas schools to include domestic and dating-violence in health curricula.
Act 876 allows for victimless prosecution of domestic-violence cases. The law gives prosecutors and law enforcement power to investigate and prosecute domestic violence crimes without requiring the victims to testify.
Sheriff Woods is a proud member of the Kappa Alpha Psi Fraternity, Inc., where he serves as Pine Bluff Alumni Chapter Vice Polemarch and reclamation committee chairman.
Education:
B.A. Criminal Justice '04

Master of Business Administration (M.B.A.) '19
Awards/Honors:
Jefferson County Law Enforcement Officer of the Year presented by Arkansas Attorney General Leslie Rutledge '17

Community Empowerment Council, Inc. Outstanding Public Service Award '17

Pine Bluff Regional Chamber of Commerce Chairman's Club (Red Coats) Member of the Year Award '16

Kathy Graves Leadership Award '13

Two time Meritorious Conduct Award Recipient

Organized Crime Drug Enforcement Trafficking Area (HIDTA) Service Award

Tri-County Drug Task Force Service Award

Pine Bluff Police Department "Chief's Coin of Excellence"

U.S. Attorney's Office Project Safe Neighborhood Coin of Excellence
Training/Certifications:
Arkansas Criminal Justice Institute's Law Enforcement Instructor Development '16

Arkansas Leader, Session XX, U. of A. Criminal Justice Institute '11

XXXVII (37th) Session of the School of Law Enforcement Supervision '11

Federal Asset Forfeiture, DEA Quantico, VA '09

Regional Counterdrug Training Academy, Naval Air Station Meridian '05

Senior Law Enforcement Training Certificate

Arkansas Law Enforcement Training Academy (ALETA) '04