Sheriff Walter C. "Dub" Brassell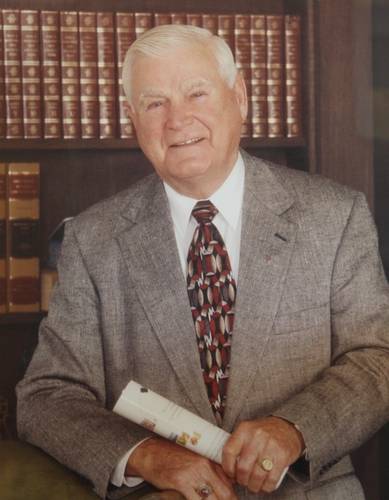 Sheriff Walter C. "Dub" Brassell
Term: 1977-1998
Sheriff Walter Charles (W.C.) "Dub" Brassell
Walter Charles (W.C.) "Dub" Brassell was born on January 8, 1920 in Arkansas, the son of William Claude Brassell and Carolyn "Fannie" Elmore Brassell. He enlisted in the United States Army in November 1944 and served in World War II. Brassell served in the Pacific with a Ranger outfit during W.W. II, and served with a heavy tank outfit during the Korean conflict. Prior to becoming the Sheriff, he worked for the St. Louis S.W. Railway ("The Cotton Belt Route") as a relay repairman for twenty-seven years. Brassell was a member of the Hazel Street Baptist Church, where he was a Deacon and teacher in the Junior High Sunday School Department. Brassell had many hobbies including fishing, hunting, football, and especially boxing. He was appointed as the Boxing Commissioner for Golden Gloves for Southeast Arkansas. Brassell was a true servant to his community and was appointed to the Youth Advocacy Board of Jefferson County. He also served as a member of the Southeast Arkansas Peace Officers Association, V.F.W., Optimist Club, Jefferson Wildlife Association, Shriners, Lion's Club, Inter-City Kiwanis Club, and Ducks Unlimited.
Sheriff "Dub" Brassell was elected as the 29th Sheriff of Jefferson County Arkansas, taking office in January of 1977. He notably served as the Sheriff of Jefferson County for 22 years (11 terms) until his retirement on December 31, 1998. Prior to being elected as Sheriff, Brassell had no previous law enforcement experience.
On July 13, 1981 Sheriff Brassell was appointed by then Arkansas Governor Frank White to serve as one of seven (7) commission members of the Arkansas Law Enforcement Standards and Training Commission. Those duties allowed Sheriff Brassell to be a part of shaping some of Arkansas' first rules, regulations, and training that define what law enforcement is today. Sheriff Brassell was such a well-respected asset that he was reappointed to that position on January 14, 1987 to serve a new term. He was elected as the Vice-Chairman on February 14, 1989 and then Chairman on July 10, 1990, serving until his retirement in 1998. Sheriff Brassell was elected as the President of the Arkansas Sheriff's Association for a term and was a member of the National Sheriff's Association.
Sheriff Brassell was most widely known simply by his nickname "Dub". Sheriff Brassell was a stoic figure who led the Jefferson County Sheriff's Office as one of the longest sitting Sheriffs of his time. After his retirement as Sheriff, Brassell was elected the serve on the Jefferson County Quorum Court.
Sheriff Brassell passed away January 3, 2000 and is buried at Graceland Cemetery in Pine Bluff, AR.
In memoriam of Sheriff Brassell's life and service to Jefferson County, Arkansas the Jefferson County Jail located at 300 East 2nd Avenue, which opened in 2007 is aptly named the "W.C. 'Dub' Brassell Detention Center".