SHERIFF REMEMBERS BATEMAN AS A SUPPORTER, FRIEND, AND HUMANITARIAN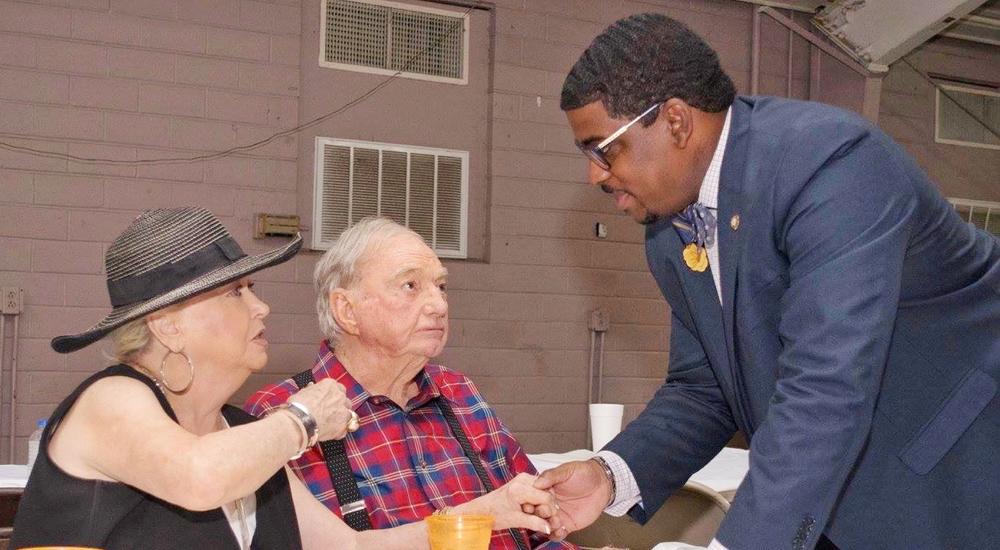 Mrs. Wanda Bateman and Sheriff Lafayette Woods, Jr. having a friendly conversation
It is with heavy hearts that we share the news of the passing of Mrs. Wanda Bateman. We are deeply saddened by the loss of Mrs. Bateman, who passed last night. We extend our deepest sympathies to Deana Bateman, Alex Bateman, Drake Bateman, Joy, and the entire Bateman Family as they mourn this great loss.
Mrs. Bateman was a very successful businesswoman, operating businesses all over Pine Bluff. She was a real estate mogul but above all, she was a true humanitarian. The invaluable advice and counsel she provided on the myriad of challenges facing our community was sincere. She was intimately involved in so many aspects of our community that it's hard to name them all.
Mrs. Bateman was recognized for her contributions by so many organizations to include the Jefferson County Sheriff's Office, Pine Bluff Police Department, THV Channel 11 News, Arkansas Food Bank, and countless others.
Mrs. Bateman was an extraordinary community leader, passionate giver, and dedicated servant of the citizens of Jefferson County and the State of Arkansas. She cared deeply about strengthening community programs including those created by the law enforcement community and services for low-income families. Because of Mrs. Bateman's commitment to Jefferson County, we are better as a community.
In 2012, Mrs. Bateman donated funds to the Jefferson County Sheriff's Office to help purchase Andor, a former JCSO K-9 officer.
The passing of Mrs. Bateman is a significant loss for so many. I will miss not only her advice and gentle manner, but also her friendship and support. She was an extraordinary woman, and I shall miss her enormously. On behalf of the men and women of the Jefferson County Sheriff's Office, I want to again extend our deepest sympathies to the Bateman Family.
Sincerely,


Lafayette Woods, Jr. Sheriff