HAVE A SAFE AND HAPPY THANKSGIVING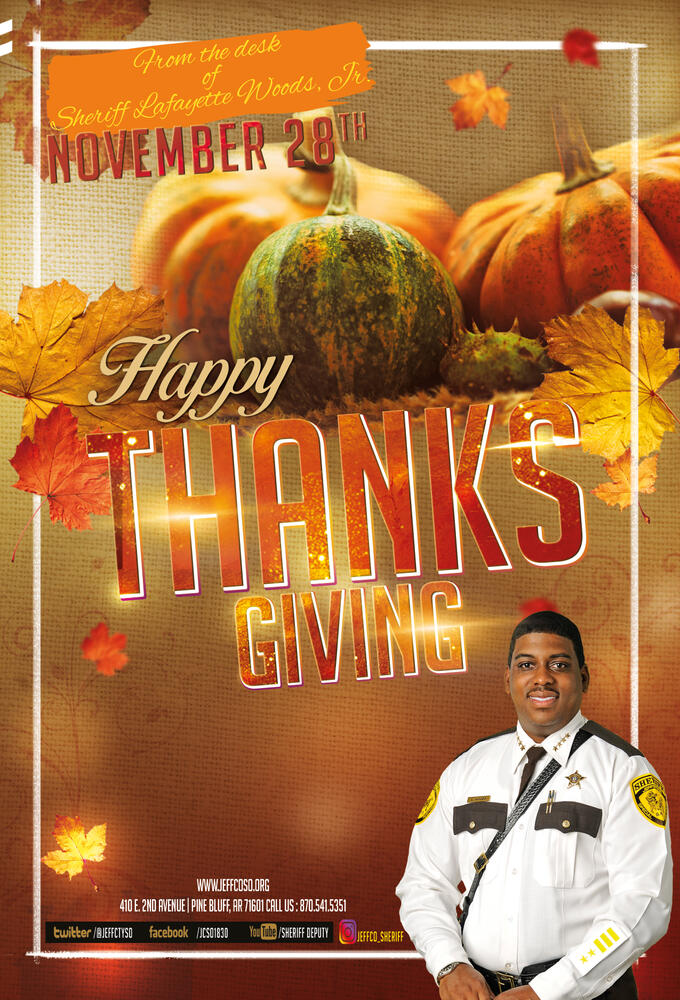 Citizens,
History is going to remember 2020 as the year a virus pandemic dropped our world to its knees. Our sense of safety, our economy and our mental health were all shook by this event. As millions of families across the country prepare for Thanksgiving, the idea of "giving thanks" this year, while tougher, is as necessary as ever. People really need to hear it. We all need to feel it. And so many truly, truly deserve it.
Thanksgiving is a special holiday when we pause and reflect on our blessings and what matters most. It's a holiday that has significant meaning for our country and encourages us to wrap ourselves in gratitude for our family, loved ones, opportunities and growth.
During this holiday season, the members of the Jefferson County Sheriff's Office would like to thank the citizens of Jefferson County for their continued cooperation and support throughout this difficult year. Thank you for entrusting us with your safety. Our people are our best asset. Despite what may come our way, we find a way to unite, help each other out and function as a community.
I also want to thank all of our deputies, detention officers, dispatchers, medical personnel, and everyone else who serve and protect us every day with empathy and professionalism. Many sacrifice time with their families to ensure you can celebrate safely with yours. I hope you will join me in expressing your appreciation to the men and women of JCSO and all first responders.
Let us be thankful for one another and for our great County and state that we are blessed to call home. Take each day as a gift and fill them with positivity and gratitude.
From everyone at JCSO, we wish you a very Happy and Safe Thanksgiving!
Sincerely,



Lafayette Woods, Jr.
Sheriff