Have a Safe and Happy New Year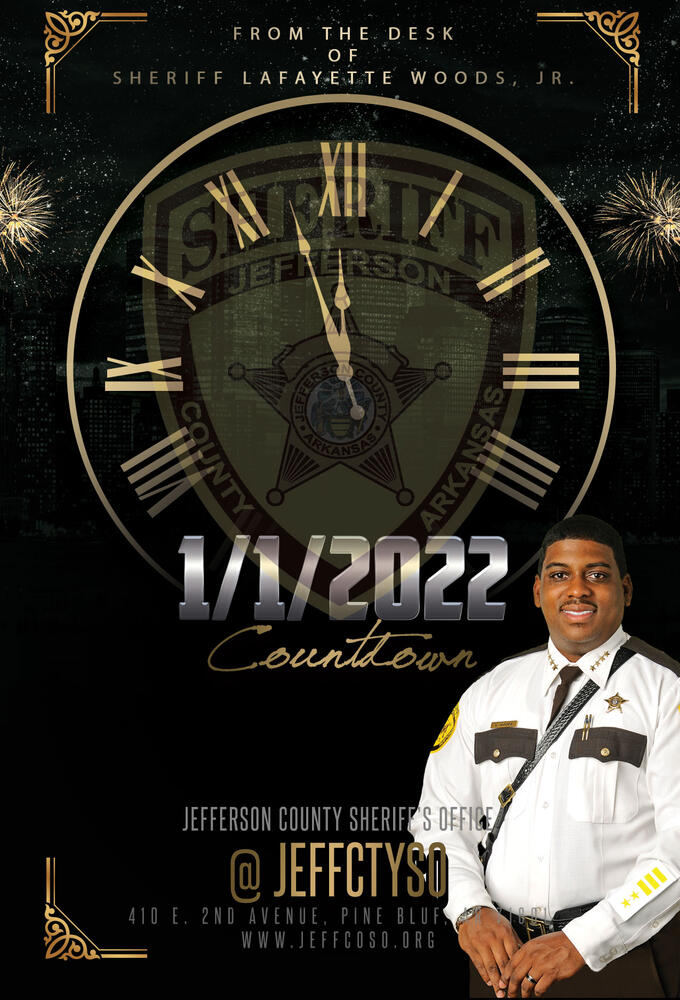 Dear Citizens:

On behalf of the men and women of the Jefferson County Sheriff's Office, we would like to take this opportunity to extend our best wishes for a wonderful and safe New Year. We look forward to helping make 2022 a great year for our community.
Each year, our office strives to improve programs and services for our residents. The focus on improving law enforcement-community partnerships, pursuit of policies and practices that ensure transparency and accountability and emerging departmental technology improvements to guarantee more efficient operations has never been stronger. Much of my first term has been spent implementing a host of initiatives focused on bolstering training plus building stronger community relationships while combining both efficiency and effectiveness through the acquisition of advanced law enforcement technology to enhance operations. I have worked side-by-side with my staff to achieve excellence in many areas.
Even during the difficult times that 2021 brought, our office was able to complete the following improvements and accomplishments:
Enrollment acceptance into the Commission on Accreditation for Law Enforcement Agencies (CALEA) Accreditation process, a four-decade old credentialing authority whose primary mission is to accredit public safety agencies that have demonstrated compliance with CALEA Standards and have been awarded CALEA Accreditation by the Commission.


Establishment of a committee to form the foundational structure of Jefferson County Sheriff's Office first 501©3 non-profit foundation (Jefferson County Sheriff's Foundation, Inc.). The purpose of the foundation aims to innovatively expand, enhance and sustain our delivery of public safety services to the citizens of Jefferson County by providing financial support beyond the scope of the Jefferson County Sheriff's Office's normal operating budget in areas such as specialized equipment and technology, professional development of deputies and staff and scholarship opportunities for the Jefferson County Sheriff's Office employees and their children.


$15,000.00 Arkansas Administrative Office of the Courts Security and Emergency Preparedness court security grant award recipient, who used funds to enhance court security through the purchase of two (2) Cellsense Plus Contraband Detection Systems to detect and prevent prohibited items from being introduced inside the courthouse.


Acquisition and installation of Guardian RFID--- an advanced cloud-based business and artificial intelligence technology used as a personnel management tool as well as jail detainee tracking, cell checking, security checking and record keeping tool to also help optimize staff performance and manage detainees more effectively. Through the same partnership, we were also able to acquire the Justice Bridge program, a teleconferencing system installed in each prison in Arkansas and now in the sheriff's office, jail and circuit court room in Jefferson County to connect detainees and the county judicial system that not only helps defray costs associated with jail detainee transportation at no cost to taxpayers, but also help reduce risks involved in transporting jail detainees to court.


100% completion of jail standards inspections at both the state and federal level for the W.C. "Dub" Brassell Adult Detention Center (DBDC) and Jack Jones Juvenile Justice Center.


Introduction of the first Comprehensive Opioid Abuse Site-Based Program (COAP) inside the W.C. "Dub" Brassell Adult Detention Center. The program is aimed to aid in reducing the stigma associated with detainees suffering from substance abuse disorders through law enforcement and community educational efforts, increased awareness about opioid crises and strategies by peer recovery support specialists. To date, the program has graduated two classes.


Introduction of Gang Reduction Initiative of Pine Bluff (G.R.I.P.), a collaborative anti-gang reduction initiative that utilizes the federal Office of Juvenile Justice Delinquency Prevention's (OJJDP) evidence-based Comprehensive Gang Model (CGM) to guide its three-prong approach of intervention, prevention and suppression in order to significantly reduce the increase of gang crime and combat the uptick in violence in the community.


Since taking office in 2019, our Criminal Investigations Division has been able to increase the number of criminal cases cleared by 37.87%. Cleared cases are mostly as a result of an investigation being conducted and a suspect being identified, arrested, and charges being filed. Under my administration, we were able to raise the average cases cleared from 483.8 to 667 per year. In the first (9) nine months of 2021, through September, the cleared cases are at 586, which is higher than (4) four of the last (5) five of my predecessor. Additionally, in 2020 while facing a global pandemic, our investigators broke a (6) six-year record, at 754 cases cleared. Much of this was accomplished with a fewer number of investigators compared to in the past.


These are a few key snapshots of what has been accomplished during my tenure as sheriff with the help of many others that serve with efforts to be more efficient while saving taxpayer's money.
I want citizens to know that my faith, commitment and dedication has never been stronger. Deputies have labored earnestly and diligently to render public safety services through a strong foundation of leadership that residents so richly deserve in a sheriff. I am eternally grateful for the honor and privilege to serve as sheriff. I ask for continued support, as my deputies and I continue to work with you to improve the quality of life for each and every one of you. It is my pleasure to say "thank you" to our community as we wish you a full year in 2022 of health, happiness, and success.
Please contact my office if my staff and I can be of assistance.
Happy New Year!!!!!



Lafayette Woods, Jr.
Sheriff