SHERIFF'S CONDOLENCES TO THE BADGLEY FAMILY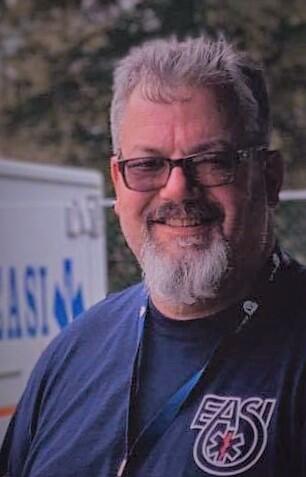 John Badgley - EOW Sept. 26, 2022
It is with heavy hearts that we share news of the passing of John Badgley, a public safety legend in Southeast Arkansas, and our friend. We are deeply saddened by the loss of John, who passed on yesterday, after a strong, courageous battle against cancer. We extend our deepest sympathies to Christy and the entire Badgley family as they mourn this great loss.
Sheriff Lafayette Woods, Jr. said, "I was saddened to learn of John's passing. Ultimately, John and I shared the same goals; to keep citizens safe, mitigate harm, and bring order to chaos. But John was an individual who could calm a hurricane. Large in stature yet even larger at heart, he simply had a calm and confident way and saving many lives throughout his career that he was so passionate about. To those who were touched by John, you were fortunate. The John Badgley I knew definitely had a household name in the emergency services field, working so many years at Emergency Ambulance Service, Inc. (EASI) as a paramedic, trainer, and manager. My experience with him was that he was a public servant that truly believed in service before self".
In December of 2020, a shooting left one person dead and two EASI paramedics injured. While treating a woman who had been physically assaulted by her boyfriend, the paramedics were approached by the suspect boyfriend at the rear of their ambulance. The encounter began as an argument because the suspect did not want the paramedics to render aid to his girlfriend. The suspect pulled out a gun and fired upon both paramedics before being shot and killed himself by one of the paramedics.
"In the wake of the shooting, John immediately began to explore ways to better ensure the safety of his personnel. The cause and concern shared by John and others birthed the introduction and passage of Senate Bill 467 during the 2021 regular session of Arkansas' 93rd General Assembly that now permits an Emergency Medical Technician to possess and carry a concealed handgun without a concealed handgun license. John's voice for the safety of his personnel helped champion this legislation. Paramedics were also equipped with ballistic vests", said Woods.
Sheriff Woods expressed, "What I will miss most about John is his ability to make anyone laugh with his priceless sense of humor". John was a part of our Jefferson County Sheriff's Office family in so many ways and we certainly grieve with the Badgley family for his loss. But we know he is no longer in pain at the feet of his Savior.
Sincerely,

Lafayette Woods, Jr.
Sheriff