IN OBSERVANCE OF DOMESTIC VIOLENCE MONTH
Dear Citizens:
"For many years, our office has been active in the issue of advocating against domestic violence. On July 20, 2015, as a member of the Jefferson County Sheriff's Office and very active board member for the CASA Women's Shelter, Major Lafayette Woods, Jr., represented our agencies interest in advocating against domestic violence during several visits to our State's Capitol. Major Woods' participation was part of a task force comprised of Arkansas State Representatives Charlotte Douglas (R-Alma), Bob Ballinger (R-Hindsville), and other advocates against domestic violence."
"The task force worked tirelessly to help create Arkansas Act 873, also known as "Laura's Card" that law enforcement now utilizes to give victims in domestic violence cases to ensure they're aware of resources available to them. Also created was Act 952 requiring Arkansas schools to include domestic and dating-violence in health curricula, Act 876 that allows for victimless prosecution of domestic violence cases and Act 877 known as "Laura's Law", a law requiring all law enforcement officers in the State of Arkansas to conduct a lethality assessment that involves officers asking victims a set of questions to assess their level of risk of being killed by domestic violence."
Domestic violence can happen to anyone and affects people of all economic, marital, sexual and educational backgrounds. Women are much more likely to be victims of intimate partner violence, as the majority of domestic abuse victims who report being a victim are women. Violence of any kind whether physical, sexual, psychological or verbal is never justified. The long-term scars both physical and emotional can cast a long shadow on those affected.
The Jefferson County Sheriff's Office joins other advocates in promoting Domestic Violence Awareness Month by announcing our new resource, Domestic Violence Pocket Slider Guide.
"We are hopeful this new resource will give courage to victims to leave their abuser as well as educate others on the signs exhibited by persons experiencing domestic violence. Domestic violence affects women, children, the workplace and legal systems; it is a critical healthcare issue and a right to life issue." The pocket slider resource guide provides everything victims need to know about the issue from warning signs to how to cope and many others topics. It is available free of charge by visiting our administrative office within suite 112 of the Jefferson County Circuit Courthouse located at 101 E. Barraque Street in Pine Bluff, Arkansas. It is available to download free of charge as a PDF by visiting www.jeffcoso.org and clicking on the tab, "Laura's Law" and scrolling down to the downloadable PDF link "Domestic Violence Pocket Slider Guide".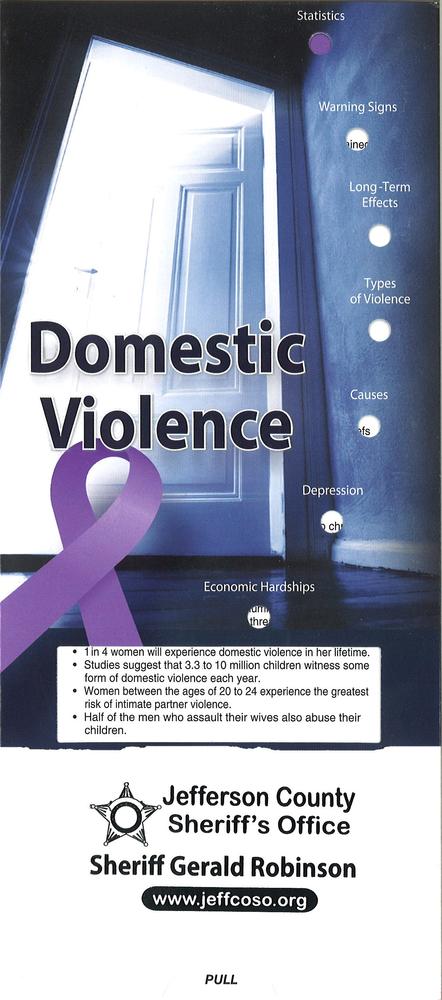 If you are unable to download the guide and are still interested in obtaining a copy, you can also email us at info@jeffcoso.org and request that one be delivered to you. Please remember to include "Request DV Pocket Slider" in the subject line of your email along with your address and/or phone number.
For additional information regarding domestic violence resources, please visit our website, www.jeffcoso.org and click on the "Laura's Law" tab.
Sincerely,

Sheriff