Extending Our Condolences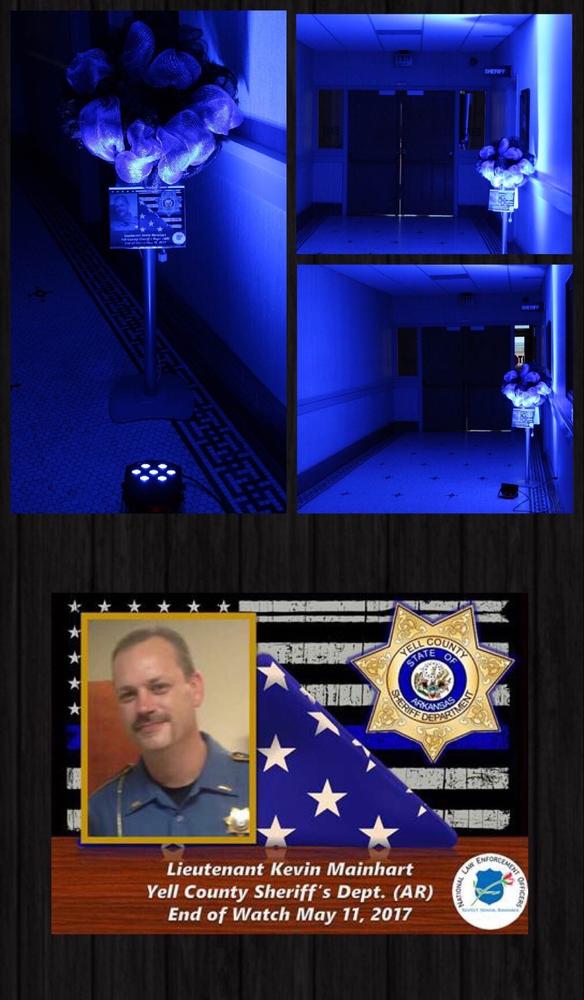 Pictured Above: A collage of photo's taken of a memorial
for fallen officer, Lieutenant Kevin Mainhart of the
Yell County Sheriff's Department, which was placed outside to
entrance of the Administrative Office of the Jefferson County Sheriff's Office
located inside the Jefferson County Circuit Courthouse, where
the sheriff's office also illuminated the east hall in blue.
Greeting,
Today, the National Law Enforcement Officer Memorial in Washington, DC adds yet another name to the nation's monument used to memorialize law enforcement officers who have died in the line of duty.
On hearts and prayers are with the Mainhart family, Sheriff Bill Gilkey, and the entire Yell County Sheriff's Department, who on today lost a true hero and public servant (Lieutenant C. Kevin Mainhart). Lieutenant Mainhart was 46-years old and 5-year veteran of the Yell County Sheriff's Department.
Lieutenant Mainhart was killed in the line of duty, while conducting a routine traffic stop. The bodies of two other people were also found at a nearby home according to media reports. The suspect, James Michael Bowden, 32, was taken into custody following a standoff that involved at least one hostage, who was released before Bowden surrendered to law enforcement.
This senseless act of violence comes less than one week of the National Peace Officers Memorial Day, scheduled May 15th each year. As a veteran law enforcement executive, I know that law enforcement-citizen conflict is at an all-time high. The relationship between public citizens and law enforcement, particularly its violent nature has under continual re-examination.
Lieutenant Mainhart's death marks the 1st in the line-of-duty death for Arkansas this year, the 4th nationally in the month of May 2017, and 46th overall nationally in 2017. We here at the Jefferson County Sheriff's Office pause in our operations to mourn the loss of Lieutenant Mainhart, while noting the significance of his service in the field of public safety.
Sincerely,
Gerald Robinson
Sheriff