Saint Patricks Day Safety Message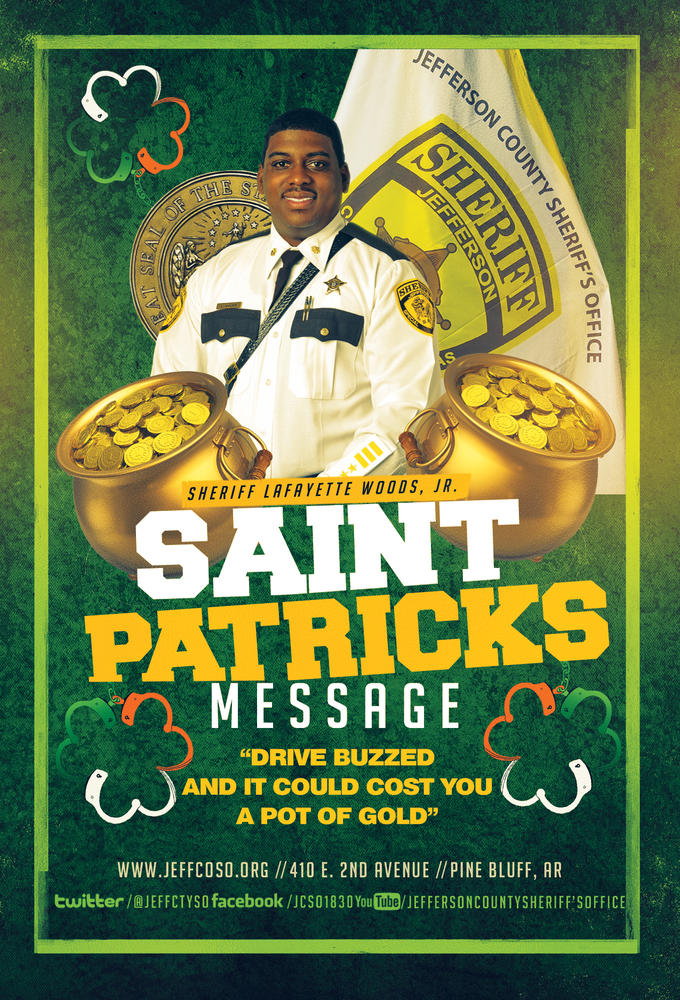 Dear Citizens:
As one of the country's most popular holidays, St. Patrick's Day has celebrated the roots of millions of Americans with Irish ancestry for over 1,000 years. Saint Patrick is the patron saint and national apostle of Ireland, credited with introducing Christianity to the Irish people. St. Patrick's Day is celebrated annually on March 17, which is believed to have been the day St. Patrick died in the year 461. The most intriguing legend is that he used the three leaves of a native Irish clover, also known as the shamrock to explain the Holy Trinity (Father, Son, and Holy Spirit). Since the ninth or tenth century, Ireland has been observing the Roman Catholic feast day of St. Patrick on March 17.
In the United States, New York City and Boston are home to the largest St. Patrick's Day celebrations. Many cities in Arkansas celebrate and have parades commemorating St. Patrick's Day including North Little Rock, Hot Springs, Eureka Springs, etc. Irish and non-Irish alike commonly participate in the wearing of the green clothing or an item of green.
The unlucky truth is that St. Patrick's Day is known as the fourth largest-drinking holiday in the country. The National Highway Traffic Safety Administration found that 252 people died as a result of drunk driving on St. Patrick's Day (or the days immediately following or preceding it) between 2011 and 2015. By one estimate, an alcohol-related car accident takes place every 72 minutes on St. Patrick's Day, and as many as 75 percent of those accidents happen when one of the drivers has drunk over two times the legal limit.
The U.S. Department of Motor Vehicles says it is illegal everywhere in the United States to drive with a blood alcohol content over .08%. There is a zero tolerance limit for people under 21—any amount of alcohol can result in a DUI or DWI arrest.
Wear your green and enjoy the many St. Patrick's Day festivities, but also remember to be careful. Don't rely on luck. "Designate a sober driver because if you drive buzzed then it could cost you a pot of gold," said Jefferson County Sheriff Lafayette Woods, Jr.
Sincerely,

Lafayette Woods, Jr.
Sheriff