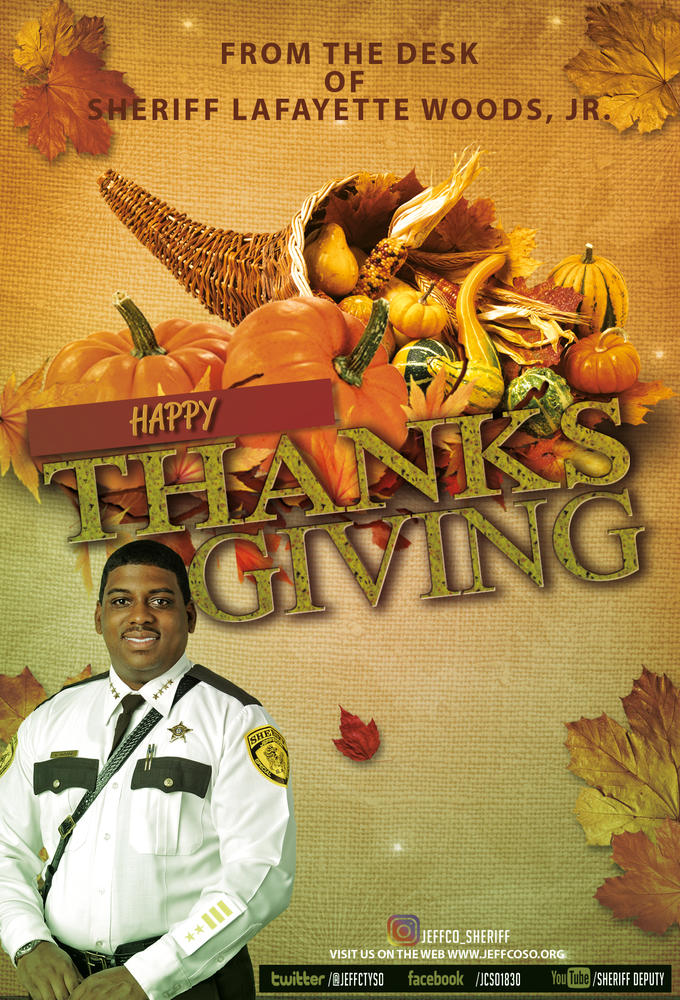 Dear Citizens:
As the holiday season approaches, I want to personally take this time to acknowledge our staff and thank them for their important contribution to this office and our community. I want to thank each and every one of our deputies and civilian staff for their hard work and encourage you to do the same when you see them.
Their hard work and dedication to our office and our community is something we are all very thankful for - not just during the holiday season, but all year-round.
I would also like to acknowledge our community for their tremendous support and efforts in helping make Jefferson County a safer place to live and raise a family. We greatly appreciate you!
As we celebrate Thanksgiving let us take time to be thankful for our many blessings. I encourage you this Thanksgiving to be a blessing in some way to those less fortunate.
As we enjoy the freedom to fellowship with our family and friends let us not forget the men and women in our Armed Forces both home and abroad who will be away from their families during the holidays allowing us to celebrate in peace.
Also, remember those who will be working around the clock this Thanksgiving, the men and women of Law Enforcement, Firefighters and Emergency Medical Personnel that courageously protect and serve our communities.
Most of all, thank God the father for his blessings for in Thessalonians 5:18 we read, "Give thanks in all circumstances; for this is God's will for you in Christ Jesus."
Many of you will be driving to go home for the holidays. Please keep the following safety tips in mind while you travel:
Buckle your seatbelt always.


Don't drink and drive - even one alcoholic drink can reduce your abilities and impair your judgment.


Keep your eyes on the road and hands on the wheel - eating, changing music stations, and digging for items in the floorboard or back seat can lead to trouble. Instead, pull over and take a break.


Be courteous - because of the volume of vehicles on the road, you're bound to run into a few traffic jams, be cut off, or be forced to stop short - remain calm and courteous - don't let other drivers ruin your holidays.


Have a safe and Happy Thanksgiving from Sheriff Lafayette Woods, Jr. and the men and women of The Jefferson County Sheriff's Office.
Sincerely,



Lafayette Woods, Jr. Sheriff