Mobile Command

The Mobile Incident Command Unit (MICU), purchased with funds received through a grant was placed in operation in 2000. It was designed for multi-agency use within the Jefferson County Sheriff's Office Operational Area, which includes the incorporated and unincorporated areas of Jefferson County. The MICU is 44 feet in length and 8.5 feet in width. It is equipped for a variety of uses, which include but are not limited to a mobile command post, a communications/dispatch center and as the secondary Metropolitan Emergency Communications Association (MECA) Dispatch Center if primary communications fail. The MICU will be deployed for use throughout Jefferson County as needed for training, to serve the citizens of Jefferson County, and for demonstration purposes.
The MICU is equipped with state of the art equipment, which include but is not limited to a satellite system, which allows the unit to receive internet, television, and satellite telephone services to supplement the cellular telephone system in the MICU. The MICU also contains a portable radio interoperability solution. This allows radios on different frequencies to be able to communicate with one another during an incident, when other lines of communications have failed.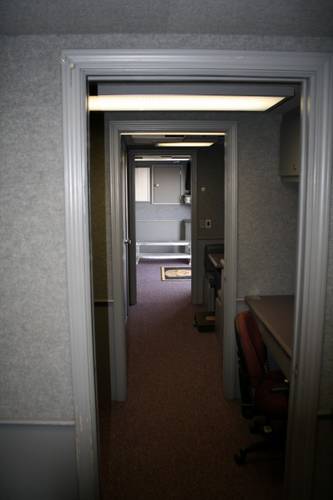 The command area is located in the rear of the MICU and has a total of five work stations, each containing a radio and one ACIC/NCIC Terminal capable of requesting criminal records checks and registration checks. The command area has an LCD screen to view images from a camera, atop a forty foot retractable mast, attached to the center of the MICU.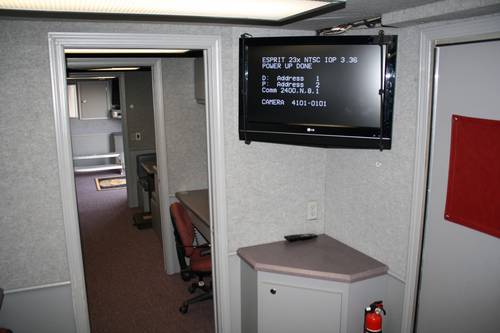 The dispatch/communications center is located at the front of the MICU. It has a plasma television for watching news coverage. The MICU is capable of accommodating nine dispatch or other work stations. It contains a number of satellite phones, one desktop computer, numerous law enforcement and fire radios, as well as a flat panel television to view maps, camera images or news coverage.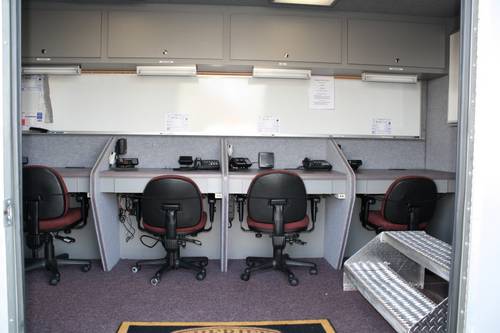 The MICU with its 12KW generator, on board lavatory and galley is completely self-contained.