Project Life Saver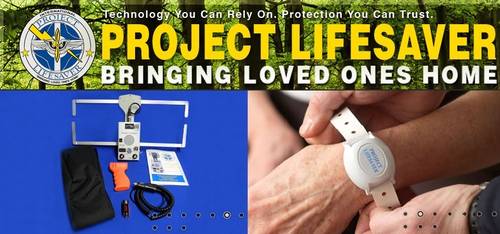 Project Lifesaver is a radio transmission system designed to assist law enforcement and rescue agencies in locating lost or missing persons who have been diagnosed with Alzheimer's, Autism, Dementia, or other disorders that may prohibit them from communicating personal information such as who they are or where they live. This program is designed for children and adults who have the propensity to wander from their homes and who may get lost.

Project Lifesaver is a coordinated county-wide project, partnering County and City law enforcement and emergency response agencies. Project lifesaver can help provide peace of mind to caregivers. However, it does not replace the need for supervised care.

The transmitter is a small circular radio device on a wristband, approximately the size of a wristwatch. The transmitters and wristbands are worn 24 hours a day, 7 days a week and are difficult to remove without the appropriate tools. If the participant becomes lost or missing, the Sheriff's Office and emergency response services have specialized tracking equipment to help isolate the location of the transmitter the participant is wearing. The search will start from the last known location of the participant and work outward until the transmission signal is obtained. The goal is to determine the location of the signal in a quick, timely manner, minimizing the risk of harm to the loved one.
Lieutenant Kaylon McDaniel administers the Project Lifesaver program for the Jefferson County Sheriff's Office. For more information or interested families or individuals, please contact Lieutenant McDaniel at 870-541-5496 or via email at kaylon.mcdaniel@jeffcoso.org