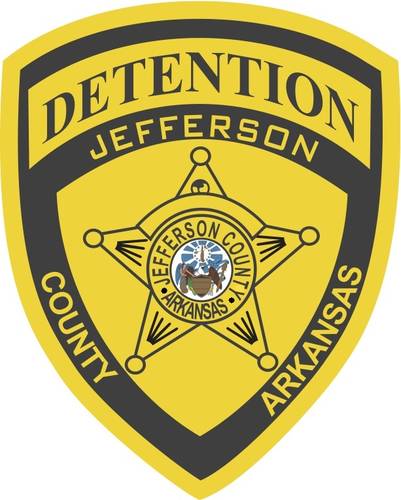 The Jefferson County Jail, formally the W.C. "Dub" Brassell Adult Detention Center (DBDC) is under the leadership and direction of Acting Jail Administrator, Major Tyra Tyler-Johnson.
Chief Deputy-Jail Administrator
Email:
Admin Phone No. 870.541.4620
Booking Phone No. 870.541.1921
Admin Facsimile 870.541.4624
Booking Facsimile 870.541.9625
Tyra Tyler, Major
Acting Jail Administrator
Email: tyra.tyler@jeffcoso.org
Admin Phone No. 870.541.4620
MAJOR TYRA TYLER'S BIO
Major Tyler was employed by the Jefferson County Sheriff's Office in 1997 as a secretary. Under the direction of Sheriff Boe Fontaine, in 1999 she graduated from the Arkansas Law Enforcement Training Academy and became the second black female to be hired as a uniformed deputy. Major Tyler transferred to the Service Division with the primary focus of assisting with the jail budget. In 2004 she was promoted to Sergeant, making her the first ranking female in the history of the Jefferson County Sheriff's Office. Major Tyler promoted to Lieutenant 2005 in the Special Services Division, where she assisted with prevention and intervention programs within Jefferson County.
In 2007, under the leadership of Sheriff Gerald Robinson, she was promoted to Major and the assignment of Assistant Jail Administrator at the W.C. "Dub" Brassell Jefferson County Adult Detention Center. She presently holds that position and is the highest ranking female within the agency.
Major Tyler co-sponsored the Jefferson County Sheriff's Office Child Identification Program and is a former member of the Special Response Team. She holds a senior law enforcement certification from the Arkansas Commission on Law Enforcement Standards and Training. Major Tyler is a former member and secretary of the Arkansas Jail Administrators Association. She has mentored in the Pine Bluff School District, served as a past member and president of the Pine Bluff School District Board of Education, and a former member of AmeriCorps VISTA.
Major Tyler is a 2018 graduate of Leadership Pine Bluff, has a Bachelor of Science Degree in Business Administration from the University of Arkansas at Pine Bluff, a Masters of Business Administration from the University of Phoenix, and a Masters of Science in Criminal Justice from Walden University.
HISTORY OF THE JAIL
In 2007, Jefferson County Officials opened the W.C. "Dub" Brassell Adult Detention Center, a new state of the art facility that nearly triples the number of jail beds in Jefferson County.
Jefferson County and Pine Bluff had long been considered a hot bed of crime for some time.
The opening of the new W.C. "Dub" Brassell Adult Detention Center with its 315 beds changes the past issues of lack of space for offenders. The new detention facility affords our agency the opportunity to be able to do as we promised to the citizens of Jefferson County. That promise is that we a committed to locking up the criminal element here in Jefferson County, something that we have not been able to do for a longtime.
Previously because of detainee overcrowding issues, Jefferson County were forced to house detainees at other facilities throughout the state.
The new state of the art facility is equipped with video surveillance for monitoring detainees as well as video visitation for the visiting families of detainees. The surveillance equipment also ensures that the overall security of the facility is maintained.
JAIL OPERATIONS
All persons who are arrested and taken into custody are transported to the Detention Center for booking and incarceration. The Detention Center is divided into separate housing areas for low/medium security risk males, high security risk males, and female detainees, as well as isolation and temporary holding cells. The Detention Center houses both pre-trial detainees and post-conviction inmates who are serving sentences or awaiting transport to the Arkansas Department of Corrections or Federal Bureau of Prisons.

The detainees have access to television. Smoking is not permitted. The Detention Center has an in-house medical facility area used by the staff physician and nurse practitioner. In addition, there is a full kitchen where all meals are prepared for detainees. With rare exception, the meals consist of oatmeal/bread or grits/bread, sausage/bacon for breakfast, sub-sandwiches for lunch, and baked chicken and corn for dinner.

Each member of the Detention Center staff is required to complete a minimum of 40 hours of state approved training to become certified Jailers. They also receive certified training in Ethics & Professionalism, Jail Standards, Fingerprinting, Search of Detainees, Prisoner Transportation. Some of the Jailers are also certified as Part-Time II Deputy Sheriffs with the department.

When reporting for duty at the beginning of the shift, each Jailer is given a duty assignment for that shift. That assignment will be as either a Booking Officer, Control Panel Operator, or Communications Console Operator.
Booking Officer: Responsible for the receiving and intake process for all detainees. This includes computer book-in, fingerprinting, photographing, searching, change-out, and housing cell block assignment. This position is also responsible for the dispensing of prescription and non-prescription medications under the orders of the staff Nurse Practitioner, as well as handling commissary. This Jailer also deals personally with inmates in the housing areas.
Control Panel Operator: Responsible for electronically controlling all entrances and exit points to the facility, monitoring all security video surveillance systems, operating the intercom system, observing inmates in housing areas, communications with inmates via intercom, and for maintaining all warrants of arrest and orders of protection.
Communications Console Operator: Responsible for answering incoming phone calls, handling radio communications with sheriff's deputies and other officers in the field, entering and maintaining accurate records in the computer aided dispatch (CAD) system, handling all inquiries.
During 2011, there were numerous persons booked into the Detention Center. A great percentage of those bookings were for felony offenses, while others were for misdemeanor offences. The recidivism rate for the year was low. In previous years, the jail population count has been as high as 289 detainees, while the lowest jail population count has been 140 detainees. The profit to the County from Commissary sales was $63,440.09.
HomeWAV Video Visitation
Effective Monday, February 2, 2015 visitation will be seven days a week from 8:00am until 10:00am and 1:00pm until 3:00pm through HOMEWAV at the Dub Brassell Detention Center. If you are using your home computer, smart phone or tablet, visitation will remain the same. Anyone who would like to visit at the detention center will need to go to WWW.HOMEWAV.COM and set up an account. The account must be set up before you come to the detention center to visit, it cannot be set up at the detention center. Questions regarding the set up process must be directed to HOMEWAV at 1-844-394-6639. Once the account has been set up, the detainee's name will show on the monitor inside of the pod where he or she is housed. There will be no need to call the detention center to ask for a deputy to notify your loved one. There is no cost to set up an account; however, users pay $0.50 per minute to utilize HomeWAV. Since this is a new process, there may be adjustments made in the early stages. We ask for your patience as we make this transition.
Click on the video below for a brief instructional video on how HomeWAV Video Visitation System works.
Pretrial and Attorneys are permitted to visit with clients (detainees) 7 days a week, preferably during business hours. Detention Center Staff will make arrangements provided certain circumstances (i.e. court proceedings). Visitation time restrictions do not exist for the aforementioned persons in this section.
Members of Clergy are permitted to visit 7 days a week for a maximum of 30 minutes strictly during business hours. If the visit involves the notification to a detainee regarding death in his/her family then special arrangements can be made for the member clergy to visit with the detainee. NO family member will be allowed to accompany the clergy.
Special Visits are at the discretion of Sheriff Robinson, who has final approval.
Detainee Mail
Detainee mail rules, how to address your mail, delivery schedule, and our policies on contraband, sending cash, sending books, prohibited mail, and rejecting incoming mail.
The Jefferson County Sheriff's Office and W.C. "Dub" Brassell Adult Detention Center (DBDC) regulates detainee mail to provide a safe, secure, and orderly treatment-based environment for detainees. Detainees may send and receive mail and receive approved publications consistent with Detention Center interests and accepted practices.
1. All detainees of DBDC will be allowed to send and receive mail that complies with U.S. Postal regulations and the rules governing the W.C. "Dub" Brassell Adult Detention Center.
2. No mail or notes may be left at the Detention Center for detainees: all such materials must be received through the U.S. Mail.
3. Detainees may not send, receive, transfer or possess materials in violation of the rules governing the DBDC.
4. It is the responsibility of the detainee to notify their family and friends about the mail rules and regulations.
Addressing Your Mail
All letters to detainees will be addressed in the following manner:
DETAINEE'S NAME
c/o W.C. "Dub Brassell Adult Detention Center
300 E. 2nd Avenue
Pine Bluff, AR 71601
All incoming mail must have a return address:
FIRST AND LAST NAME
COMPLETE STREET ADDRESS
CITY, STATE ZIP CODE
Delivery Schedule
Except for circumstances beyond the control of the detention center, incoming mail will be delivered to detainees after it is received and processed, within twenty-four (24) hours, (excluding holidays and weekends). The exception would be confiscated mail.
The detention center will deliver the mail Monday-Friday, excluding holidays, barring any unforeseen circumstances
Mail received for detainees who are no longer in custody of the W.C. "Dub" Brassell Adult Detention Center will be returned to the sender.
Detainees of the W.C. "Dub" Brassell Adult Detention Center are limited in the number of letters they may send or receive two (2) letters. Detainees are limited to sending and receiving only two (2) letters per week not to include mail of legal substance. Limits have been imposed because the volume of letters outside the aforementioned restrictions could greatly result in an unreasonable hardship on DBDC personnel, who are ultimately responsible for sorting and inspecting mail delivered to the detention center.
Contraband
If any contraband is found in the inmate mail, DBDC will seize it. Efforts will be made to identify the person who sent the contraband. Dangerous or serious contraband will be turned over to the Jefferson County Sheriff's Office Criminal Investigators for investigation.
Introducing contraband into a correctional facility, (through the mail or by any other means), is a CLASS C Felony. Such activity or suspected activity will be investigated for criminal prosecution.
Prohibited Mail
The following mail is prohibited by DBDC for the safe, secure and orderly environment in promoting rehabilitation:
1. Mail used to initiate contact with the victim(s) of the alleged crime(s) they have committed, unless the detainee has prior authorization from the courts.
2. Correspondence between detainees in DBDC or other correctional institutions unless the parties are married or have prior approval from the administration.
3. Mail that contains threats of physical harm to any person or threats of criminal activity.
4. Mail that concerns sending contraband into or out of the Jail.
5. Plans to escape, or depictions or description of blueprints or operational details on an institution's security.
6. Letters written in code.
7. Gang related material.
8. Mail that is sensational. "Sensational" is defined as written or other printed materials that pose a direct and immediate threat to the safety and security of DBDC.
9. Sexually explicit mail.
10. Packages
11. No photographs of any kind are permitted.
12. Stamps, address labels, stickers, bus passes, bookmarks, calling (phone) cards and stationary/envelopes.
13. Greeting cards that are padded, musical, have metal clasps, plastic, string, ribbon, confetti, glitter or laminated items. Any item that by design restricts the ability to search the item is not allowed.
14. Non-paper material, including cardboard, food and clothing items.
15. Any foreign substance, (lipstick, crayon, watercolors, paint, correction fluid, metallic ink, perfume, glue, tape, body fluids, etc.), on the envelope or any part of the mail.
16. Any device capable of storing electronic media, (videotapes, cassettes, CD-ROMs, and computer disks).
17. Any personal checks, business checks, cashier's checks or money orders.
Outgoing Mail
Outgoing mail will be handled in a timely manner.
1. Mail submitted at "mail pass" will be sent out the next business day.
2. All outgoing mail will contain both a complete delivery address and a complete return address.
a. The delivery address will contain the full name, full address (including city, state, and 5-digit zip code), and country if other than USA of the person to whom the mail is to be delivered.
b. The return address will contain the detainee's complete name as it appears in the Jail records, the detainee's complete booking number, and the complete address of DBDC.
3. All outgoing mail will be in postage-paid envelopes and paper purchased from the Jail Commissary. Detainees who are indigent will receive two postage-paid envelopes and four sheets of paper per week for personal mail. Indigent detainees will not be restricted in accessing the courts by mail.
4. Each letter can weigh no more than one ounce, (four sheets of paper and the envelope weigh one ounce) and fit within a standard 4"x 9" envelope, unless approved by DBDC staff.
5. Once the outgoing mail has been sorted, it will be delivered by Pre-sort.
Rejecting Incoming Mail
A mail violation notice will be issued on any opened mail that was returned to sender, confiscated, or was placed in the detainee's property bin for content. DBDC is not responsible for editing the content of the mail rather; the entire correspondence will be rejected.
1. Notice of censorship/confiscation of mail shall be provided to the detainee and sender within 5 days of the action, excluding weekends and holidays. Such notice shall be in writing and set forth the reason or reasons for the action and the detainee and sender's right to a review upon written request within 7 days of the notice.
2. Unless there is substantial evidence that the mail violates this regulation, it shall be delivered to the addressee. If DBDC finds there is substantial evidence of violation, a detention center official shall order the item censored/confiscated and placed in the detainee's property bin or returned to the sender at the inmate's expense.
4. The DBDC Administrator may evaluate the findings of the review upon written request of the detainee within 5 days of the findings, excluding holidays and weekends.

The Juvenile Detention Facility, formally the Jack Jones Juvenile Justice Center is under the leadership and direction of Sharron Murry, who currently serves as Juvenile Jail Administrator.

Admin Phone No. 870.541.8502
The Jefferson County Juvenile Justice Center was established on September 16, 1997. The Center consists of the juvenile courtroom and staff, the juvenile prosecutor's office, the juvenile clerk's office, and the Jefferson County Juvenile Detention Facility.
The bed capacity for the detention facility when it opened in 1997 was thirty four (34) beds. Today the facility has the capacity to hold eighty seven (87) juveniles. The facility was designed to house both males and females from ages ten (10) to twenty (20). The average length of stay is approximately fourteen (14) days.
The Juvenile Justice Center provides an array of services to juveniles that are detained or involved in the court system. These services include but are not limited to:
The detention center currently employs forty-five (45) employees and provides educational services, security & portection, food services, medical services, and general maintenance for residents and staff.
Time Limit Limitations: The total visitation time limit shall not exceed twenty (20) minutes. This shall not be misconstrued as twenty (20) minutes per visitor but per visitation. No purses, packages or anything that would be perceived as a prohibited article under Arkansas Criminal Code Annotated A.C.A. § 5-54-119 - Furnishing, possessing, or using prohibited articles. All persons who enter the detention facility or curtilage are subject to search.
Juvenile Detainees are not allowed to receive phone calls. However, they are allowed to make outgoing collect calls at any time at the supervisor's discretion and to their parents/gaurdians and/or lawyer during the initial booking process.
Pretrial and Attorneys are permitted to visit with clients (detainees) 7 days a week, preferably during business hours. Detention Center Staff will make arrangements provided certain circumstances (i.e. court proceedings). Visitation time restrictions do not exist for the aforementioned persons in this section.
Members of Clergy are permitted to visit 7 days a week for a maximum of 30 minutes strictly during business hours provided they have written permission from the juvenile detainee's parent(s) or legal guardian.
Special Visits are at the discretion of the administration or the Sheriff Robinson, who has final approval.
No visitation is allowed if the juvenile detainee is on lock-down (movement restriction) as a result of disciplinary actions taken against him or her.