MISS ARKANSAS UNITED STATES TAKES PART IN 9TH ANNUAL SHERIFF'S FUN DAY
06/14/2015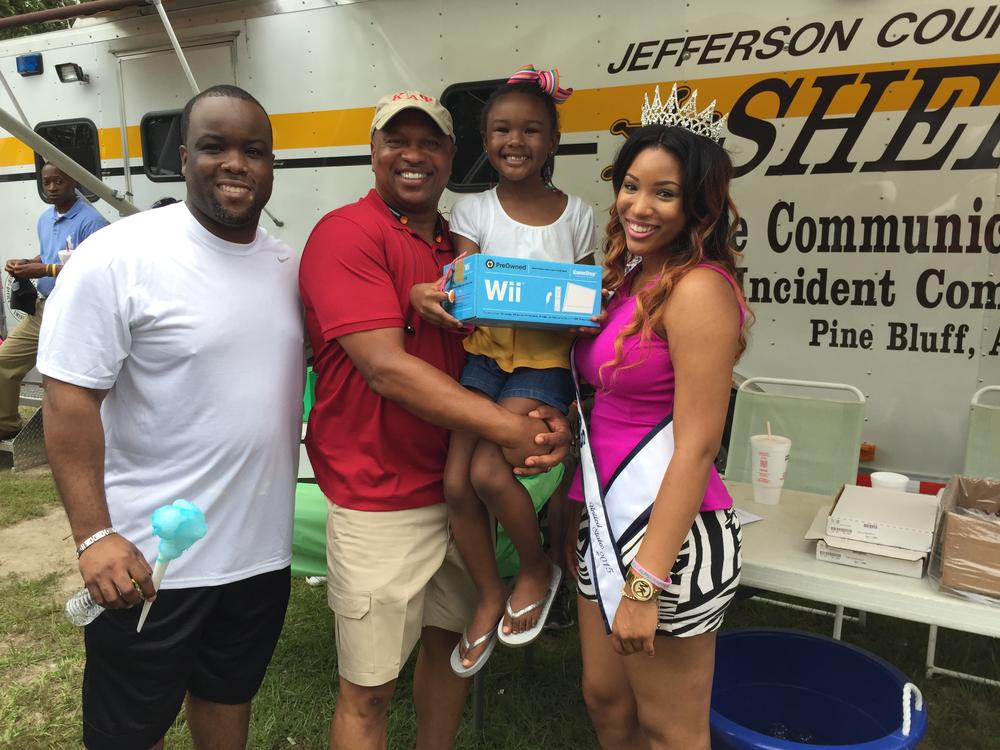 Pictured Above: Alex Guynn (Far Left), Sheriff Gerald Robinson (Center), Logan Guynn, Sydney Jackson (Right)
FOR IMMEDIATE RELEASE
MEDIA CONTACT
Major Lafayette Woods, Jr.
Operation Commander/Public Information Officer
870.541.5351-OFFICE/870.329.5652-CELL
Email: lafayette.woods@jeffcoso.org
MISS ARKANSAS UNITED STATES TAKES PART IN 9TH ANNUAL SHERIFF'S FUN DAY: Jefferson County, Arkansas - June 14, 2014-While continuing to focus its efforts on building stronger community relationships and promote community involvement, the Jefferson County Sheriff's Office hosted its 9th Annual Sheriff's Fun Day on Saturday, June 13, 2015.
"For the last eight years, we have partnered with local agencies, businesses, and faith based organizations in this endeavor. Every year, Sheriff's Fun Day presents a great opportunity for families to come out and enjoy free food, activities and live entertainment. During this year's event, we also focused on the promotion of drug awareness and prevention by offering handouts and having personnel on-site that are well versed on the subject and able to speak with the youth and parents, said Major Lafayette Woods, Jr."
Attendees enjoyed bounce houses, mechanical amusement rides, horseback riding, and more. This year's event also featured an appearance by Miss Arkansas United States 2015, Sydney Jackson (20), who will be representing Arkansas in Washington D.C. at the National Miss United States Pageant on July 3-8th. Jackson assisted Sheriff Gerald Robinson and staff with prize giveaways ranging from bicycles to game consoles and even gift card(s) provided by Wal-Mart and donations from a host of local churches and businesses.
Upon arrival, each attendee was given an arm bracelet with numbers printed on it. A duplicate of each number was included in a random drawing by Jackson, who drew the winning numbers for each prize giveaway.
"I really enjoyed myself at the Sheriff's 9th Annual Fun Day. It was so exciting and I'm sure everyone that came had a wonderful time. I'm grateful that I could take part in the festivities, said Jackson"
"Positive law enforcement community relations are critical for effective crime prevention, officer safety, and successful law enforcement-citizen interactions. While reflecting on numerous officer involved shooting across the United States, we must also accept that there has been a decline in many citizens ability to fully trust law enforcement. In recognizing the decline in public trust, our agency strives to assure citizens in Jefferson County, AR that we as the chief law enforcement agency in Jefferson County still hold true to the oath in which we took to protect and serve.
Sheriff's Fun Day continues to help shape, while ensuring they have strong figures to help guide them. During Sheriff's Fun Day, deputies and other public safety personnel were able to assist in that effort. Thanks to the generous support of our sponsors, the participants and our dedicated volunteers the event was a wonderful success," said Sheriff Robinson.
Click on Link Below To Access Event Photos:
https://www.dropbox.com/sh/kqrbfnj4pq7zlkr/AAAorwAEOTo-ZxSVb_VbcYM7a?dl=0