84-YEAR-OLD ELDERLY MAN'S DEATH RULED A HOMICIDE, CAREGIVER FOR EX-WIFE ARRESTED
06/18/2015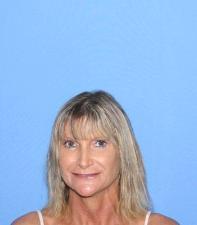 Pictured Above: Carla Davidson
FOR IMMEDIATE RELEASE
MEDIA CONTACT
Major Lafayette Woods, Jr.
Operation Commander/Public Information Officer
870.541.5351-OFFICE/870.329.5652-CELL
Email: lafayette.woods@jeffcoso.org
84-YEAR-OLD ELDERLY MAN'S DEATH RULED A HOMICIDE, CAREGIVER FOR EX-WIFE ARRESTED: Jefferson County, Arkansas - June 18, 2014-Jefferson County Sheriff's Investigators have made an arrest in a homicide.
Roughly 12 hours after Jefferson County Sheriff's Office Criminal Investigators began their investigation into what was initially described as a suspicious death investigation, they charged Carla Davidson, 53, of Jefferson County in the death of Esbend Sheridan, 84.
Davidson, who Investigators learned was living with Sheridan's ex-wife and also acting as her caregiver caused the death of Sheridan after stabbing him several times and running over him with her vehicle.
"There were some significant injuries to the face of the victim, which our investigators believed ultimately contributed to Sheridan's death along with multiple stab wounds to his chest, some period of time after 9:00 p.m. on Tuesday, June 16, 2015 when the assault took place."
Waste Management personnel discovered the lifeless body of Sheridan lying in the rear of his yard on yesterday.
When questioned, Davidson admitted stabbing Sheridan multiple times and striking in across the face with what she described as a board. However, Davidson stated that she did not recall running over Sheridan after assaulting him. Davidson also admitted taking Sheridan's wallet and phone following the assault.
Davidson was arrested and is currently being held without bond on probable cause for one (1) count of First Degree Murder and 1 count of Aggravated Robbery. A first appearance or probable cause hearing Davidson has not yet been set.