VETERAN SHERIFF'S K-9 UNDERGOES SURGERY AFTER COMPLICATIONS
08/16/2015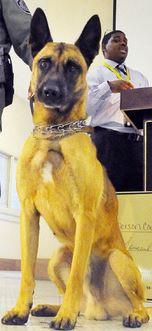 FOR IMMEDIATE RELEASE
MEDIA CONTACT
Major Lafayette Woods, Jr.
Operation Commander/Public Information Officer
870.541.5351-OFFICE/870.329.5652-CELL
Email: lafayette.woods@jeffcoso.org
VETERAN SHERIFF'S K-9 UNDERRGOES SURGERY AFTER COMPLICATIONS: Jefferson County, Arkansas – August 16, 2015- Work as a law enforcement officer can be dangerous, tough and challenging even for our four-legged partners.
Sergeant "Reis", Jefferson County Sheriff's Office 7-year-old dual-purpose drug detection/suspect apprehension Belgian Malinois Sheriff K-9 is undergoing some minor surgery. The surgery came after Reis' K-9 Handler, Deputy James Hoffman reported Reis' difficulty urinating. Reis was transported to an on-call emergency veterinarian in southcentral Arkansas, where he was examined and determined to be suffering from what was described as Prostatomegaly, a medical condition in which the prostate gland is abnormally large. Reis' surgery was successful and he is now recovering in hopes of returning to full duty.
Reis joined the Jefferson County Sheriff's Office in October 19, 2012. The K9 program at the Jefferson County Sheriff's Office has been around since 1990. The sheriff's office currently has two active K-9's in service, which were 100 percent funded by donations, not by taxpayer dollars. K-9's like Sergeant "Reis" have and always will be members of the Jefferson County Sheriff's Office and they are valuable tools in the agency's mission to protect and serve the citizens of Jefferson County and Pine Bluff, AR.