JEFFERSON COUNTY SHERIFF'S OFFICE LAUNCHES NEW WEBSITE FEATURE
08/20/2015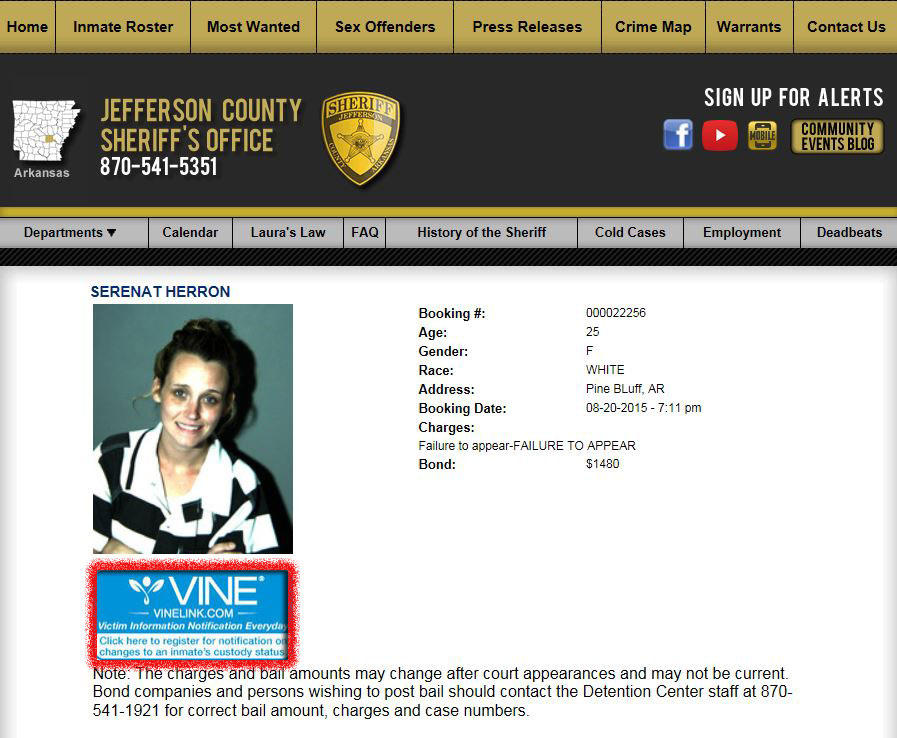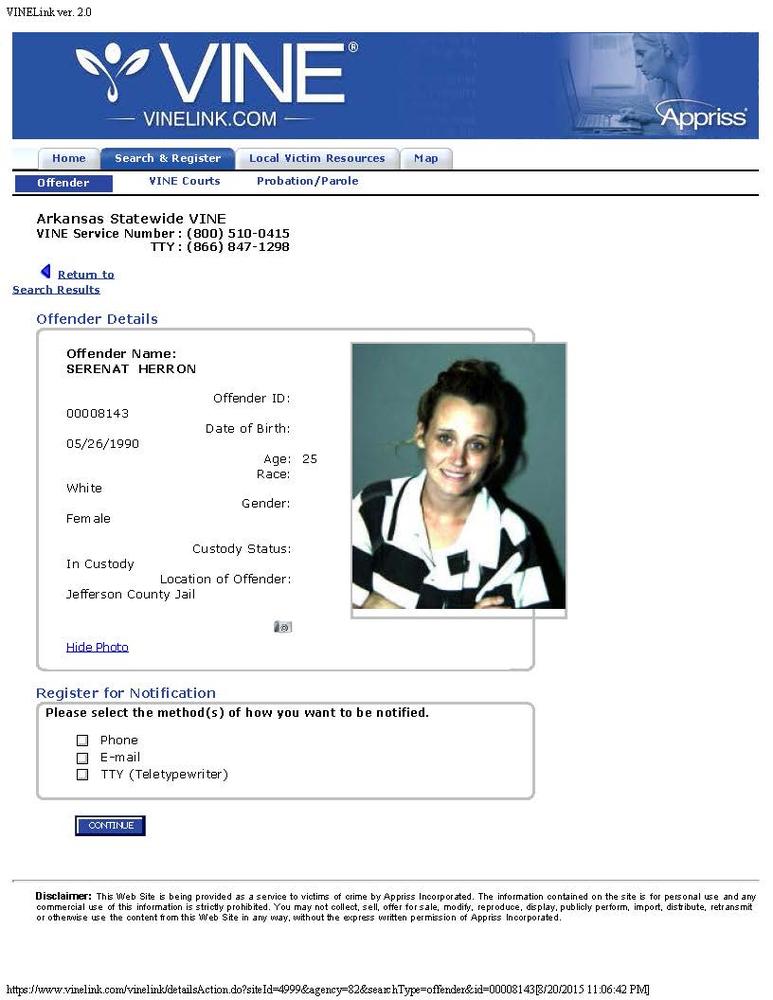 FOR IMMEDIATE RELEASE
MEDIA CONTACT
Major Lafayette Woods, Jr.
Operation Commander/Public Information Officer
870.541.5351-OFFICE/870.329.5652-CELL
Email: lafayette.woods@jeffcoso.org
JEFFERSON COUNTY SHERIFF'S OFFICE LAUNCHES NEW WEBSITE FEATURE: Jefferson County, Arkansas – August 20, 2015-The Jefferson County Sheriff's Office launched a website in February 2012 and added the inmate roster in April 2012. We are pleased to announce that we have now added a button to the online version of VINE (Victim Information and Notification Everyday), known as VINELink, on each inmate's profile. We invite the community to visit our inmate roster at www.JeffCoSo.org/roster.php, then choose an inmate to view this new feature.
Our jail roster online allows the public to view photos and booking details for individuals in the detention center as well as those released within the last 48 hours. This additional VINELink feature gives the public the ability to keep track of any changes in an inmate's custody status. Crime victims can find information about the criminal cases of these offenders at any time. The public can sign up for alerts on inmates through VINELink via email, phone, or teletypewriter, in addition to looking at the website.
Our Website – www.jeffcoso.org – provides details on all aspects of the Sheriff's Office. One of our goals when developing the new Website was to provide a centralized location for current information such as press releases and where sex offenders are living in the county.
The Website was developed by MostWantedGovernmentWebsites.com by Brooks Jeffrey Marketing, Inc. of Mountain Home, Arkansas. Brooks Jeffrey specializes in the production of law enforcement and government Website solutions.
For more information about the Website please contact the Sheriff's Office at 870-541-5351 or visit www.jeffcoso.org.