SHERIFF'S OFFICE RELEASE PRESCRIPTION DRUG TAKE-BACK COLLECTION RESULTS
09/29/2015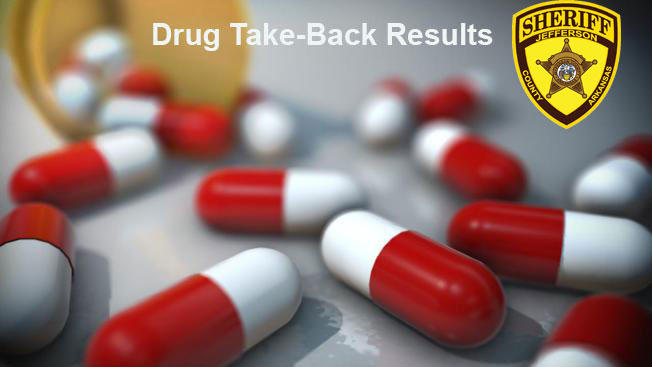 FOR IMMEDIATE RELEASE
MEDIA CONTACT
Major Lafayette Woods, Jr.
Operation Commander/Public Information Officer
870.541.5351-OFFICE/870.329.5652-CELL
Email: lafayette.woods@jeffcoso.org
SHERIFF'S OFFICE RELEASE PRESCRIPTION DRUG TAKE-BACK COLLECTION RESULTS: Jefferson County, Arkansas – September 29, 2015 – On Saturday, September 26, 2015 in the national effort to safely collect and dispose of unwanted or expired prescription drugs, the Jefferson County Sheriff's Office along with Tri-County Drug Task Force collected 94 lbs. The event was part of the Drug Enforcement Administrations (DEA) National Prescription Drug Take-Back Initiative. The response by citizens for this initiative came as a result of citizens across Jefferson County empting medicine cabinets, kitchen drawers of unwanted, unused and expired prescription medications and turning them over to authorities at collections sites here in Jefferson County.
During last year's 9th Annual National Prescription Drug Take-Back conducted on September 27, 2014, DEA's state, local, and tribal law enforcement partners, working at more than 5,495 collection sites, collected 617,150 pounds (309 ton) of prescription medications that were ultimately removed from circulation.
Prescription medications are the second most commonly abused category of drugs, behind marijuana and ahead of cocaine, heroin, methamphetamine and other drugs. "Unused or expired prescription medications are a public safety issue, leading to accidental poisoning, overdose, and abuse. Initiatives like Prescription Drug Take-Back are what continue to ensure that the abuse of prescription medications is reduced. It also ensures that the prescription medications don't end up in the hands of our youth. However, the ultimate goal is to eliminate such abuse through the continued vigorous pursuit of individuals who violate the laws governing prescription medications."
For a list of complete list of daily drop-off or collection sites, please visit www.artakeback.org