SHERIFF'S OFFICE OFFERS RESOURCES AND ISSUES REMINDER TO PARENTS CONCERNING THE IMPORTANCE OF CHILD IDENTIFICATION
10/29/2015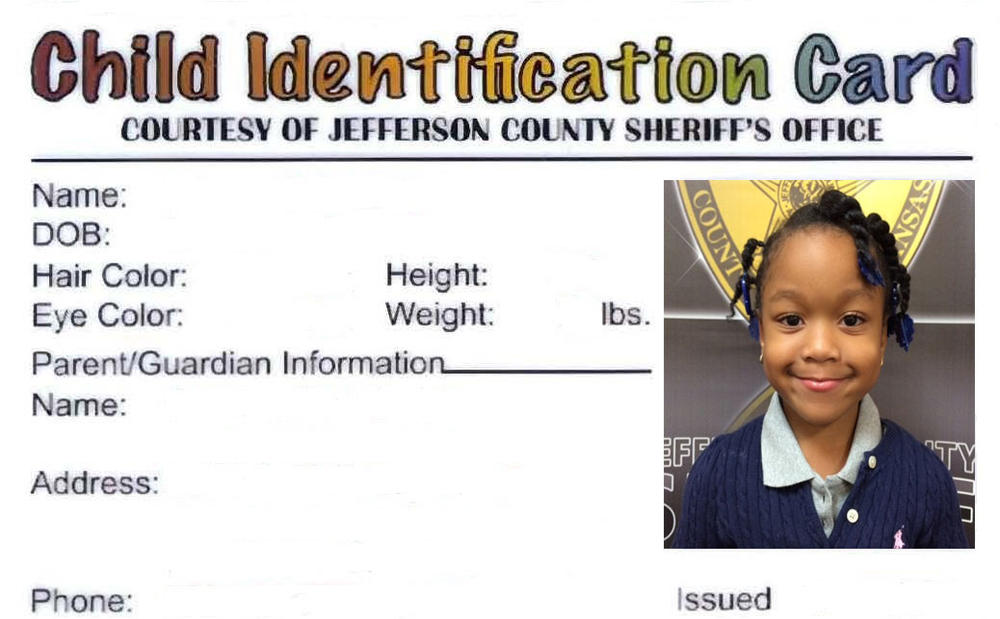 FOR IMMEDIATE RELEASE
MEDIA CONTACT
Major Lafayette Woods, Jr.
Operation Commander/Public Information Officer
870.541.5351-OFFICE/870.329.5652-CELL
Email: lafayette.woods@jeffcoso.org
SHERIFF'S OFFICE OFFERS RESOURCES AND ISSUES REMINDER TO PARENTS CONCERNING THE IMPORTANCE OF CHILD IDENTIFICATION: Jefferson County, Arkansas – Thursday, October 29, 2015 – With recent flash news alerts regarding missing children, teens, and others alike in our own community and beyond, it prompted us to issue this warning to serve as a reminder to all parents:
When a child or someone you know is reported missing, emotions become raw, which can hinder the ability of parents or love ones to make rational decisions. Yet, their actions and the actions of law enforcement in the first 48 hours are critical to the safe recovery of a missing. Knowing what you can do, what others can do, and where to go for help will not only expedite the search and recovery of your child or love one, it also will help to ease the emotional and financial burden of the search.
In the initial stage of the search, devote your time to providing information to and answering questions from investigators. Once you discover that your child or love one is missing, you will desperately want to help with the search. In fact, you may wonder how you possibly can stand by and let others look. However, the reality is that in most instances, the best use of your energy is not on the physical search itself. Rather, you need to provide information to and answer questions from investigators and to be at home in the event your child calls. Providing a recent photo and description of clothing in the first 48 hours is one of the most crucial pieces of background information that law enforcement will need in the search for your child or love one.
To that end, several years ago we introduced the "Child Identification Card Initiative", courtesy of the Jefferson County Sheriff's Office. The initiative was launched to aid in the identification and recovery of missing children. The Child Identification Card Initiative allows parents and/or guardians the opportunity to be provided an ID card for their child, free of charge. The card contains a physical description and photograph of the child. The purpose of the card is to provide critical information to the public and to law enforcement in the event that a child goes missing.
Remembering our sole purpose, we highly recommend that you maintain the CHILD ID CARD provided to you by our agency. The kit should be immediately presented to any member of law enforcement in the event your child becomes lost sheriff's deputies or other law enforcement officials have access to accurate and immediate physical description of the child.
The CHILD IDENTIFICATION CARD is also essential while traveling with children to give parents piece of mind and help authorities quickly and properly identify children in the event he or she is goes missing.
Through a partnership, the Jefferson County Sheriff's Office also utilizes the "A Child Is Missing Alert Program", which is a service that facilitates that safe recovery of missing children, the elderly (Alzheimer's/dementia), the disabled, and college students missing on campus.
"A Child Is Missing Alert Program" and it's services is provided FREE to the Jefferson County Sheriff's Office, who activates the service at the request and on the behalf of this agency and only by sworn officer. When an officer contacts "A Child Is Missing" to activate its rapid-response Alert Program, they will provide accurate and appropriate descriptive information regarding the missing person. This vital information will enable "A Child Is Missing" to launch Geographically-Targeted alert phone calls to the surrounding area the missing person was last seen or is believed to be.
"A Child Is Missing" functions as the activation arm of the Child Abduction Response Team (C.A.R.T.) Notification Program. In the event that this agency participates in the C.A.R.T. program "A Child Is Missing" may activate members of our agency that hold C.A.R.T. positions.