SHERIFF'S OFFICE OFFERS FLOOD SAFETY TIPS FOR JEFFERSON COUNTY, ARKANSAS RESIDENTS
12/30/2015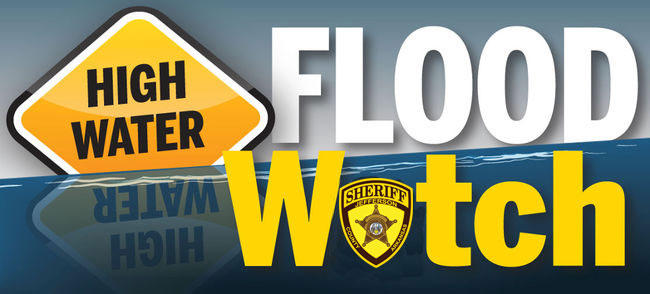 FOR IMMEDIATE RELEASE
MEDIA CONTACT
Major Lafayette Woods, Jr.
Operation Commander/Public Information Officer
870.541.5351-OFFICE/870.329.5652-CELL
Email: lafayette.woods@jeffcoso.org
SHERIFF'S OFFICE OFFERS FLOOD SAFETY TIPS FOR JEFFERSON COUNTY, ARKANSAS RESIDENTS: Jefferson County, Arkansas – December 30, 2015 - Jefferson County Sheriff's Office Deputies began preparing for expected flooding in various parts of Jefferson County on Monday after learning that the Arkansas River was expected to crest at 46 feet by Thursday or Friday. On June 4, 2015, the river crested at 45.96 feet. In preparing for this weeks expected flood forecast, notification was sent out to the Sheriff's Office Marine Patrol and Water Rescue Dive Team, who were placed on standby. Safety and maintenance checks of all watercrafts and an inventory of life preservers and other water rescue equipment was conducted.
Shelters have been activated at Wright-Pastoria and Swan Lake Volunteer Fire Department. In the event that residents need assistance with evacuation of their homes, the Sheriff's Office can be reached through the Metropolitan Emergency Communications Association (MECA) by dialing the non-emergency number at (870) 541-5300. For emergencies, please dial 9-1-1. Residents living in the areas of immediate concern such as Swan Lake, Wright-Pastoria, and Island Harbor should be prepared to evacuate should flood conditions worsen. Individuals requiring more time to evacuate should consider leaving now and should consider removing large animals and large personal items such as motor homes, boats, and heavy equipment. "Please remember that property can be replaced but a life cannot."
For evacuation updates or flood stats, residents may contact the Jefferson County OEM by dialing (870) 541-5470.
For flood safety tips, please click the link http://www.jeffcoso.org/page.php?id=15