DRUG INVESTIGATION ROUNDUP NETS THE ARREST OF MULTIPLE SUSPECTS
02/18/2016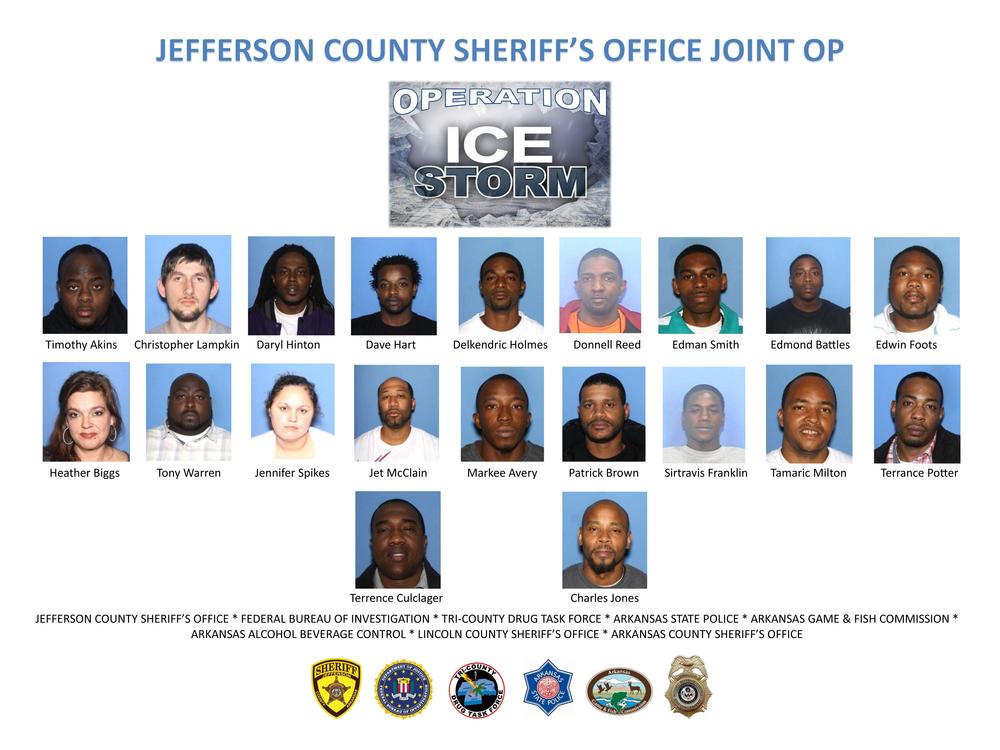 FOR IMMEDIATE RELEASE
MEDIA CONTACT
Major Lafayette Woods, Jr.
Operation Commander/Public Information Officer
870.541.5351-OFFICE/870.329.5652-CELL
Email: lafayette.woods@jeffcoso.org
DRUG INVESTIGATION ROUNDUP NETS THE ARREST OF MULTIPLE SUSPECTS: Jefferson County, Arkansas – February 18, 2016 – Jefferson County Sheriff, Gerald Robinson announced today that a lengthy undercover investigation by the Tri-County Drug Task Force-Jefferson County Sheriff's Office has resulted in the arrest of seven individuals. Thirteen suspects are still at-large.
After over an 18-month long investigation conducted jointly by the Jefferson County Sheriff's Office along with federal, state, and local law enforcement agencies, a total of 20 defendants were criminally charged for violations of delivery of methamphetamine and cocaine, distribution/proximity to certain facilities, and possession of controlled substance methamphetamine/cocaine. The charges filed were the culmination of an investigation dubbed "Operation Ice Storm". Several pounds of methamphetamine (ice) and cocaine worth an estimated $100,000.00 or more has been purchased and/or seized related to this case.
The following individuals, all of Pine Bluff and Jefferson County were arrested and will make their initial appearance in court on aforementioned charges. Based on individual criminal histories, some defendants will be facing mandatory sentences in prison.
Timothy Akins, a/k/a "Eastside Shawty" (27)-At large

Christopher Lampkin (27)-At large

Daryl Hinton (34)-At large

Dave Hart (33)-At large

Delkendric Holmes (34)

Donnell Reed (42)

Edman Smith (33)-At large

Edmond Battles (30)-At large

Edwin Foots (31)

Heather Michelle Biggs-Lambert (40)-At large

Jennifer Spikes (29)-At large

Jet McClain (36)

Markee Avery (26)

Patrick Brown (37)

Sirtravis Franklin (27)-At large

Tamaric Milton (37)

Terrance Potter, a/k/a "T Lee" (30)-At large

Terrence Culclager (35)-At large

Charles Jones (44)-At large

Tony Warren, a/k/a "Sugar Bear" (39)-At large
This OCDETF operation was a joint federal, state, and local cooperative approach to combat drug trafficking. This type of operation is the primary tool for investigating major drug trafficking organizations through the coordination of the necessary law enforcement entities and resources in order to disrupt and dismantle the targeted criminal organization and seize their assets.
"Protecting our citizens and county from plague of illegal drugs and drug trafficking is a core obligation of this office and our federal law enforcement partners. Every day we witness the negative impact that the distribution and use of illegal drugs has on our community. Our goal is to make every effort to reduce illicit drug use, manufacturing and trafficking through our collaborative efforts, said Sheriff Robinson."
This case was investigated by deputies, agents and officers of the Tri-County Drug Task Force-Jefferson County Sheriff's Office, FBI, Arkansas State Police, Arkansas Game & Fish Commission, Arkansas Alcohol Beverage Control, Lincoln County Sheriff's Office, and Arkansas County Sheriff's Office.