SHERIFF TALKS IMPORTANCE OF MAINTAINING A CLEAN CRIMINAL RECORD AND STUDENTS RESPONSE TO LAW ENFORCEMENT
02/26/2016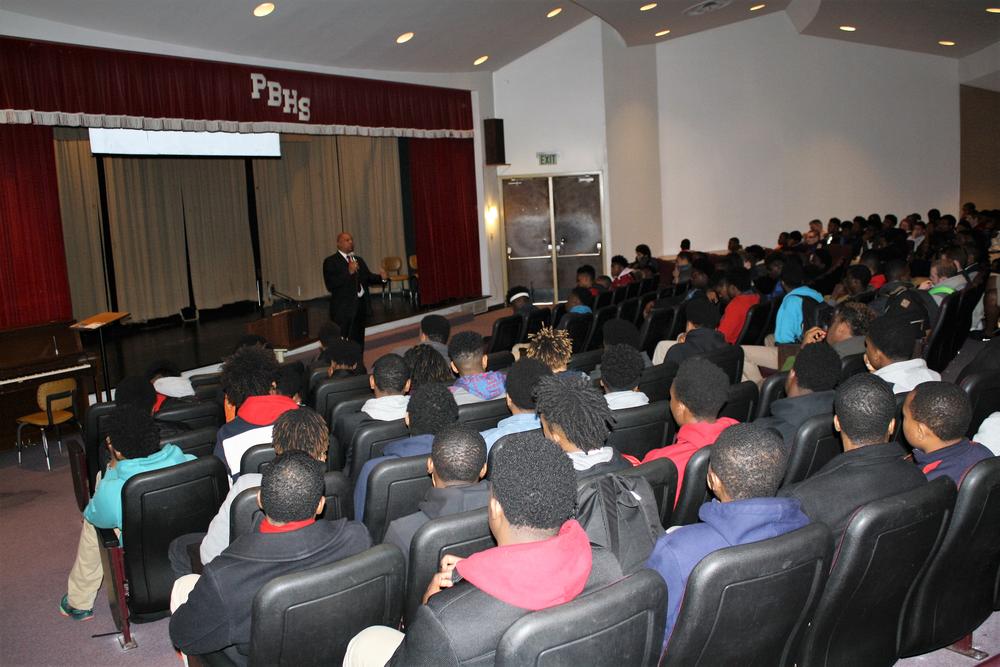 Pictured Above: Jefferson County Sheriff Robinson as he speaks to an auditorium filled with 10th and 11th graders at Pine Bluff High School on topics of maintaining a clean criminal history to student's response to law enforcement.
FOR IMMEDIATE RELEASE
MEDIA CONTACT
Major Lafayette Woods, Jr.
Operation Commander/Public Information Officer
870.541.5351-OFFICE/870.329.5652-CELL
Email: lafayette.woods@jeffcoso.org
SHERIFF TALKS IMPORTANCE OF MAINTAINING A CLEAN CRIMINAL RECORD AND STUDENTS RESPONSE TO LAW ENFORCEMENT: Jefferson County, Arkansas – February 26, 2015- Jefferson County Sheriff Gerald Robinson visited Pine Bluff High School Thursday morning for some frank discussion with the 10th and 11th graders about the importance of maintaining a clean criminal record and their response to law enforcement.
Accompanied by Jefferson County Sheriff's Office Operations Commander and Spokesperson, Major Lafayette Woods, Jr, and Pine Bluff High School Asst. Administrator, Dr. Reginald Wilson, Sheriff Robinson did a terrific job engaging the group of teenagers during the discussion of some admittedly difficult topics.
The Sheriff's Office's "Junior Deputy" program which was created over a decade ago and centered on a theme of "Respect For Law Enforcement and Authority Figures". In the latter part of the program, Junior Deputies traveled to the Administrative Office of the Sheriff for tours that included the jail, communications section, criminal investigation division, and court systems-juvenile. The program also included team sport sponsorships but more importantly it served as a guide for our youth into the transition to responsible adulthood. However, the program was designed to focus mainly on reaching teenagers.
Understanding that our youth needed to be reach at an earlier age and wanting to incorporate younger participants, Sheriff Robinson turned his focus to our younger youth beginning at age 5. In doing so, Sheriff Robinson rebranded the program by calling it "Be-A-Winner", while implanting the same core principals of the "Junior Deputy Program.
"Sheriff Robinson has had plenty of practice of being directly involved with our youth; he and I together have presented to countless students from topics of drug use and gang violence to D.W.I. and distractive driving. Most of the presentations have been to middle and high School students here in Jefferson County."
"On the surface, 5 years old my seem a bit young and 16 years old may seem a bit old for the topic of maintaining a clean criminal history or proper response to law enforcement, but honestly there is no defined age. We have to reach are youth young and old. The responsibility of ensuring that our youth, who are ultimately going to be our future is greater than we know. For that reason, we must start early and continue those teachings as long as it takes for them to get it, said Sheriff Robinson."
While not graphic, the presentation was eye-opening, as much for some of the adults in attendance as for the students. Sheriff Robinson started his presentation with a brief introduction.
Some of the questions from the sophomore students were challenging. One student asked Sheriff Robinson what he was supposed to do when he felt like his rights were being infringed upon and he was being disrespected by a member of law enforcement. Sheriff Robinson responded by offering the student a better way of addressing the situation by asking the student if he had thought about utilizing his teachers or voicing his concerns to the schools administration in order to rectify the problem. Sheriff Robinson went on to explain that law enforcement officers at times have been known to abuse their powers and authority but also noted that it was not a student's place to try to debate the issue of who's right or who's wrong. Instead, Sheriff Robinson urged the student and his peers to report acts of wrongdoing to their teachers or principals, so that they might be able to address the situation without conflict.
As Sheriff Robinson wrapped up his presentation, he asked students to raise their hand if they thought that they could survive without their parents and live independently. One young man raised his hand and Sheriff Robinson asked him to step to the front of the room. As the young man stood beside Sheriff Robinson, he was asked why he thought he could live independently and the young man stated that his mother had passed and his father was not involved in his life. The young man also stated that he didn't have any siblings. As a result, the young man stated that he had to grow up quick, which involved him working a minimum wage job to support himself, while balancing school work. Sheriff Robinson applauded the young man for his willingness to share his story openly but also expressed his sympathy for the young mans situation.
"Criminal Records," Sheriff Robinson concluded, "will follow you for the rest of your life. Life is about choices and those choices have an equal and opposite consequence. We want you to make the right choice."