"CONTROLLED DELIVERIES" CONDUCTED BY SHERIFF'S OFFICE AND TRI-COUNTY DTF NETS IN THE SEIZURE OF 17 POUNDS OF METHAMPHETAMINE "ICE" AND MARIJUANA
03/04/2016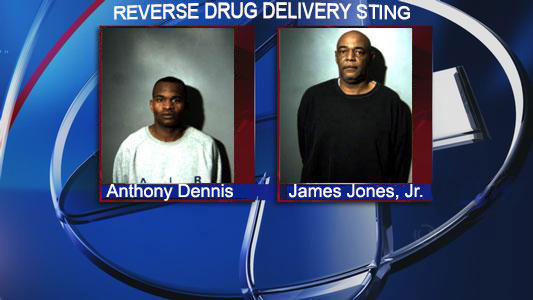 FOR IMMEDIATE RELEASE
MEDIA CONTACT
Major Lafayette Woods, Jr.
Operation Commander/Public Information Officer
870.541.5351-OFFICE/870.329.5652-CELL
Email: lafayette.woods@jeffcoso.org
"CONTROLLED DELIVERIES" CONDUCTED BY SHERIFF'S OFFICE AND TRI-COUNTY DTF NETS IN THE SEIZURE OF 17 POUNDS OF METHAMPHETAMINE "ICE" AND MARIJUANA: Jefferson County, Arkansas – March 4, 2016 – Investigators with the Tri-County Drug Task Force and Jefferson County Sheriff's Office (JCSO) have charged two individuals with drug trafficking violations in Jefferson County.
Anthony Dennis, 27 of Pine Bluff, AR was arrested February 16th and charged with Possession with Purpose methamphetamine (ICE), Possession of Firearm by Certain Person along Simultaneous Possession of Drugs & Firearms.
Dennis was charged following the receipt of a package containing a clear crystal rock-like substance known as crystal methamphetamine and formally as "ICE" that was shipped to a residence in the 2600 block of W. 24th Avenue in Pine Bluff, AR. The package was found to contain approximately 1 lb. 1.1 ozs of methamphetamine.
JCSO Investigators along with Tri-County Drug Task Force Investigators intercepted and controlled delivery of the package to the 2600 block of W. 24th Avenue. Dennis attempted to flee from the residence in a black Mercedes vehicle following the delivery but was quickly apprehended. A search of the vehicle driven by Dennis revealed the discovery of a .40 caliber Glock semi-automatic pistol laying on the floorboard of the vehicle.
Following a control delivery of the package, investigators discovered an additional package containing approximately 1 lb. 0.7 ozs of methamphetamine "ice" during a search of the residence.
Among the items taken as evidence were: a clear jar containing a dried green leafy vegetable matter, black digital scales, KBI 9mm pistol, Smith & Wesson .40 caliber pistol determined to have been reported stolen via the National Crime Information Center (NCIC) out of Lincoln County, Arkansas in addition to a baggie containing a dried green leafy vegetable matter believed to be marijuana.
Dennis is currently being held at the W.C. "Dub" Brassell Adult Detention Center (DBDC) on a $10,000.00 secure bond and no bond as a result of a parole bond.
James Jones, Jr., 54 of Pine Bluff, AR was arrested March 3rd and charged with Possession of Controlled Substance with Purpose to Schedule VI (marijuana 4oz > 25lbs).
Jones was arrested and charged after accepting delivery of a package at a residence located in the 600 block of East 2nd Avenue in Pine Bluff, AR. The package was found by investigators to contain approximately 15.6 lbs of a green vegetable like substance, which field tested positive for marijuana.
Prior to its delivery, the package was flagged as suspicious and intercepted by investigators, who after confirming its contents controlled delivered the package to the address listed on the box. A short time later, Jones arrived at the residence and took possession of the package. Jones placed the package in the trunk of his vehicle and departed the area but was apprehended moments later during a traffic stop conducted by JCSO Sergeant Randy Dolphin, Jr.
The package was recovered from Jones' truck. Jones was then transported to the DBDC and held on probable cause for possession of controlled substance with purpose to schedule VI (marijuana 4oz > 25lbs).