TWO JEFFERSON COUNTY JAILERS ARRESTED AND CHARGED FOLLOWING THE ALLEGED SEXUAL ASSAULT OF A FEMALE DETAINEE
03/06/2016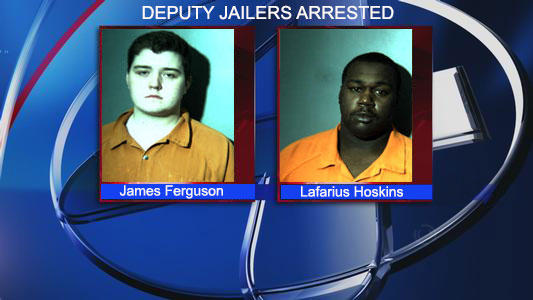 FOR IMMEDIATE RELEASE
MEDIA CONTACT
Major Lafayette Woods, Jr.
Operation Commander/Public Information Officer
870.541.5351-OFFICE/870.329.5652-CELL
Email: lafayette.woods@jeffcoso.org
TWO JEFFERSON COUNTY JAILERS ARRESTED AND CHARGED FOLLOWING THE ALLEGED SEXUAL ASSAULT OF A FEMALE DETAINEE: Jefferson County, Arkansas – March 6, 2016 – During the evening of Saturday, March 5, 2016, two (2) Jefferson County Sheriff's Office (JCSO) Deputy Jailers were arrested and charged with 3rd degree sexual assault of a female detainee.
The report of the sexual assault came following at least one (1) witness having observed the alleged victim whose name is being withheld, standing on a table in a detention center pod engaging an act of striptease and exiting the pod a short time later. The detainee then entered a nearby restroom, where it is believed that the alleged assault took place.
"Detention center surveillance footage appears to support portions of witnesses accounts but not the alleged sexual assault, said Major Lafayette Woods, Jr."
Criminal Investigators of the JCSO's Criminal Investigation Division were assigned to conduct the investigation. James Ferguson, 18, of White Hall, AR and Lafarius Hoskins, 25, of Conway, AR were questioned during separate custodial interviews by investigators.
Following custodial interviews of both Ferguson and Hoskins, investigators conferred with the 11th Judicial West Prosecuting Attorney's Office. Ferguson and Hoskins were both arrested on probable cause for felony charges of 3rd degree sexual assault, a class C felony punishable by a minimum sentence of three years but no more than ten years and a maximum fine of $10,000.00. Both are currently being held at the W.C. "Dub" Brassell Adult Detention Center (DBDC), where they will remain pending their first appearance for a probable cause hearing in court.
"While this incident, as depicted by some on social media because of speculation and/or their lack of knowledge of the incident certainly raises questions about Ferguson and Hoskins actions, it would be premature to draw any conclusions prior to the completion of an internal and/or criminal investigation.
There are a number of witness statements, along with other evidence that will be evaluated as this investigation progresses. Until the completion of this investigation, it would be counter-productive to publicly discuss any further aspects of this case or draw any conclusions until this incident has been fully vetted."
"Per protocol and in the spirit of due process, Deputy Jailer Ferguson and Hoskins will remain on paid administrative leave pending the completion of a full administrative review by our agency's Internal Affairs Division and/or the separate criminal investigation into their actions his actions."