SHERIFF'S OFFICE TO HELP PROMOTE AND SUPPORT CANCER RESEARCH AND AWARENESS
10/18/2016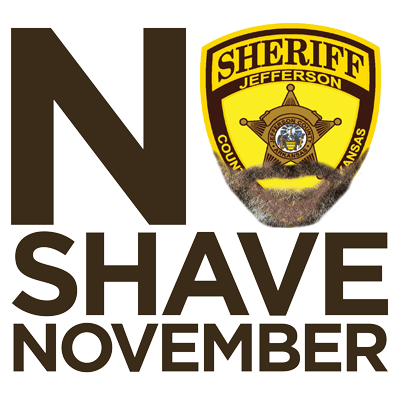 FOR IMMEDIATE RELEASE
MEDIA CONTACT
Major Lafayette Woods, Jr.
Operation Commander/Public Information Officer
870.541.5351-OFFICE/870.329.5652-CELL
Email: lafayette.woods@jeffcoso.org
SHERIFF'S OFFICE TO HELP PROMOTE AND SUPPORT CANCER RESEARCH AND AWARENESS: Jefferson County, Arkansas – October 25, 2016 – The Jefferson County Sheriff's Office will be participating and challenging others to participate in "No Shave November".
Jefferson County Sheriff Gerald Robinson has approved that deputies can now stop shaving for the month of November with a $20 pledge to be donated to an organization that promotes cancer awareness, research, or support.
"The idea is to raise awareness for men's health concerns, particularly prostate cancer, where one in six men will be diagnosed in their lifetime with the disease," Robinson said.
Our agency is also looking to gain support from the local community to "Put down the razors for a month" and participate in the good cause.
Throughout the month, deputies and citizens who choose to participate will be featured on Facebook in order to show off their "staches"!