REQUEST FOR HELP IDENTIFYING SUSPECT
12/12/2016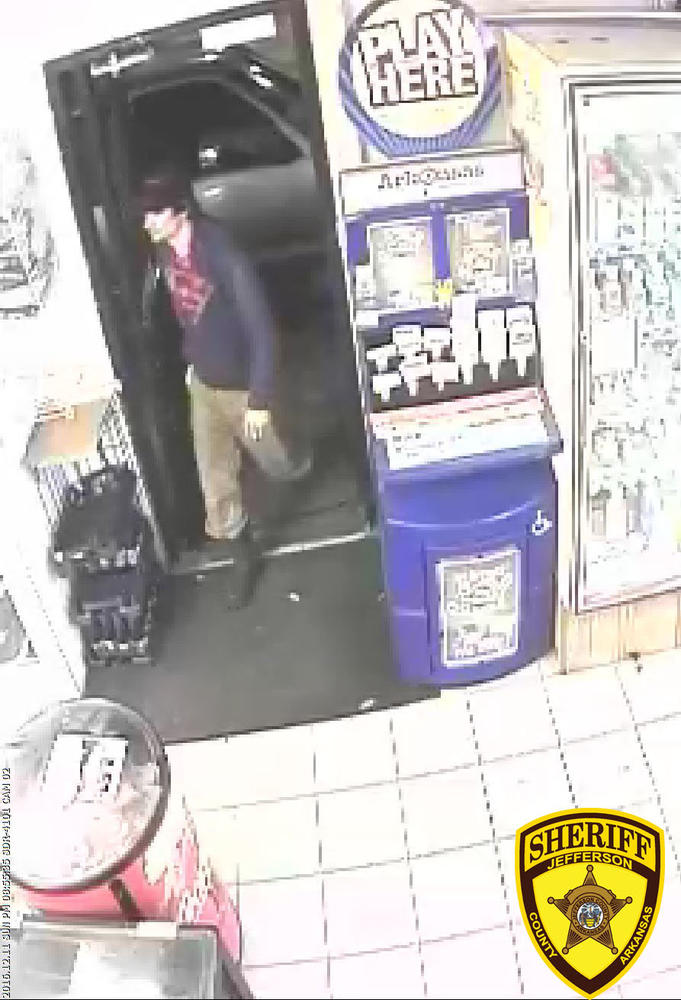 Pictured Above: Unidentified Aggravated Assault Suspect entering Handy Mart Convenience Store, located at 6605 US-79 in Pine Bluff, AR.
FOR IMMEDIATE RELEASE
MEDIA CONTACT
Major Lafayette Woods, Jr.
Operation Commander/Public Information Officer
870.541.5351-OFFICE/870.329.5652-CELL
Email: lafayette.woods@jeffcoso.org
SHERIFF'S OFFICE SEEK PUBLIC HELP IDENTIFYING SUSPECT: Jefferson County, Arkansas – December 12, 2016 – Jefferson County Sheriff's Office Criminal Investigators are seeking the public's help identifying the suspect captured on a convenience store video surveillance camera.
Surveillance video on Sunday, December 11, 2016 recorded an unidentified white male entering the Handy Mart Convenience Store located at 6605 US-79 in Pine Bluff, AR., where he became confrontational with the clerk who refused to accept the return of a container of milk that the suspect alleged he purchased and wanted to return due to his belief that the product was dated.
The suspect purchased two additional containers of milk, while continuing to argue with the store clerk. The suspect allegedly threatened the clerk and departed the store in what an eyewitness identified as a tan colored Chevrolet Suburban or Sport Utility Vehicle (SUV). While departing the store, a witness reported that the suspect stopped his SUV behind her vehicle and fired a series of shots at the convenience store.
The suspect is believed to be a white male, approximately 5'10"; thin build, medium-length dark hair. He was last seen wearing a dark colored baseball cap, blue/red Superman logoed shirt with a blue hooded jacket, khaki pants and dark colored medium-high boots.
Caller's anonymity is guaranteed. If you have any information concerning the identity of this suspect, please contact Criminal Investigation Division Sergeant John Bean at (870) 329-5648. Tips can also be forwarded via the internet by visiting www.jeffcoso.org and scrolling down to the section entitled Crime Tip Hotline or Submit Via Email and click on the link, which will allow you to submit the tips via email to tips@jeffcoso.org
Store Video Surveillance Footage BELOW