SHERIFF'S OFFICE WARNS OF JURY DUTY SCAM
01/17/2017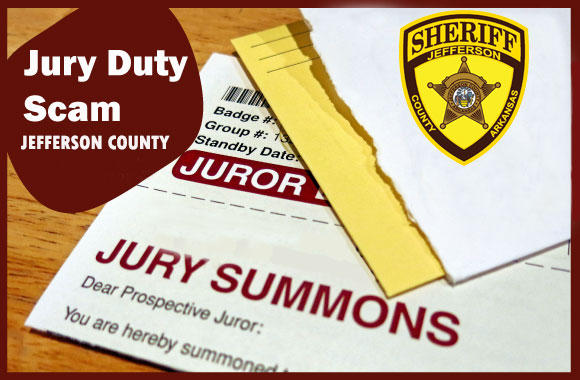 FOR IMMEDIATE RELEASE
MEDIA CONTACT
Major Lafayette Woods, Jr.
Operation Commander/Public Information Officer
870.541.5351-OFFICE/870.329.5652-CELL
Email: lafayette.woods@jeffcoso.org
SHERIFF'S OFFICE WARNS OF JURY DUTY SCAM: Jefferson County, Arkansas – Tuesday, January 17, 2017 – Citizens in Jefferson County, AR are being targeted by phone calls and emails, threatening them with prosecution for failing to comply with jury service in circuit court.
Through calls made by an unidentified male voice utilizing 870.293.6969 originating from Arkadelphia, AR, recipients are advised that they were absent from jury duty. Recipients are then threatened with jail time if they do not comply by traveling to a store, e.g., Dollar Tree, Wal-Mart, Walgreens Dollar Store and purchasing a pre-paid credit card also referred to by the caller as a voucher. The caller then instructs the would-be victim to pay to have money loaded on the card ranging from $400 to $800 to satisfy fines for being absent from jury duty. These type of calls are fraudulent and are not connected with the Jefferson County Sheriff's Office, Office of the Circuit Clerk or Jefferson County Circuit Courts.
The Jefferson County Sheriff's Office, Office of the Circuit Clerk or divisions of the Jefferson County Circuit Courts do not require anyone to provide any sensitive information in a telephone call or email. Most contact between a circuit court and a prospective juror will be through the U.S. mail, and any phone contact by real sheriff's office and/or court officials will not include requests for social security numbers, credit card numbers, or any other sensitive information.
Jury duty is a vital civic responsibility and should be taken seriously by all citizens. However, it is a crime for anyone to falsely represent himself or herself as a law enforcement officer or court official. "Such an offense is taken seriously by our office, as we aim to identify, investigate, and seek prosecution of anyone who purports to be a law enforcement officer or officer of the courts."
"Persons receiving such a telephone call or email should not provide the requested information, and should immediately notify the sheriff's office."