SHERIFF'S OFFICE PARTICIPATES IN 2017 SPRING CAREER FAIR AT UAPB
03/08/2017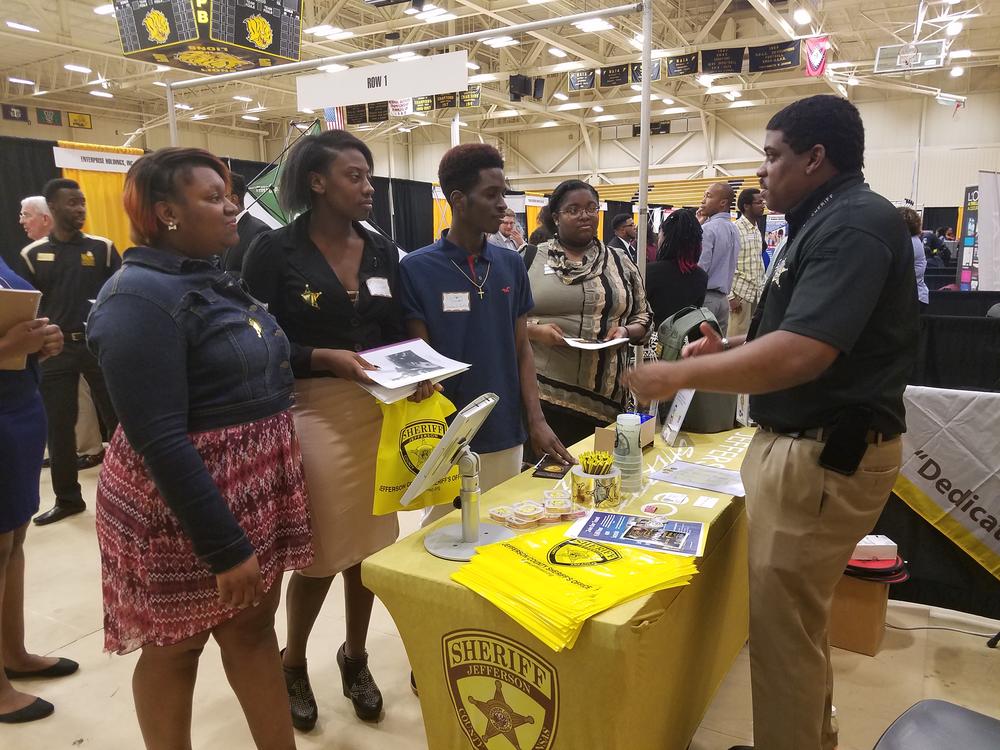 Pictured Above: Kristina McKnight (Middle) and Da'Aaron Dominick (Right), talk to Major
Lafayette Woods, Jr. (Lower Right) about career opportunities with the Jefferson County
Sheriff's Office during the 2017 Spring Career Fair at the University of Arkansas at
Pine Bluff
FOR IMMEDIATE RELEASE
MEDIA CONTACT
Major Lafayette Woods, Jr.
Operation Commander/Public Information Officer
870.541.5351-OFFICE/870.329.5652-CELL
Email: lafayette.woods@jeffcoso.org
SHERIFF'S OFFICE PARTICIPATES IN 2017 SPRING CAREER FAIR HOSTED BY THE UNIVERSITY OF ARKANSAS AT PINE BLUFF: Jefferson County, Arkansas – Wednesday, March 8, 2017 – Today, the Jefferson County Sheriff's Office joined dozens of other companies and organizations in the University of Arkansas at Pine Bluff (UAPB) Kenneth L. Johnson HPER Complex as part of the 2017 Spring Career Fair hosted by UAPB's Office of Career Services. The focus of the career fair is on sharing information between organizations and job seekers, while establishing professional relationships, discuss potential job and/or internship opportunities.
Students of all classifications and majoring in varies degree programs scanned the arena floor to explore career opportunities and some in search of student internships. As a member of the Jefferson County Sheriff's Office Administrative Staff and also a member of UAPB's Career Services Advisory Board, I find it extremely important to take advantage of opportunities such as today's career fair to engage with student job and internship seekers.
Students have the advantage of being better informed about the job market. Moreover, it gives job seekers the opportunity to learn more about potential employers and the opportunities available. Likewise, as a potential employer for some students graduating in May, we have an opportunity to meet potential employees or students in an informal setting.
"I often here that companies and/or industries don't desire to invest in particular areas of our state because of the lack of an employable workforce, but as a UAPB Graduate and product of the Office of Career Services, it's obvious that those companies and industries aren't searching in the correct places."
I met with numerous students today, some of whom degree plans did not specifically align with public safety or criminal justice; however, I was able to convince those students to consider the field of public safety because it is certainly the recipe for job security," Major Lafayette Woods, Jr said.
The Jefferson County Sheriff's Office is currently seeking applicants for the following divisions:
Warrants
Transportation
Criminal Investigation
Juvenile Detention Officer(s)
Adult Detention Officer(s)
Maintenance Worker(s)
Those who are interested in learning more about career opportunities at the Jefferson County Sheriff's Officer are urge to visit www.jeffcoso.org and click on the employment tab.