JUVENILE DETENTION OFFICER AIRLIFTED TO HOSPITAL FOLLOWING BRUTAL ATTACK BY JUVENILE DETAINEE
05/02/2017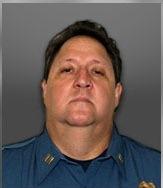 Pictured Above: Captain William D. Smithwick (Agency File Photo)
FOR IMMEDIATE RELEASE
MEDIA CONTACT
Major Lafayette Woods, Jr.
Operation Commander/Public Information Officer
870.541.5351-OFFICE/870.329.5652-CELL
Email: lafayette.woods@jeffcoso.org
JUVENILE DETENTION OFFICER AIRLIFTED TO HOSPITAL FOLLOWING BRUTAL ATTACK BY JUVENILE DETAINEE: Jefferson County, Arkansas – May 2, 2017 – Today at approximately 2:15 o'clock, Jefferson County Sheriff's Office Criminal Investigators responded to the report of an attack on a Jack Jones Juvenile Justice Center (JJC) Officer.
William David Smithwick, 59, a captain at the JJC was brutally beaten in an assault during the safety check of a cell occupied by a juvenile detainee, whose name is not being released. The male juvenile was being held by JJC for the Division of Youth Services (DYS). During the initial encounter, Captain Smithwick discovered contraband in the cell of the juvenile detainee, who Captain Smithwick had also overheard threatening to harm himself.
Per protocol, Captain Smithwick immediately contacted DYS officials and alerted them of the threats. Thereafter, Captain Smithwick entered the cell to establish monitoring procedures at which time he was punched several times in the face by the juvenile detainee. Captain Smithwick attempted to exit the cell but was forcefully pursued by the juvenile detainee, who punched Captain Smithwick repeatedly about his face and the back of his head.
Other officers responded and the juvenile detainee retreated back to his cell, where he will remain until appearing before a circuit judge for arraignment on probable cause for 2nd degree battery on a correctional officer. Meanwhile, Captain Smithwick was transported by ambulance to the Jefferson Regional Medical Center (JRMC). However, soon after arriving at JRMC, Captain Smithwick was airlifted by Pafford Air One Bravo EMS to Little Rock, AR., when his condition worsened. Captain Smithwick sustained a fractured skull, trauma to both his face and nose, including some internal bleeding in the head area.
Captain Smithwick is a 19 year veteran of the JJC.
An investigation is underway and 2nd degree battery charges against the juvenile are looming.
In 2010, Juvenile Detention Officer, Leonard Wall, 58, died after he was severely beaten by three juvenile detainees at JJC. Officer Wall was conducting bed checks when the three juvenile detainees attacked him and took his keys. When another officer came to check on Officer Wall, she too was attacked, sustaining non-life threatening injuries. The three detainees escaped from the facility and stole a car from a nearby gas station. Two of the suspects were apprehended the following day and charged with capital murder. The third suspect was apprehended later and was also charged with capital murder.