SHERIFF'S OFFICE HELPING JEFF. CO. SENIORS COOL DOWN
07/05/2017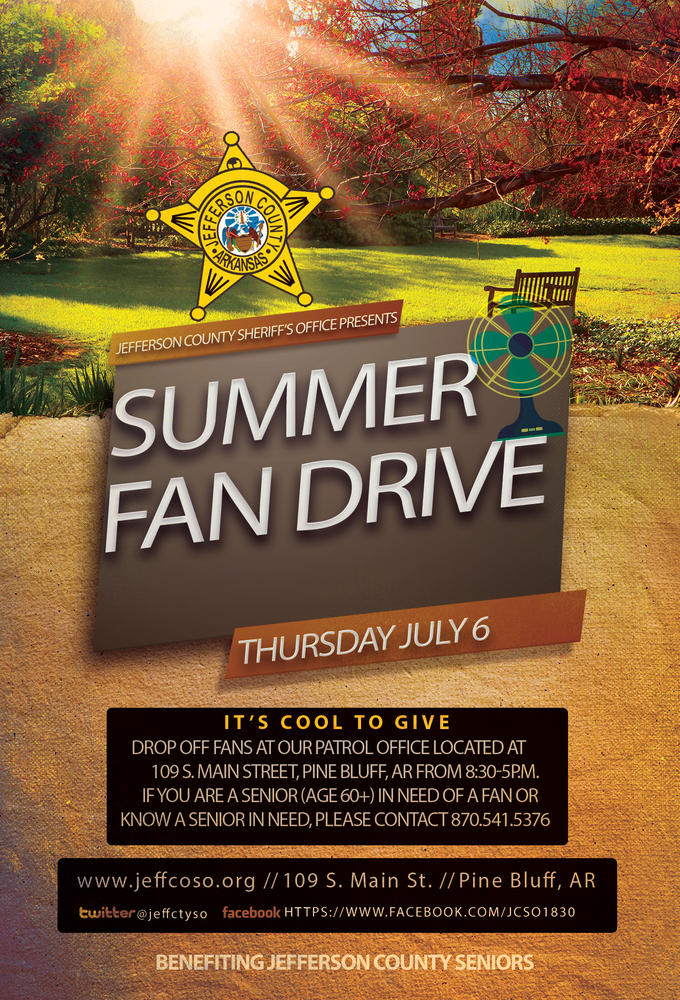 FOR IMMEDIATE RELEASE
MEDIA CONTACT
Major Lafayette Woods, Jr.
Operation Commander/Public Information Officer
870.541.5351-OFFICE/870.329.5652-CELL
Email: lafayette.woods@jeffcoso.org
SHERIFF'S OFFICE HELPING JEFF. CO. SENIORS COOL DOWN: Jefferson County, Arkansas - July 5, 2017-"With the scorching heat of Summer still much a concern to many of us, it is an even greater concern for our seniors since they are the most vulnerable when it comes to excessive heat exposure."
Last year through its "It's Cool to Give" Campaign, the Jefferson County Sheriff's Office delivered nearly 70 fans to seniors in Jefferson County, Arkansas. Several citizens and organizations donated fans in support of the campaign, which began in 2015. This year we are accepting fan donations to be distributed to those in the Jefferson County suffering from the summer heat without air conditioning. Those who wish to donate may drop off fans of any size and window unit air conditioners to the JCSO's Uniformed Patrol Division, located at 109 S. Main Street in Pine Bluff, AR. The fans and AC units may be dropped off Mon-Fri 8:30 a.m. – 5:00 p.m.
"Your support of our Summer Fan Drive will do more than give someone relief from the heat; for our seniors, it could save their lives, said Major Lafayette Woods, Jr."
If you are a senior (Age 60+) in need of fan or know someone who is a senior in need, please contact our Uniformed Patrol Division at 870.541.5376 and a deputy will personally deliver a fan to you.