DRIVER IN DOUBLE FATALITY TRAIN CRASH REMAINS IN SERIOUS CONDITION
07/28/2017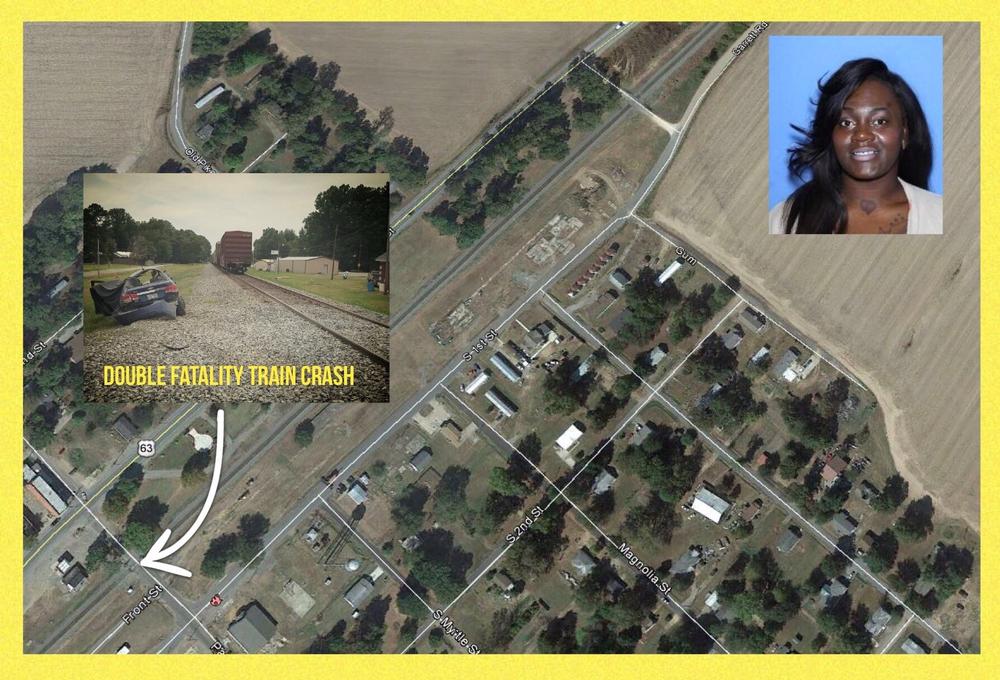 Pictured Above: Aerial imagery of double fatality train crash in Wabbaseka, AR
FOR IMMEDIATE RELEASE
MEDIA CONTACT
Major Lafayette Woods, Jr.
Operation Commander/Public Information Officer
870.541.5351-OFFICE/870.329.5652-CELL
Email: lafayette.woods@jeffcoso.org
DRIVER IN DOUBLE FATALITY TRAIN CRASH REMAINS IN SERIOUS CONDITION: Jefferson County, Arkansas - July 28, 2017- On Friday, July 28, 2017, a woman remains in serious condition after the car she was driving was struck by a train in an accident that left her two friends dead.
Genesis Dendy, 25, is listed in serious condition at Baptist Health Medical Center following a crash midday Thursday that killed 27-year-old Shamri Cole-Cox of Altheimer, AR and 28-year-old Talisa Cannon also of Altheimer, AR.
The accident occurred about 1:23 p.m. on Thursday, July 27, 2017 at the railroad crossing located at Garrett Road in Wabbaseka, AR.
Cox and Cannon were both pronounced dead at the scene. Meanwhile, Dendy was taken by helicopter to Baptist Health Medical Center in Little Rock, AR.
Responding deputies and investigators from the Jefferson County Sheriff's Office found the mangled wreckage of a blue 4-door passenger vehicle near a set of railroad tracks at the Paw-Paw Road railroad crossing in Wabbaseka, Arkansas.
A preliminary on-scene investigation lead by Jefferson County Sheriff's Office Corporal Thaddeus Arnold determined that the vehicle driven by Dendy had been pushed by a Union Pacific Train, approximately 1,537 feet south along the railroad tracks from the initial point-of-impact at the Garrett Road railroad crossing. Dendy and the occupants of the vehicle were headed west on Garrett Road before attempting to cross at the Garrett Road railroad crossing. It appeared that Dendy was headed to U.S. Highway 79 North.
What caused the accident has not been established, but investigators noted that there were no crossing gates at the intersection on Garrett Road, only stop signs before the crossing to alert drivers.
Jefferson County Sheriff's Office is continuing its investigation.