WOODS NAMED 2017 JEFFERSON COUNTY LAW ENFORCEMENT OFFICER OF THE YEAR
10/04/2017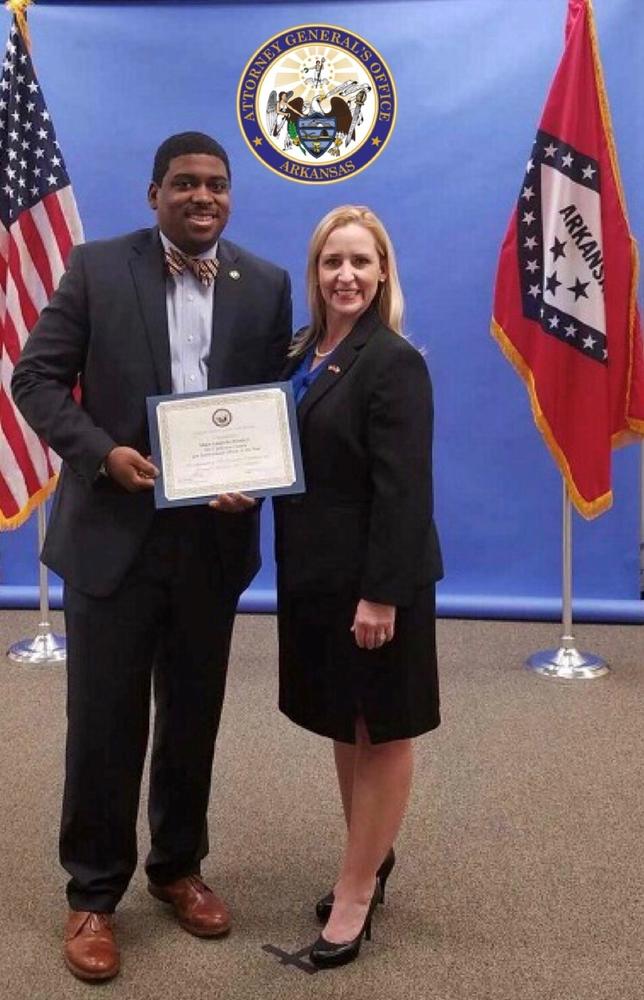 Pictured Above: Major Lafayette Woods, Jr. (left), Arkansas Attorney General Leslie Rutledge (right)
FOR IMMEDIATE RELEASE
MEDIA CONTACT
Gerald Robinson
Sheriff
870.541.5351-OFFICE
Email: sheriff.grobinson@jeffcoso.org
WOODS NAMED 2017 JEFFERSON COUNTY LAW ENFORCEMENT OFFICER OF THE YEAR: Jefferson County, Arkansas - October 4, 2017 – Over 600 law enforcement officers gathered at Camp Robinson in Little Rock for the 2017 Law Enforcement Summit on Tuesday. As a part of the event, one officer from each county in the state was honored by Attorney General Rutledge as Law Enforcement Office of the Year with Major Lafayette Woods, Jr. selected for Jefferson County.
"It is my honor to recognize many of our brave members of law enforcement today and thank them for their sacrifice," said Rutledge.
Jefferson County Sheriff Gerald Robinson nominated Woods for the award, who he describes as a talented, hard-working and knowledgeable law enforcement professional respected by both his peers and community.
"I nominated Major Woods for the 2017 Jefferson County Officer of the Year Award, because Major Woods has a rare blend of community involvement and technical proficiency that is evident by his outstanding law enforcement career," said Robinson. "He has proven himself to be extremely responsible, trustworthy, and dedicated to the law enforcement profession and the Jefferson County community."
The other Regional Officers of the Year included central region's Sergeant Ronald Davidson of the Benton Police Department for his work to confront a masked gunman at a local bank; northeast region's Sharp County Sheriff Mark Counts for his efforts to take down a meth lab; southeast region's Trooper Christopher Aaron of the Arkansas State Police who helped save the life of an accidental shooting victim in Almyra; and southwest region's Garland County Undersheriff Jason Lawrence who helped save a civilian contractor from exposure to carbon monoxide.
"I'm humbled, thankful and more than anything, grateful to have been honorably mentioned with the rest of my fellow law enforcement professionals across the State of Arkansas. However, what I am most proud of is having the ability to do a job that I know and love. Jefferson County is my home and I absolutely love the people I serve," said Major Woods.
During the summit, Rutledge presented VALOR tributes to those who lost their lives while in the line of duty this past year. Tributes were presented to the families of Drew County Sheriff's Deputy Timothy Braden, Yell County Sheriff's Lieutenant Kevin Mainhart, Miller County Sheriff's Detention Deputy Lisa Mauldin and Newport Police Lieutenant Patrick Weatherford. She also gave special recognition to Izard County Sheriff Tate Lawrence, who died in April.