MAN WHO EVADED THREE LAW ENFORCEMENT AGENCIES NOW IN CUSTODY
10/05/2017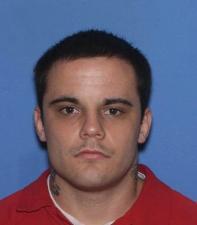 Paul Michael Weeks: Accused of multiple felony crimes and evading arrest
FOR IMMEDIATE RELEASE
MEDIA CONTACT
Major Lafayette Woods, Jr.
Operation Commander/Public Information Officer
870.541.5351-OFFICE/870.329.5652-CELL
Email: lafayette.woods@jeffcoso.org
MAN WHO EVADED THREE LAW ENFORCEMENT AGENCIES NOW IN CUSTODY: Jefferson County, Arkansas - October 5, 2017 – Investigators arrested a man this evening, who managed to evade at least three (3) law enforcement jurisdictions to include the Pine Bluff Police, Arkansas Community Correction (ACC) SRT Fugitive Task Force and the Jefferson County Sheriff's Office (JCSO).
23-year-old Paul Weeks was originally being sought by JCSO in connection with multiple counts of felony theft of property, felony fleeing, and theft by receiving, stemming from incident on Thursday, September 28, 2017.
Weeks was spotted near Hazel Street/Ridgway Road in Pine Bluff, Arkansas by investigators driving a pickup truck just after 9 o'clock this morning. Investigators gave chase; however, Weeks was again able to evade law enforcement. Weeks abandoned the truck at Skyline Drive. ACC K-9's were requested by JCSO and arrived on scene. K-9's tracked Weeks to a nearby wooded area but Weeks managed to evade law enforcement again. Weeks then entered onto the property of a residence on Ryburn Road, where he was witnessed stealing the residents tractor. After a brief chase, Weeks abandoned the tractor and again fled on foot.
Arkansas State Police helicopter "Air 4" arrived to assist with an aerial search. Meanwhile, authorities contacted the Metropolitan Emergency Communications Association (MECA) to request a reverse 911 for area residents to be on the lookout for Weeks. A phone call received by MECA from a citizen led authorities to an area near Oak Ridge Road, where Weeks was spotted by Air 4. Air 4's pilot hovered over, while Weeks was taken into custody by authorities on the ground.
Week was transported to the W.C. "Dub" Brassell Adult Detention Center, where he is currently being held on probable cause for multiple felony charges in addition to a warrant issued by ACC for absconder.