SHERIFF'S OFFICE TEAMS WITH VICTIMS WITNESS OFFICE ON DOMESTIC VIOLENCE AWARENESS
10/23/2017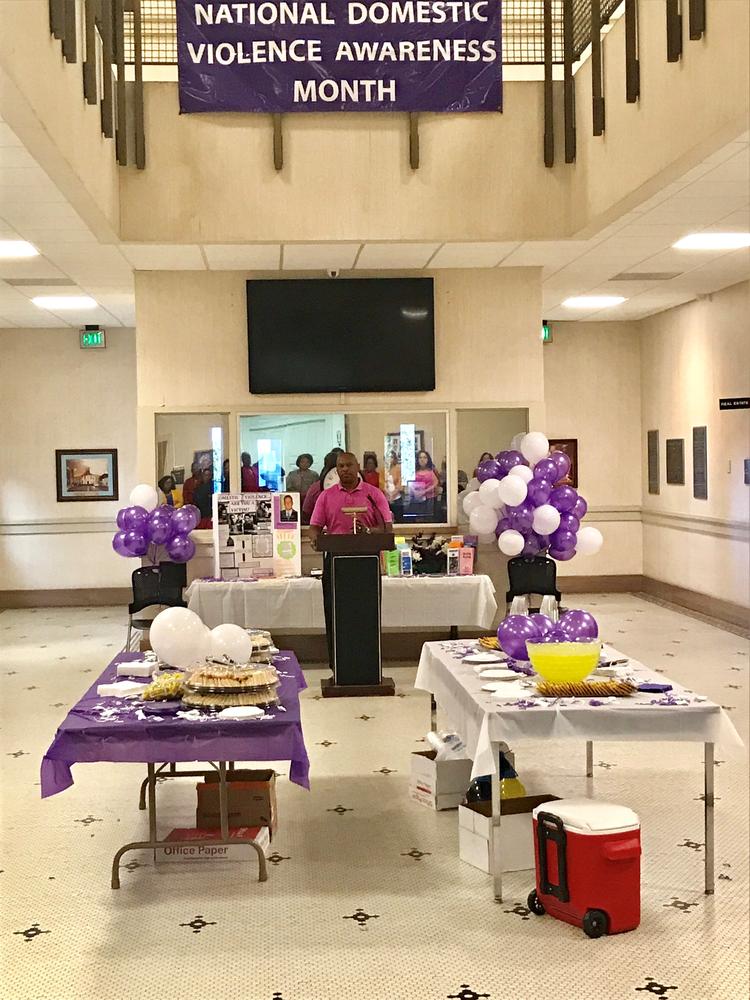 Pictured Above: Jefferson County Sheriff Gerald Robinson standing
at podium in Jeff. Co. Circuit Courthouse rotunda addressing crowd
during a domestic violence observance ceremony.
FOR IMMEDIATE RELEASE
MEDIA CONTACT
Major Lafayette Woods, Jr.
Operation Commander/Public Information Officer
870.541.5351-OFFICE/870.329.5652-CELL
Email: lafayette.woods@jeffcoso.org
SHERIFF'S OFFICE TEAMS WITH VICTIMS WITNESS OFFICE ON DOMESTIC VIOLENCE AWARENESS: Jefferson County, Arkansas - October 23, 2017 – Each year during the month of October, the Victim's Witness Office under the leadership of Eleventh Judicial West Prosecuting Attorney Kyle Hunter, hosts a ceremony and balloon release in observance of victims of domestic violence.
This year, the Jefferson County Sheriff's Office joined the observance with Sheriff Gerald Robinson addressing the crowd in the rotunda of the Jefferson County Circuit Courthouse Monday morning. "Domestic violence is a serious issue but not one that we can't continue work towards correcting, said Sheriff Gerald Robinson." "For many years, our office has been active in the issue of advocating against domestic violence. In 2015, as a member of the Jefferson County Sheriff's Office and board member for CASA Women's Shelter, my agencies operations commander, Major Lafayette Woods, Jr., represented our agencies interest in advocating against domestic violence during several visits to our State's Capitol. Major Woods' participation was part of a task force comprised of Arkansas State Representatives Charlotte Douglas (R-Alma), Bob Ballinger (R-Hindsville), and other advocates against domestic violence."
"The task force worked tirelessly to help create Arkansas Act 873, also known as "Laura's Card" that law enforcement now utilizes to give victims in domestic violence cases to ensure they're aware of resources available to them," he said. "Also created was Act 952 requiring Arkansas schools to include domestic and dating-violence in health curricula, Act 876 that allows for victimless prosecution of domestic violence cases and Act 877 known as "Laura's Law", a law requiring all law enforcement officers in the State of Arkansas to conduct a lethality assessment that involves officers asking victims a set of questions to assess their level of risk of being killed by domestic violence."
Before closing, Sheriff Robinson added, "it takes each and everyone of us to make an investment into eliminating domestic violence. If we all work hard on this issue then we can do it."
Participants then concluded the observance with a balloon release that included purple colored balloons, the domestic violence awareness color.