BOY, 12, KILLED BY BROTHER IN ACCIDENTAL SHOOTING
10/27/2017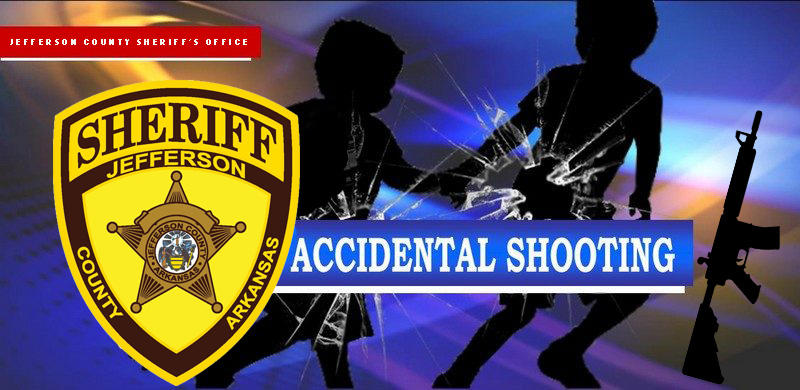 FOR IMMEDIATE RELEASE
MEDIA CONTACT
Major Lafayette Woods, Jr.
Operation Commander/Public Information Officer
870.541.5351-OFFICE/870.329.5652-CELL
Email: lafayette.woods@jeffcoso.org
BOY, 12, KILLED BY BROTHER IN ACCIDENTAL SHOOTING: Jefferson County, Arkansas - October 27, 2017 – A 12-year-old boy suffered a gunshot wound to the neck late Thursday evening after he and his 13-year-old brother wrestled over a rifle.
The shooting occurred just before seven o'clock p.m. in the 700 block of Short Front Street in Altheimer, AR, said Maj. Lafayette Woods, Jr., Jefferson County Sheriff's Office (JCSO) Operations Commander and Spokesman.
"Our deputies and investigators were originally called to the Jefferson Regional Medical Center's Emergency Room to investigate the report of what hospital officials first thought was a case of child abuse. Further medical examination discovered evidence that the 12-year-old victim had sustained a gunshot wound to the neck," said Maj. Woods."
JCSO investigators traveled to the victim's residence, where they processed the scene for evidence. Inside the residence, investigators discovered a .22 caliber rifle and a single spent shell casing, which were both photographed and collected as evidence.
Meanwhile, investigators conducted an interview of Derick Shelton, father of the victim along with his 13-year-old son, whose name is not being released due to his status as a minor. Through those interviews, investigators learned that Shelton had left the residence for a brief moment and during that time his two sons wrestled with a rifle Shelton kept inside the residence. While wrestling with the rifle, the weapon discharged and the younger Shelton was shot in the neck by his brother.
Paramedics arrived on scene and transported the victim to the emergency room; however, the victim had already succumbed to his injury.
"It was a tragic accident," Woods said. "Moving forward, we want to find ways to prevent tragic accidents like this from occurring because no mother or father should have to bury their child; especially so premature."
Woods said that the Jefferson County Sheriff's Office is a Project Childsafe partner and has been since before he began his law enforcement career well over a decade ago.
"Project ChildSafe is a program of the National Shooting Foundation to promote firearm safety and education. The program and its partners are committed to promoting genuine firearm safety through the distribution of safety education messages and FREE firearm safety kits that include gun safety locks. Those kits are available at our administrative office within suite 112 of the Jefferson County Circuit Courthouse located at 101 E. Barraque Street here in Pine Bluff, AR during normal business hours, 8:30 a.m. – 5:00 p.m. Mon-Fri, said Major Woods."
No charges are being sought against the victim's 13-year-old brother or father in this shooting death.