JEFF. CO. SHERIFF'S DEPUTIES PARTICIPATE IN "NO-SHAVE NOVEMBER"
11/22/2017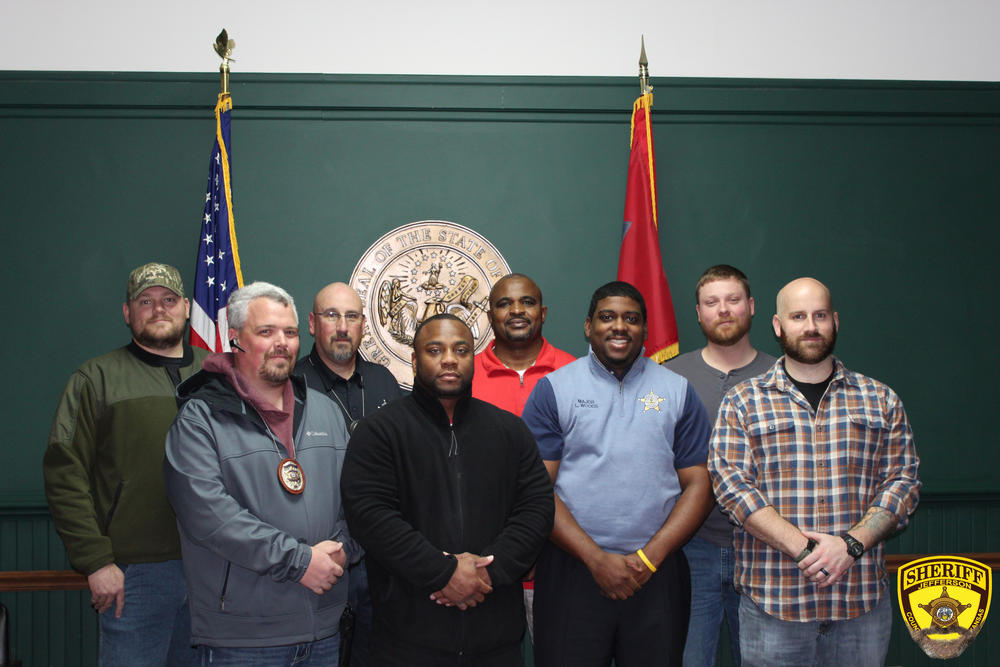 Pictured Above: Jeff. Co. Sheriff's deputies taking a break from shaving this month to
support the fight against men's cancer issues are Investigator Terry Wingard, Investigator Jonathan Powell, Lieutenant Andy Hoots, Deputy Glen Barnes, Jr., Chief Deputy Stanley James, Major Lafayette Woods, Jr, Corporal Christopher Grider and Deputy Charles White.
FOR IMMEDIATE RELEASE
MEDIA CONTACT
Major Lafayette Woods, Jr.
Operation Commander/Public Information Officer
870.541.5351-OFFICE/870.329.5652-CELL
Email: lafayette.woods@jeffcoso.org
JEFERSON COUNTY SHERIFF DEPUTIES PARTICIPATE IN "NO-SHAVE NOVEMBER": Jefferson County, Arkansas - November 22, 2017 – You may have noticed some deputies with the Jefferson County Sheriff's Office sporting some extra facial hair this month, and they are doing so for a good cause to raise awareness for prostate cancer and other men's health issues.
During October of each year, the Jefferson County Sheriff's Office supports breast cancer awareness by incorporating a hint of pink in its daily operations. Deputies that participated in October's breast cancer awareness program donning pink handcuffs while on duty we invited to forgo shaving and the normally stringent policy on facial hair for the entire month of November.
"Raising awareness of prostate and testicular cancer is especially important because the prognosis for these diseases is comparatively good if caught early," said Major Lafayette Woods, Jr.
No-Shave November is a unique and fun way to raise awareness, as well as funding for cancer research. Additionally, "No-Shave November" serves as a moral booster. According to the American Cancer Society, "The goal of No-Shave November is to grow awareness by embracing our hair, which many cancer patients lose, and letting it grow wild and free. Donate the money you usually spend on shaving and grooming for a month to educate about cancer prevention, save lives, and aid those fighting the battle."
All monies collected during the "No-Shave November" campaign will be donated to the Cancer Support Home in Fayetteville, AR in honor of the late Teresa Lake, a former Jefferson County Tax Collector employee who loss her battle with cancer in 2016.