SHERIFF'S OFFICE OFFERS HOLIDAY SHOPPING SAFETY TIPS
12/18/2017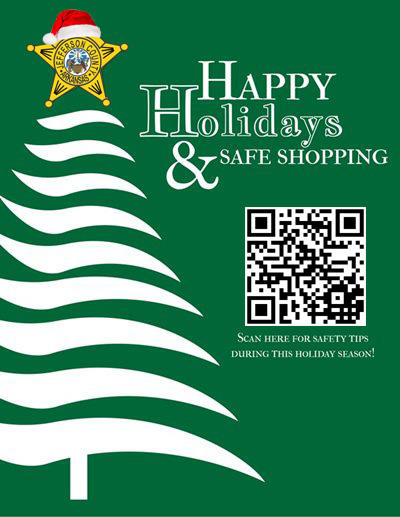 FOR IMMEDIATE RELEASE
MEDIA CONTACT
Major Lafayette Woods, Jr.
Operation Commander/Public Information Officer
870.541.5351-OFFICE/870.329.5652-CELL
Email: lafayette.woods@jeffcoso.org
SHERIFF'S OFFICE OFFERS HOLIDAY SAFETY SHOPPING TIPS: Jefferson County, Arkansas - December 18, 2017 – Christmas is fast approaching and good Ole St. Nick will be visiting the little ones bringing Christmas presents and holiday cheer.
"With the holiday season in full swing, increased demands on our time and attention this time of year, we are more vulnerable to crime and accidents," said Jefferson County Sheriff's Office Operations Commander and Spokesman, Major Lafayette Woods, Jr. We want to make sure all Jefferson County residents have a safe, memorable, and Merry Christmas by providing the following safety tips:
Always be aware of your surroundings, who's in front of you and who's behind you.
Park your vehicle in a well-lit area when shopping
Don't shop alone, especially at night
Walk purposefully, stand tall, and make eye contact with people around you.
Stay Alert!
Limit the number of trips back to your vehicle
Don't leave shopping bags or packages exposed in your vehicle. Lock them in your trunk.
Trust your instincts! If you feel uncomfortable in a situation, leave!
If being followed or stalked, call 911 and/or drive directly to the nearest sheriff's office or police station.
We want residents to have the tools they need to protect themselves and their family.
Additionally, our office has deputies working off-duty holiday security at various shopping establishments and have deployed our agencies Skywatch mobile observation tower for an added layer of security to provide citizen shoppers with a greater sense of security.