MAN OF SERVICE: COLLEAGUES REMEMBER RETIRING JCSO CHIEF DEPUTY
12/28/2017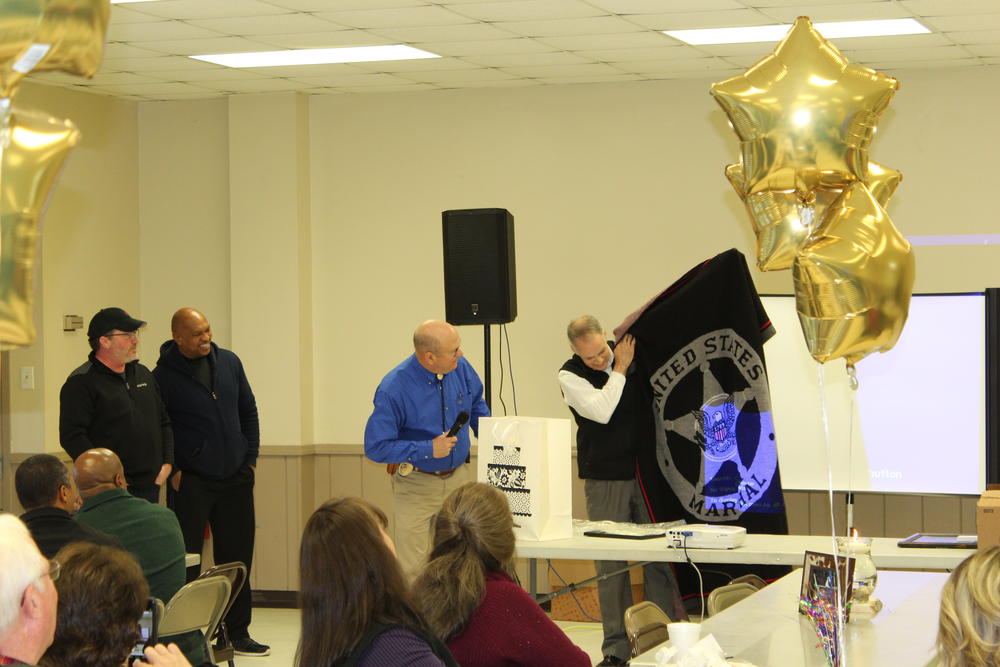 (Far left) Phillip Peckham, Deputy U.S. Marshal for the Eastern District of Arkansas (EDAR); Sheriff Gerald Robinson, (Middle) Chief Deputy Greg Bolin, (Far right) Clifton "Chip" Massanelli, EDAR U.S. Marshal presenting Chief Deputy Bolin with U.S. Marshal Blanket
FOR IMMEDIATE RELEASE
MEDIA CONTACT
Major Lafayette Woods, Jr.
Operation Commander/Public Information Officer
870.541.5351-OFFICE/870.329.5652-CELL
Email: lafayette.woods@jeffcoso.org
MAN OF SERVICE: COLLEAGUES REMEMBER RETIRING JCSO CHIEF DEPUTY: Jefferson County, Arkansas - December 28, 2017-After 37 years of public service, Chief Deputy Sheriff Greg Bolin is hanging up his campaign hat. On Thursday, Bolin was honored at the John R. Fallis Waterfront Building located in Regional Park by his colleagues during a retirement luncheon.
"He has been a great friend of the marshal service especially in the last few years when Mike Koberlein was down here for juvenile life," said Clifton "Chip" Massanelli, U.S. Marshal for the Eastern District of Arkansas, who presented him with a U.S. Marshal blanket. "Greg was a big asset to him. Greg was a big help with those prisoners and we couldn't ask for anything better."
Bolin began his career with the Jefferson County Sheriff's Office in 1980 as a telecommunicator. He was later transferred to the patrol division in 1983 where he served as a criminal investigator. Additionally, he's worked in the role of captain of the patrol division and major/operations commander.
In 1992, Bolin was instrumental in the department's adoption of semi-automatic pistols for sheriff's deputies. As a result of his research, the Jefferson County Sheriff's Department was one of the first agencies in the state to use the Glock model 22 pistol, which has become a widely used law enforcement sidearm. As he reminisced about his stint in law enforcement, Bolin couldn't help but reflect on various moments throughout his career.
"There have been so many, such as bringing murder and major crime suspects to justice and giving closure to families," he said of the proudest times in his career. "Also, helping to plan and being a part of presidential and dignitary visits to our area, (and) ensuring the safety of our leaders while in Jefferson County."
Gary McClain, Jefferson County Sheriff's Office training division captain, worked with Bolin for several years and describes him as a "true public servant."
"Probably the greatest thing I can say I take away from working with him is that everything we do at the sheriff's office is about and for the citizens of Jefferson County," he said. "I'll miss the experience that he has… the knowledge base and historical perspectives that he holds when I have questions."
A graduate of the Arkansas Law Enforcement Training Academy, Bolin has various law enforcement certifications on standards and training. He also completed programs with the Criminal Justice Institute School of Supervision Session XIII, The Arkansas Leader program, and S.W.A.T. level 1 and II training and anti-terrorism training.
After nearly four decades, Bolin hopes he leaves behind a legacy of integrity that embodies the ideals that "honest hard work pays off." Now, that he is retiring, Bolin plans to continue to build his cattle ranch to a larger rotational grazing operation. He also hopes to put his years of experience to use by offering security and detention center consulting along with private investigation services.
"It's been my observation that The Jefferson County Sheriff Office is viewed by other agencies across the state as a professional cutting edge agency," Bolin said. "I'm proud to have contributed to that over the years."