JCSO SERGEANT RETIRES AFTER OVER 28-YEARS IN LAW ENFORCEMENT
01/31/2018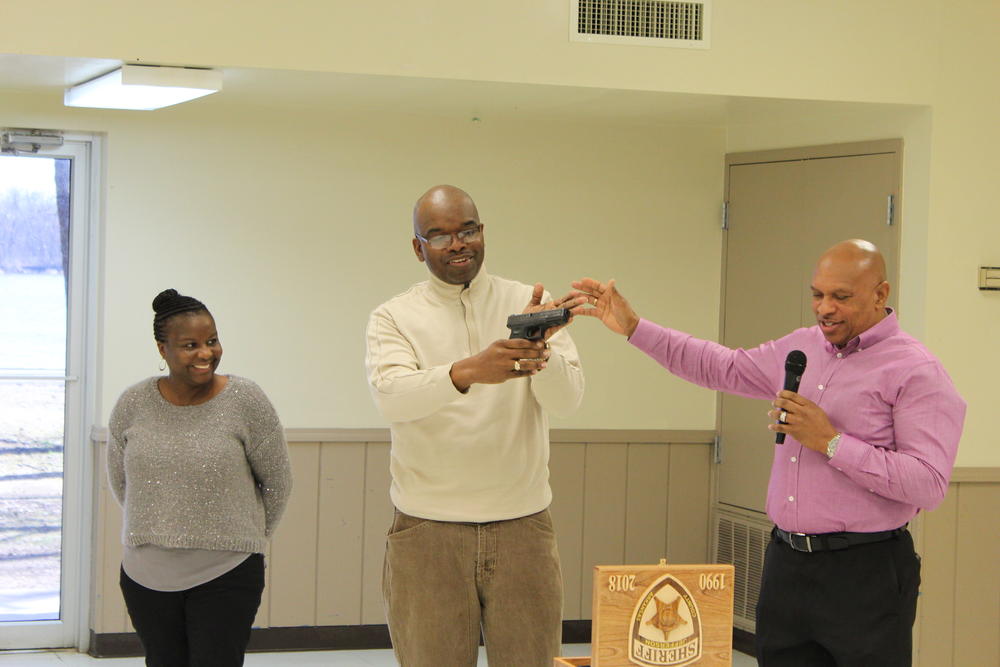 Kim Edwards (Far Left), Sergeant Vince Edwards (middle), Sheriff Gerald Robinson (Far Right) presenting Edwards with his service pistol, a .40 caliber Glock with JCSO's insignia engraved on it along with Edwards' years of service.
FOR IMMEDIATE RELEASE
MEDIA CONTACT
Major Lafayette Woods, Jr.
Operation Commander/Public Information Officer
870.541.5351-OFFICE/870.329.5652-CELL
Email: lafayette.woods@jeffcoso.org
JCSO SERGEANT RETIRES AFTER OVER 28-YEARS IN LAW ENFORCEMENT: Jefferson County, Arkansas - January 31, 2018-After over 28 years of dedicated law enforcement service, Sergeant Vince Edwards is saying goodbye to fellow deputies to start a new chapter in his life. On Wednesday, Edwards was honored at the John R. Fallis Waterfront Building located in Regional Park by his colleagues during a retirement luncheon.
"Vince and I had some fond memories during our time here at the sheriff's office," said Jefferson County Sheriff's Office Sheriff Gerald Robinson who presented him with his service pistol in a custom wooden gun box. "I've known Vince his entire career with the sheriff's office. As the youngest deputies in the department at the time, we instantly bonded. We had what was referred to as the John Wayne Syndrome and we thought we were as tough as the Duke himself."
Sheriff Robinson reflected on his relationship with Edwards outside the office sharing his account of what he referred to as Edwards' "humorous side."
"I quickly learned Vince has a sense of humor, which also made it hard not to like him," Robinson said. "Oftentimes, we were in friendly competition that involved who could make the most drug arrests in a shift or for the month. We got to know each other very well to the point we considered one another brothers."
As someone who knew Edwards professionally and personally, Robinson was proud to call him a friend.
"I would characterize Vince as being fair and compassionate, but serious about his service to this county," said Robinson. "Oftentimes, he would lend a helping hand to his fellow deputies and to the public."
Although Robinson will miss many things about Edwards, he stated the constant conversations about their spiritual connection with God and how thankful they were that He gave them the opportunity to serve is something he would miss the most.
"How we served the Lord was and still is our daily effort," said Robinson smiling. "I will miss Vince's laughter and his dedication to his friends and this department. When you know Vince, you become part of his family because believe me, you get to know all of them."
Edwards originally began his public service career with the Arkansas Department of Corrections in February of 1988 as a correctional officer. After only being employed nine months, Edwards accepted a position with the University of Arkansas at Pine Bluff as a public safety officer. Edwards remained at UAPB until November 14, 1990, when he was hired by the late Sheriff William C. "Dub" Brassell.
He was originally assigned to the uniformed patrol division, where he remained until 1999. Also in 1999, Edwards was transferred to the civil division and warrants divisions, respectively. In 2012, Edwards was promoted and reassigned to the uniformed patrol division. In 2014, Edwards was promoted to the rank of sergeant and served as a field supervisor. In this role, Edwards was responsible for the direct supervision of the operations, conduct, appearance, and performance of personnel assigned under his command.
"Watching young deputies enter and excel in the department in my proudest moments in my career," said Edwards.
Stanley James, Jefferson County Sheriff's Office Chief Deputy recounted his experiences working alongside Edwards.
"...Prior to me starting my career with the sheriff's office, myself, Vince and his wife Kim Edwards had a close relationship," said teary eyes James. "Vince encouraged me to apply here. I used Vince and his father-in-law, the late Willie Perkins for a reference. As a young deputy that lacked experience, Vince took me under his wings."
An October 19, 1990 graduate of the Arkansas Law Enforcement Training Academy, Edwards has numerous hours of law enforcement training. In 2017, Edwards earned his Senior Law Enforcement Training Certificate. The certificate is the highest awarded to a law enforcement officer by the Arkansas Commission on Law Enforcement Standards and Training. According to the CLEST website, the purpose of the certificate is to foster professionalism, education, and experience necessary to adequately perform the duties of the law enforcement service. The awarding of this certificate requires eligible law enforcement officers to have a minimum of 30 semester college credit hours, 720 training hours, and 18 years of law enforcement experience.
After what he describes as a rewarding career in public service, Edwards hopes he leaves behind a legacy that places employees being honest at the forefront.
"I pray that the legacy I left behind would cause new and old employees to be honest, fair, and show respect for all," said Edwards. "Reflecting back on my career, I wish I could have encouraged or convinced more people to do right on-duty and off."
Looking back over his career, Edwards had a few pieces of advice for those in law enforcement.
"Be consistent in your duties and for the uniform officers, wear it well," said Edwards.
Now that he is retiring, Edwards plans to continue to live a life that pleases God, which includes working in the ministry.
"I will miss the friendship and relationship of co-workers," Edwards said.