JEFF CO. SHERIFF ROBINSON ORDERS FLAGS TO BE FLOWN AT HALF-MAST IN HONOR OF DEPUTY
10/24/2018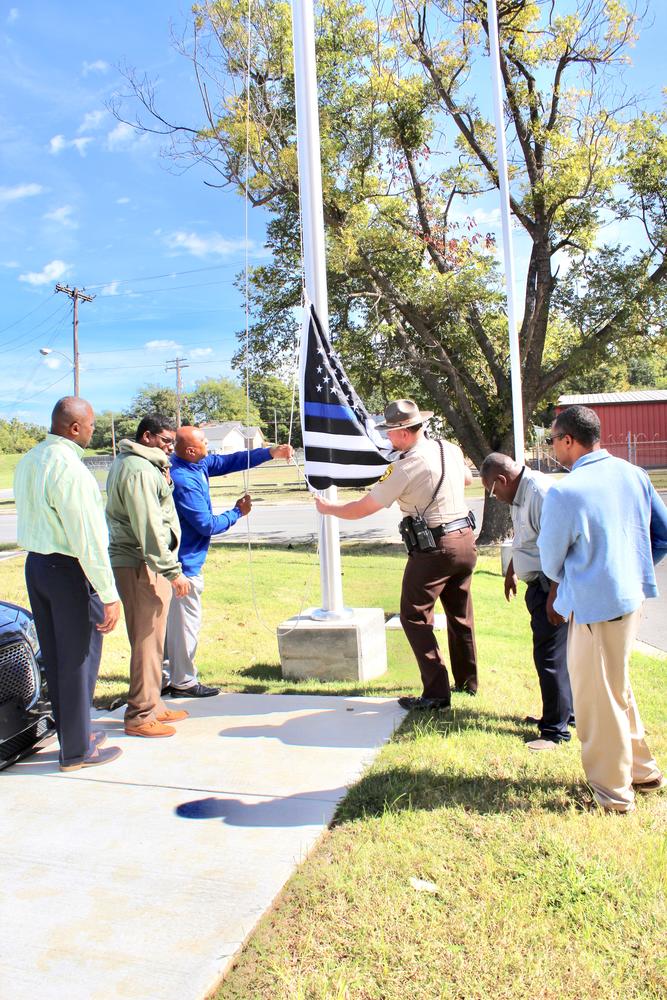 Photo: Chief Deputy Stanley James (far left), Major Lafayette Woods, Jr., Jeff. Co. Sheriff Gerald Robinson; Cpl. Christopher Grider, Sergeant Anthony Criag, Lieutenant Randy Dolphin (far right) look on as Sheriff Robinson and Cpl. Grider prepare flag to be flown at half-mast outside the "Lloyd Pete Harrison" Jefferson County Sheriff's Office
FOR IMMEDIATE RELEASE
MEDIA CONTACT
Major Lafayette Woods, Jr.
Operation Commander/Public Information Officer
870.541.5351-OFFICE/870.329.5652-CELL
Email: lafayette.woods@jeffcoso.org
JEFF CO. SHERIFF ROBINSON ORDERS FLAGS TO BE FLOWN AT HALF-MAST IN HONOR OF DEPUTY: Jefferson County, Arkansas – October 24, 2018 – The Jefferson County Sheriff's Office is in mourning this week as it prepares for the memorial services of one of their own; remembering the life of a great public servant.
Word spread quickly on Thursday, October 18, 2018, when the agency learned of the passing of Ret. Lieutenant Columbus Eugene Holmes, 75.
Following the announcement, Jefferson County Sheriff Gerald Robinson offered his condolences to the Holmes family. He also ordered that flags be flown at half-mast in Holmes' honor.
Holmes was born on May 13, 1943 in Pine Bluff, Arkansas. He was educated within the Altheimer Public School System, where he attended Martin Elementary from 1947 to 1953 and Martin High School 1954 to 1959. Holmes married his wife, Doris Jean Brooks-Holmes in 1988.
Holmes always had a passion for serving others. He joined the Jefferson County Sheriff's Office on March 1, 1977; a time when racial tensions were still high and African American leadership within the ranks of the Jefferson County Sheriff's Office was rare. However, this didn't stop Holmes from excelling; eventually rising to the rank of lieutenant within the agency.
Holmes was first assigned to the Uniformed Patrol Division in 1977. His service was unmatched and in 1988 earned him the "Distinguished Service Award" by then Arkansas Sheriff's Association Executive Director, Cary Gaines. In 1994, Holmes was promoted to the rank of corporal and just 3 ½ months later to sergeant. As a sergeant, Holmes was responsible for planning, organizing, coordinating, and supervising the activities of assigned shift personnel within the Uniformed Patrol Division. Holmes' work performance, style of supervision, and exceptional treatment of his subordinates earned him a promotion to the rank of lieutenant in 1997.
Holmes retired on April 11, 2001; however, retirement was short-lived. Just two months later, Holmes rejoined the sheriff's office as a part-time deputy sheriff in June of 2001, before retiring a second time in 2018. Holmes' final retirement netted him a combined total of nearly 41-years of dedicated law enforcement service.
Following his retirement, Lieutenant Holmes' health quickly declined, yet he still remained an essential part of the sheriff's office until his passing.
"As a member of the Jefferson County Sheriff's Office, he was always the first to arrive for work each morning and available whenever I needed him," Jefferson County Sheriff Gerald Robinson said of Holmes.
"I am saddened by the loss of a true and loyal friend, Columbus Holmes. Columbus was an iconic figure of the Jefferson County Sheriff office. He represented this department with pride and with upmost professionalism. When I learned of his passing, not only did I realize that I had lost a friend but a brother who has known me and been a part of my life even before my law enforcement career began. We have shared great times, sad times, encouraging times, but through it all we maintained a friendship that was inseparable," Robinson said.
"Often times, Columbus would share a scripture from the Bible that would encourage us all and renew our spirit and faith in God. That was so much a part of Columbus' life. He loved the Lord and his life reflected his relationship with God. I will miss my friend dearly. I know he is with the Lord. One of Columbus' favorite scriptures that he would recite is John 14:2; "Let not your heart be troubled. In my father's house are many mansions, if it were not so, I would have told you. I go to prepare a place for you." Columbus has had a place prepared for him. We will miss him very much. He has brought joy to so many. We have to say good bye for now. Rest In Peace my friend."
Others like Jefferson County Sheriff's Office Undersheriff, Chief Deputy Stanley James, who knew Holmes well, reflected on his interaction and relationship with Holmes.
"After 23-years of law enforcement service, I can still recall my first encounter with a member of law enforcement in Pine Bluff, AR. Although it was January of 1987, I remember it like it were yesterday. I was just arriving in Pine Bluff to enroll as a sophomore at the University of Arkansas at Pine Bluff," James said.
"Having been born and reared in Jackson, MS, I was new to Arkansas and the City of Pine Bluff. Once I arrived here, I saw a deputy sheriff conducting a traffic stop at the corner of Main/Harding Ave. He was well groomed and his uniform was flawless. His boots were polished so well that the sun gleamed off them like a mirror. I said to myself, that deputy has it going on. Little did I know that it would be that initial encounter with Columbus that sparked my interest in the law enforcement profession. Columbus was an inspiration to me and countless others. He will be sorely missed."
Many spoke of Holmes' sense of humor and his passion for working as a law enforcement officer. Jefferson County Sheriff's Office Operations Commander and sheriff-elect, Major Lafayette Woods, described Holmes as the ultimate role model and public servant.
"Columbus meant so much to all of us but for me personally, I find it hard to put in words just what kind of person he was because he wore so many titles. He had a great sense of humor and made all of us laugh. More than that, Columbus was role model, servant leader, and like a grandfather to me. However, above all things, he was a God fearing man. He was deeply rooted in his faith and would often share his spiritual views with me. Columbus loved to shop and was known by everyone within the Jefferson County Sheriff's Office and beyond as the "best dresser," even winning the official title accompanied by an award presented to Columbus at one of the sheriff's office earlier awards banquets. Each morning, Columbus would come into my office and wait for me to comment on his wardrobe. You would never catch Columbus wear the same clothes twice and I mean even in the same year," said Woods.
"Professionally, Columbus was a dedicated public servant, who performed his duties in a manner that bought honor to the entire law enforcement profession. He leaves a legacy behind that will long endure the passage of time and will remain as a comforting memory to all that were privileged to know him."
Memorial services are as follows:
Visitation/Wake: Thursday, October 25, 2018 Place: Brown Funeral Home located at 2704 Commerce Circle in Pine Bluff, AR (870) 534-3210
Time: 5:00 p.m. – 7:30 p.m.
Memorial Service: Friday, October 26, 2017
Pace: Rose Hill Missionary Baptist Church located at 2121 W. 26th Avenue, Pine Bluff, AR
Time: 11:00 a.m.
The location of the interment, which will be performed immediately following memorial services is to be announced.