JEFF CO. SHERIFF'S OFFICE DEPUTIES CELEBRATE MOTHER'S DAY WITH CUPCAKES
05/10/2019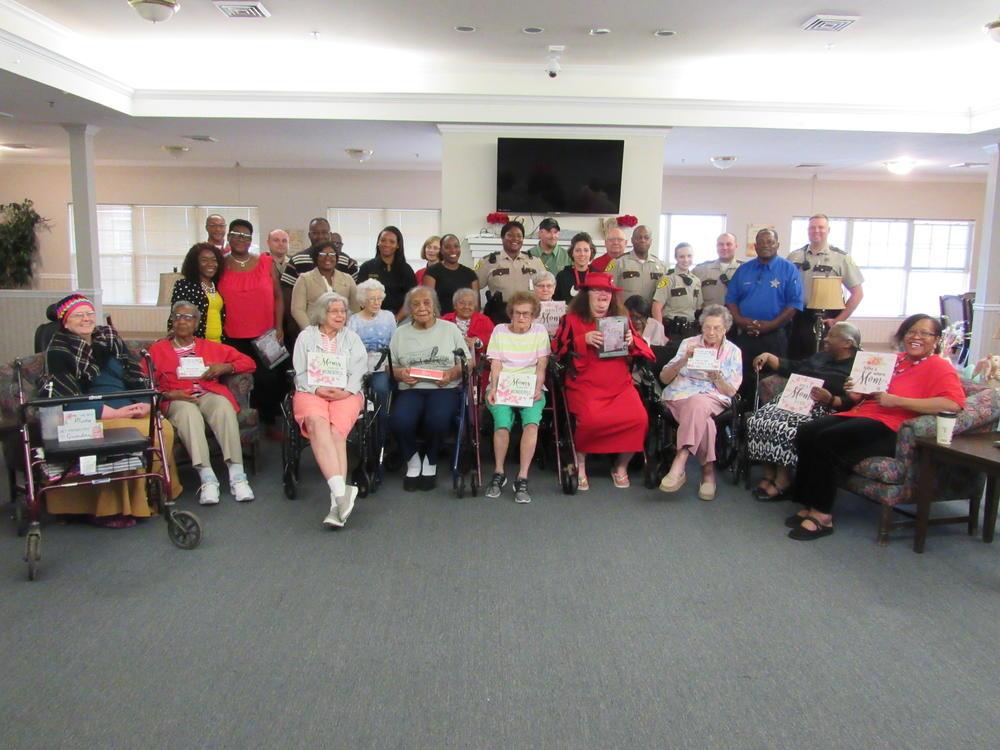 Jefferson County Sheriff's Deputies pose with Garden at Whispering Knoll residents during visit ahead of Mother's Day

FOR IMMEDIATE RELEASE
MEDIA CONTACT
Alicia Dorn
Communications Director/Public Information Officer
OFFICE: 870-541-5351/CELL: 870-329-5638
Email: alicia.dorn@jeffcoso.org
JEFF CO. SHERIFF'S OFFICE DEPUTIES CELEBRATE MOTHER'S DAY WITH CUPCAKES: Jefferson County, Arkansas – May 10, 2019 – Mother's Day is the special time of year when you get to celebrate your first best friend and the person you always turn to when you need advice. It is the perfect opportunity to stop and reflect on all of mom's hard work and dedication. Mother's Day is also a great time to show your love and honor for all the other wonderful women in your life like your sisters, your aunts, your grandmothers, your in-laws, and your friends.
Mothers make sacrifices for their family without expecting anything in return. They are just happy to see you happy!
In past years, the Jefferson County Sheriff's Office has conducted child support enforcement operations ahead of Mother's Day. This year deputies sweetened the deal.
Residents at the Garden at Whispering Knoll, a senior living facility, satisfied their sweet tooth today during a surprise visit from deputies. Deputies surprised residents with Mother's Day gifts that included plaques, cupcakes, and refreshments ahead of Mother's Day. Residents were eager to quench their thirst and fulfill their sweet tooth.
This year, Sheriff Lafayette Woods, Jr. wanted to add a little twist to Mother's Day. "When I think of what a mother means to me, I think of their sweet and nurturing spirit. In doing so, I wanted to do something special for our senior mothers and so, the idea of delivering cupcakes came to mind", he said.
"Beyond sacrificing so much for their families, mothers are always doing. They always place their needs second or last and we owe it to them to let them know how much they are appreciated," Woods said. "A little show of appreciation goes a long way. Let mothers know how much you love and appreciate them."
From a biblical prospective, deputies referenced the book of Proverbs to remind those that "A mother is clothed with strength and dignity, laughs without fear of the future. When she speaks her words are wise and she gives instructions with kindness." —Proverbs
Happy Mother's Day from The Jefferson County Sheriff's Office and special thanks to Haley Norris and Archie Sanders of Smallcakes of Pine Bluff!