LATEST JEFFERSON COUNTY OFFICE OF EMERGENCY MANAGEMENT (OEM) UPDATE
05/30/2019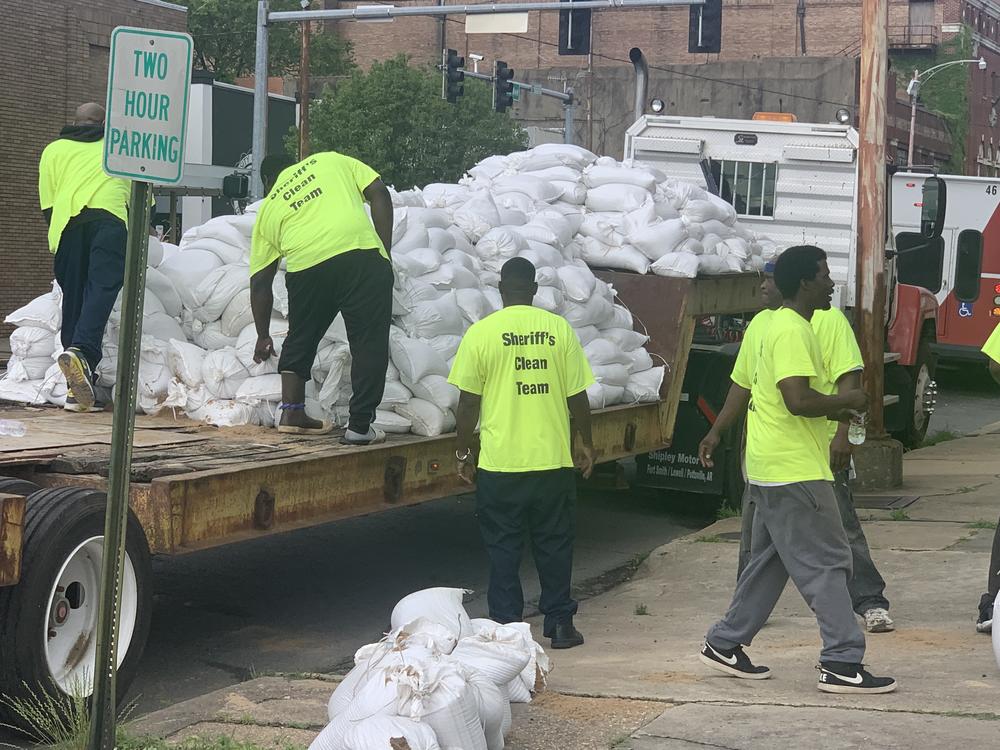 Jefferson County Sheriff's Clean Team offloading prefixed sandbags donated by the Arkansas Department of Corrections
FOR IMMEDIATE RELEASE
MEDIA CONTACT
Alicia Dorn
Communications Director/Public Information Officer
OFFICE: 870-541-5351/CELL: 870-329-5638
Email: alicia.dorn@jeffcoso.org
Latest Jefferson County Office of Emergency Management (OEM) Update: Jefferson County, AR - May 30, 2019 - The Jefferson County Office of Emergency Management gave an update on flooding conditions, evacuations, and affected areas due to widespread flooding in areas located along the Arkansas River.
In recent days, a ridge of high pressure has built over the southeastern United States. In the last week, 6 to 12 inches of rain has fallen in parts of the plains and Midwest, impacting northeast Oklahoma, requiring the release of water from already high lakes. This has resulted in widespread flooding, and is expected to produce record breaking crests downstream along the Arkansas River.
Affected areas and streets are as follows:
Pine Bluff - Island Harbor Area = Canal Drive, Crossover Lane, Hendricks Road, Holiday Drive, Island Harbor Marina Road, Riverside Drive, Riviera Drive
Sherrill Area - Trulock Bay Road
Wright-Brodie Bend Area = Archer Road, Campbell Road, Fisher Adams Road, Henslee Lake Road, Marion Road, Maynard Road, Old River Road, Ray Dean Road, Sunset Bay Road, White's Lane
Altheimer Area - Knott's Island Road, Shepard Island Road
Swan Lake - Reydell Area = Acorn Drive, Bayou Meto Park Road, Farelly Road, Jacob Road, Scroggins Road, Swan Lake Rec Road
Redfield Area - Tar Camp Creek Road
Jefferson County OEM Update:
-Jefferson County Judge Gerald Robinson issued a verbal disaster declaration on May 24th.
-Arkansas Governor Asa Hutchinson declared a state of emergency on May 24th.
-A written County Disaster Declaration was submitted to the Arkansas Department of Emergency Management (ADEM) on May 28th.
There are approximately 500 houses within the levees in the impacted areas. The Jefferson County Emergency Operation Center is partially activated at this time. There are no reported injuries or deaths.
Because the flooding of the river is steadily rising, all roads within the levee have been closed and evacuations have begun to take place. Pine Bluff Regional Park Campground, Tar Camp Creek and Rising Star Corp Campgrounds, Island Harbor Marina, and the Reydell Area below L & D 3 (Acorn Drive, Jacob Road, Farelly Road) have been evacuated at this time. The Island Harbor Volunteer Fire Department has also been evacuated and is out of service.
Residents should remain vigilant of this evolving situation. It is highly recommended that residents that live near the Arkansas River pay attention to local officials and news coverage, listen to weather radios, be observant of local weather apps, and seek higher ground.
Evacuation shelters have been established at the following locations:
Wright Pastoria Volunteer Fire Department - 8550 Surrat Road, Wright, AR

Swan Lake Volunteer Fire Department - 11997 Hwy 88, Altheimer, AR

Family Church- 2309 S. Poplar Street, Pine Bluff, AR

Seabrook Family Christian Center (on standby) - 6808 S. Hazel Street, Pine Bluff, AR

First Assembly of God (on standby) - 1002 Ridgway Road, Pine Bluff, AR
Entergy will eventually shut off the power to the affected communities. Those trying to stay in their homes should be prepared to be without power for two weeks or more.
Residents in Jefferson County can stay up-to-date with emergency information by registering for Reverse 9-1-1 alerts. To Improve public safety and increase coordination throughout Jefferson County, Reverse 9-1-1 allows us to send telephone notifications to residents and businesses within an area impacted by an emergency. To register your land-line, mobile telephone, voice over IP(VoIP) or email address, please click on the following link: https://jeffersoncounty911.onthealert.com
This message has been produced in coordination with the Jefferson County Office of Emergency Management (OEM).