SHERIFF'S OFFICE USE GRANT TO UPGRADE COURTHOUSE SECURITY SYSTEM
07/11/2019
FOR IMMEDIATE RELEASE
MEDIA CONTACT
Alicia Dorn
Communications Director/Public Information Officer
Office:870-541-5351/Cell:870-329-5638
Email: alicia.dorn@jeffcoso.org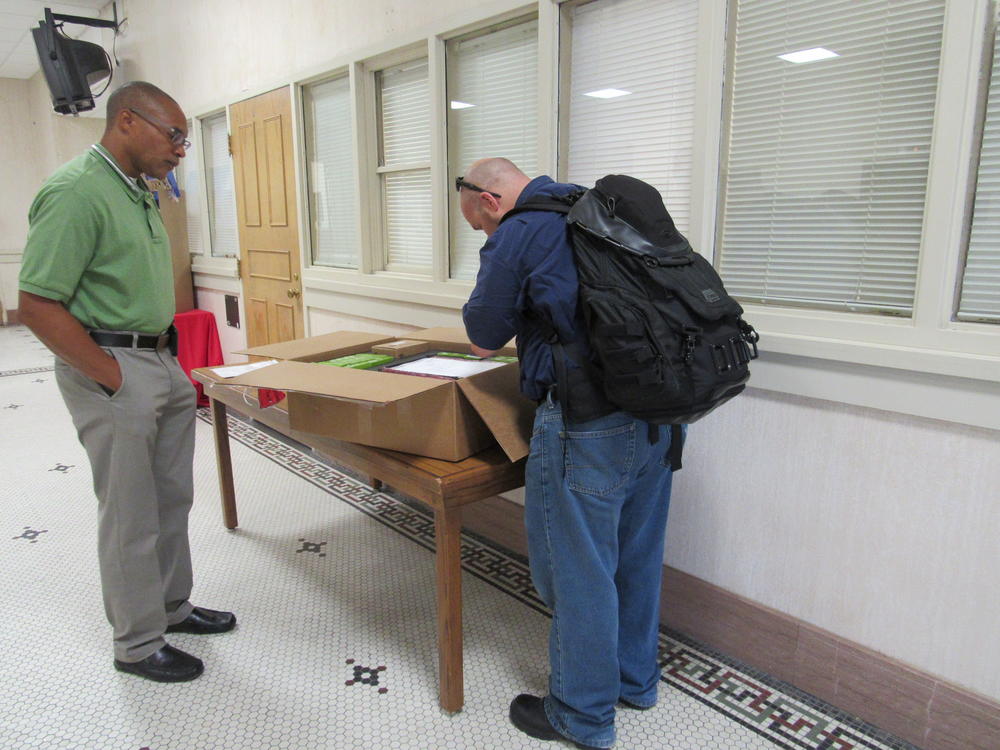 Randy Dolphin, Jefferson County Major of Operations, and Dennis Schwartz, SecureTech Systems, Inc. Technician preparing to upgrade the security system at the Jefferson County Circuit Courthouse
SHERIFF'S OFFICE USE GRANT TO UPGRADE COURTHOUSE SECURITY SYSTEM: Jefferson County, AR – July 11, 2019 –The Jefferson County Sheriff's Office applied for and received $15,000.00 in funding through a Court Security and Emergency Preparedness Grant administered by the Arkansas Administrative Office of the Court for security upgrades.
When the JCSO administrative office, including the support offices transportation, warrants, and civil vacated space it previously occupied in the circuit courthouse, that transition prompted Sheriff Lafayette Woods, Jr. to explore hardening security within the circuit courthouse.
The funds covered the installation of the WAVE Plus System, a critical incident notification system, installed by SecureTech Systems, Inc. "My office and deputies are constitutionally charged with providing courthouse security," said Sheriff Lafayette Woods, Jr. "I felt that the security system would aid us in being notified quicker in the event of a critical incident within the courthouse."
As violence continues to escalate throughout society, it has become harder to keep visitors and staff safe in municipal buildings, schools, hospitals, and other buildings. The WAVE Plus System helps to improve communications at the start of an incident. As soon as the system is triggered, a detailed alarm message indicating the location of the incident is transmitted by radio, email, text, telephone and/or other security systems. First responders are notified of the emergency immediately without any dispatch delay or confusion.
During the installation of the security system upgrades, panic buttons were installed within various offices throughout the courthouse, which can be activated discreetly by employees in the event that immediate assistance is required from courthouse security staff.
In the past, JCSO has utilized funds awarded by the Arkansas Administrative Office of the Courts to make major improvements to courthouse security which includes an intrusion alert system, walk-through metal detectors, video surveillance, access control locks, and secure fencing for judges and courthouse staff. "Overall, these projects outfit our courts with much-needed upgrades and help ensure the safety of the citizens we serve, elected officials, and staff," said Woods.